Lakeside living doesn't get much better than this! Whether you're looking to downsize a bit, escape the hubbub of the city or just indulge in relaxed island-living, this stunning lake house on Lake Josephine is a retreat that's designed to please. Built in 2001, this 2,320-sq. ft., 1.5-story home (plus a basement) includes 3 bedrooms and 2 baths. Located at 11206 Riviera Dr, Anderson Island, WA 98303, this cabin-inspired treasure is listed at $379,500.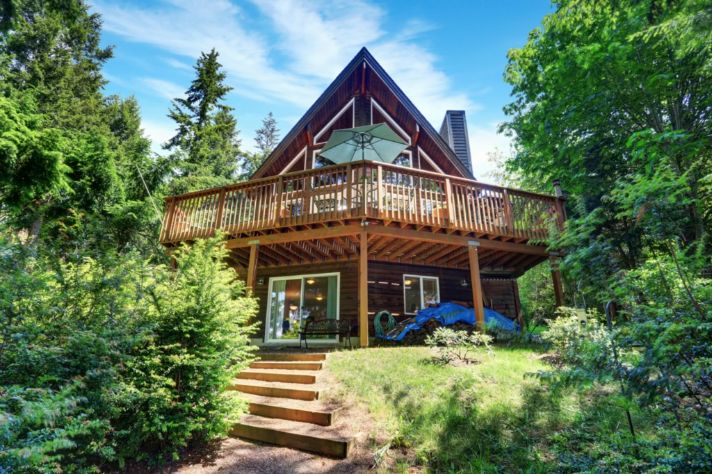 With an open-concept layout, this cedar home boasts a main living area complete with a relaxing living room, dining area, a complete kitchen, plus a grand river rock fireplace to top it all off. A large wall of windows provides stunning views of the shimmering lake, your own private dock, and lush, green foliage.
Featuring a bedroom on each floor, the layout of this cabin-like home allows for privacy and quiet. Upstairs includes another living room, a bonus room, and a welcoming master bedroom complete with a private bath.
Outside, a wrap-around deck sets the scene for peaceful days of relaxation or lively evenings of entertaining and lakeside adventure! A little path to the private dock leads to fishing, swimming, and lots of opportunity for water sports and staying active. Explore more of this unique home here.
Living on Anderson Island
Just west of Steilacoom, Anderson Island is a small community with just over 1,000 residents. A 20-minute ferry ride provides access to Steilacoom and the rest of the mainland, Anderson Island provides its residents with a peaceful, natural setting. Home to beautiful, spacious parks, and a few lakes, Anderson Island is ideal for those who love to explore the outdoors and enjoy nature!