Nestled in the heart of Lake of the Woods with 91 feet of lakefront frontage, this vacation-ready Gig Harbor home is ready to become your dreamy getaway! Imagine spending days swimming and paddle boarding, fishing from the stocked lake on your private dock, and ending the day gathered around a bonfire roasting marshmallows; a true paradise awaits! Situated on a 0.41-acre property, this 1.5 story home with a basement features 2 bedrooms, 1.75 baths, and inviting living spaces that show off a charming cabin vibe. Located at 13018 142nd Avenue NW Gig Harbor, WA 98329 and just 6 minutes to grocery shopping, dining and more, this Lake of the Woods A-frame is listed for $459,000.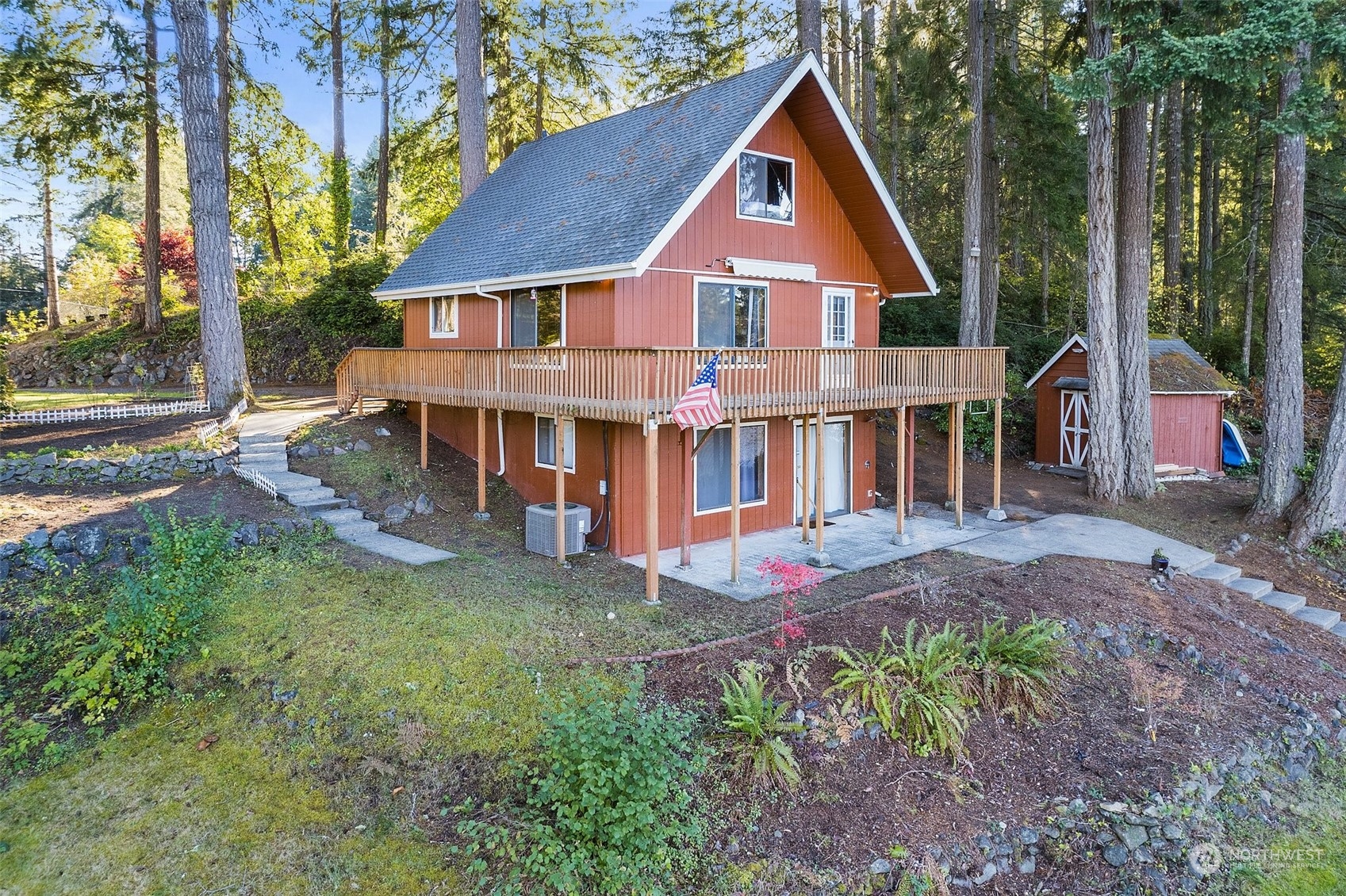 Take a moment to explore this home's top 6 highlights: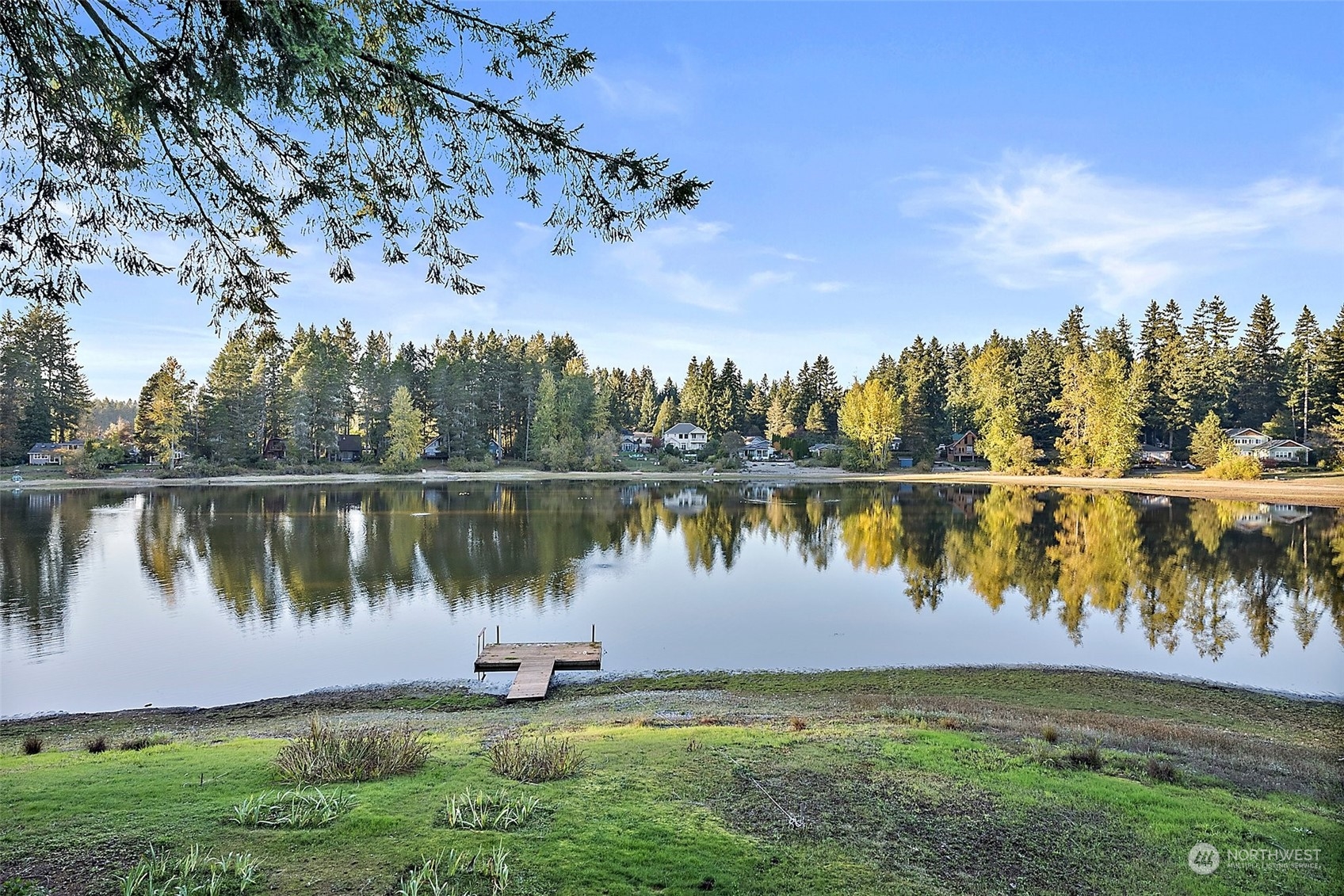 1. Idyllic Pacific Northwest setting. 
Surrounded by lush forest and perched on the shores of a tranquil lake, this home-sweet-home offers a picture-perfect scene ready for making memories. This home boasts the largest frontage in the community at 91 feet, and lakefront activities are right at your fingertips. Views of the glass-like lake and lush evergreens await at every turn whether you're inside or out, and this getaway is lovely no matter the time of year! On warm summer days, enjoy swaying in the breeze on your peaceful porch swing, and in the winter, cozy up inside while still enjoying the idyllic setting. 
2. Lakefront activities offer vacation-inspired living. 
There's no shortage of outdoor activities to enjoy—whether you're hosting guests for the weekend or in search of enjoyable ways to stay active, there's truly something for everyone here. Hang out on the expansive deck that wraps its way around the home and overlooks the beautiful scenery, or set up a couple of comfy chairs on the dock where you can fish from the stocked lake. Explore the lake in your pedal boat, kayak, or on your paddle board, or go for a swim to cool off. A convenient outdoor shower is even at the ready! And when you're not taking advantage of the lake, there are plenty of ways to enjoy this dynamic property and its surroundings; play Pickleball at the park that's right next door, put your green thumb to work growing your favorite flowers and shrubs, and get a bonfire going so you can roast marshmallows and stay warm while the sun goes down.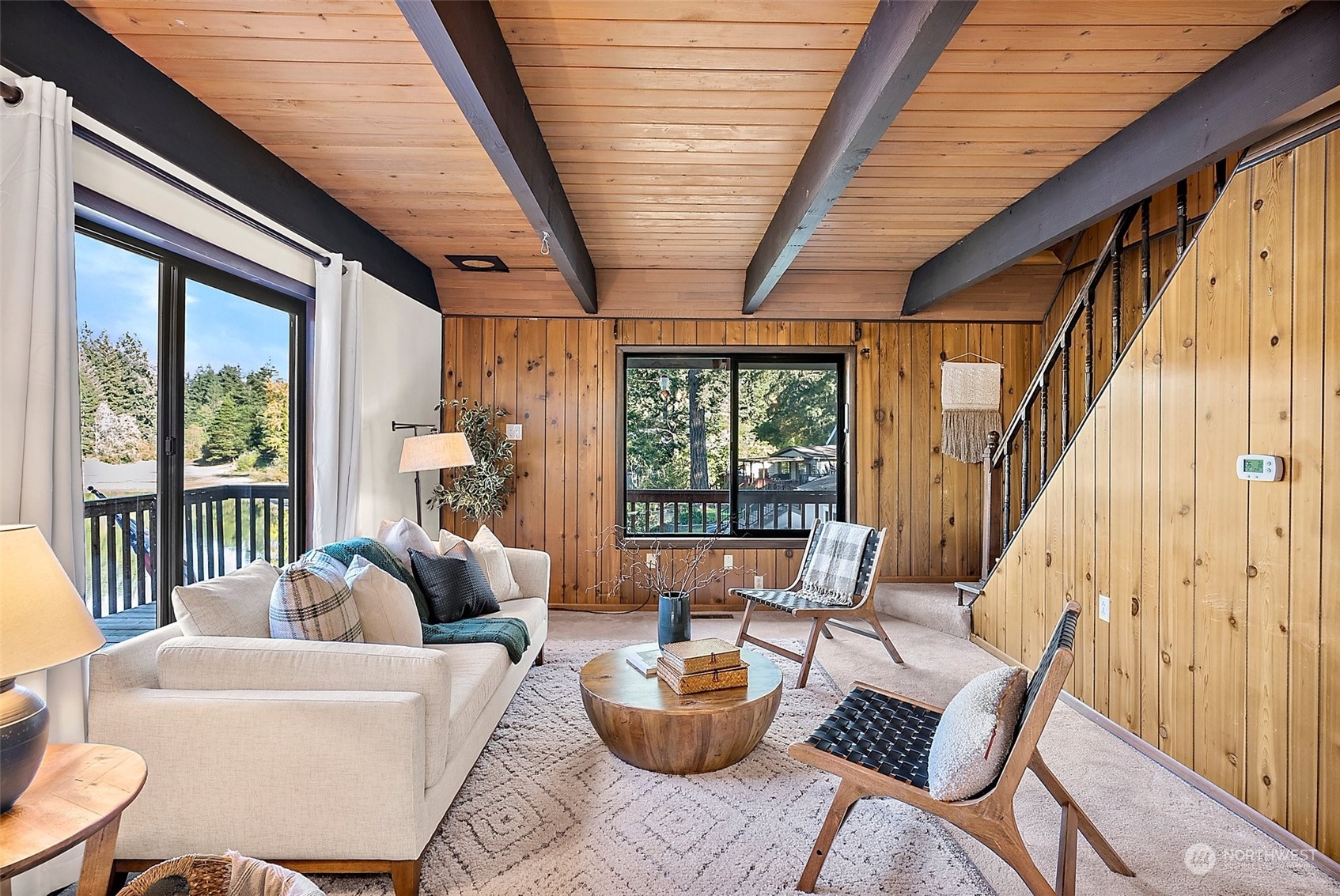 3. Captivating cabin vibes! 
Gorgeous wood elements, statement-making beans overhead, and the classic A-frame design are just a few of the features that contribute to this home's cabin-inspired atmosphere. Catch up with visitors in the living area, enjoy homemade meals in the adjacent dining space, and find everything you need in the kitchen to whip up your favorite dishes and bake treats. This home's upstairs bedroom is especially not to be missed—this private space is wrapped in rich wood elements, and you can create a warm and welcoming setting that's perfect to unwind in!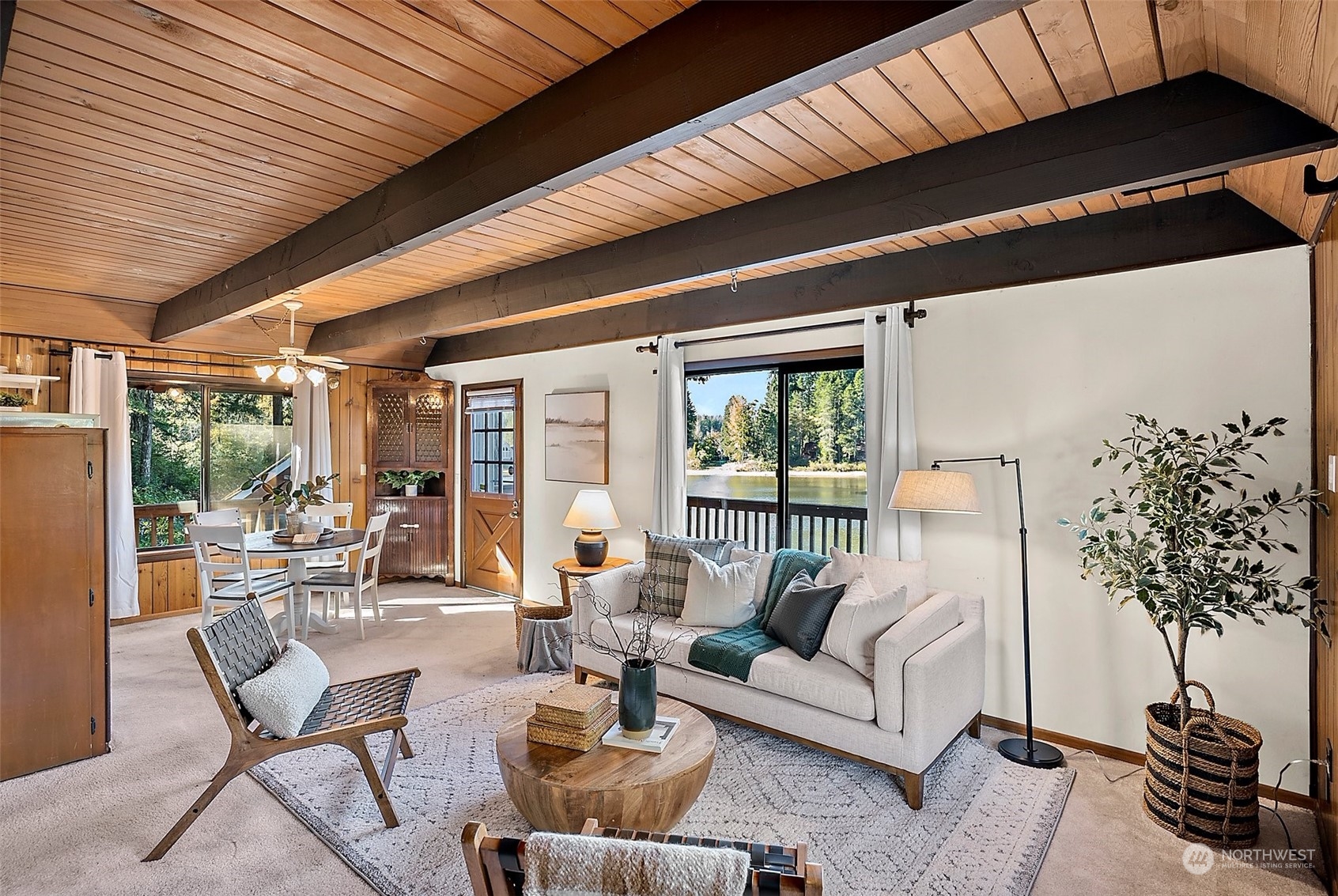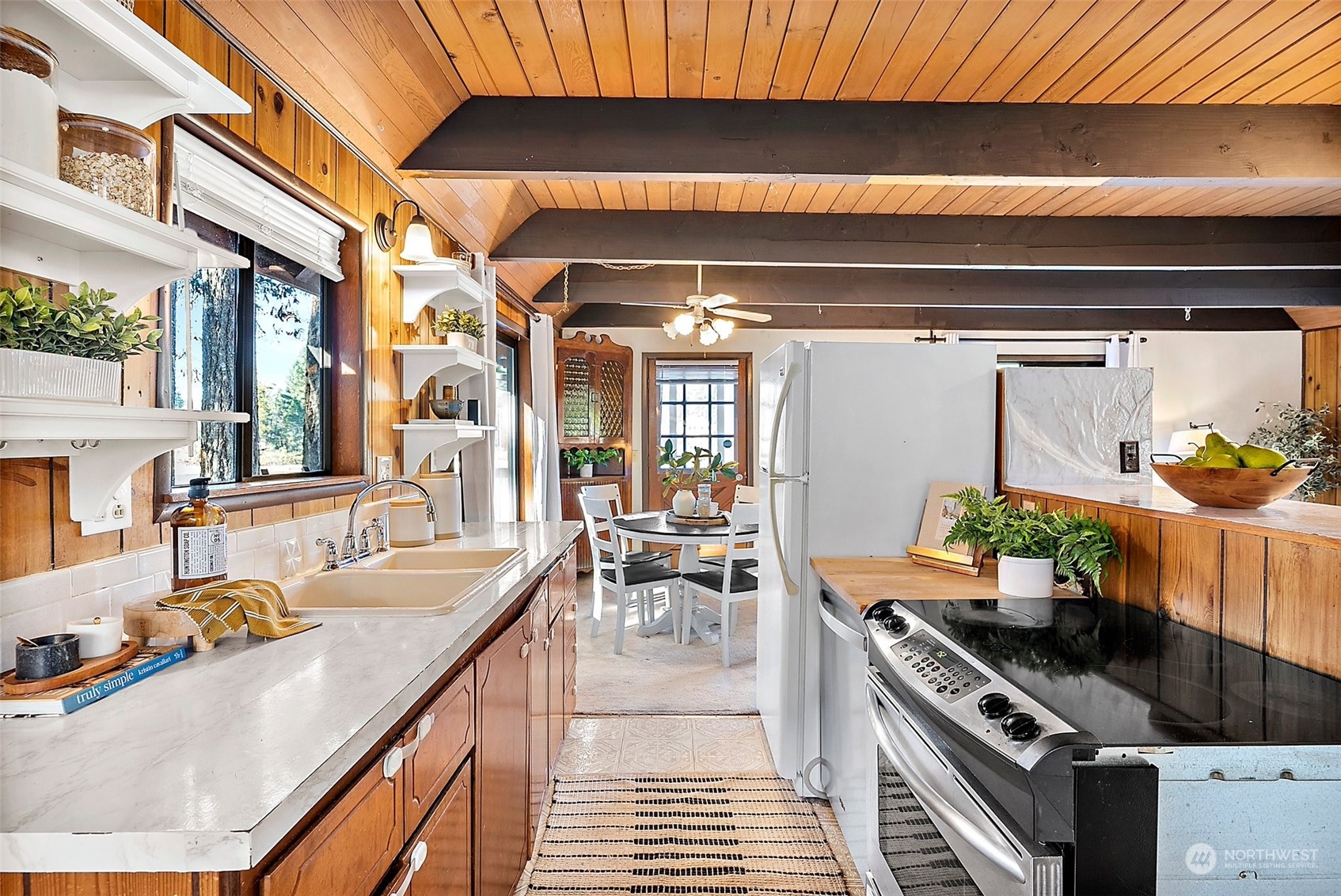 4. Discover potential with versatile spaces. 
This 1.5-story home with a basement offers flexibility with the 2 bedrooms and basement that's ready for transformation. The basement can easily be put to use as is; create a space for projects and hobbies, find tons of storage, design a home gym, or finish the basement in the years to come to create an additional living area, a guest bedroom, and more.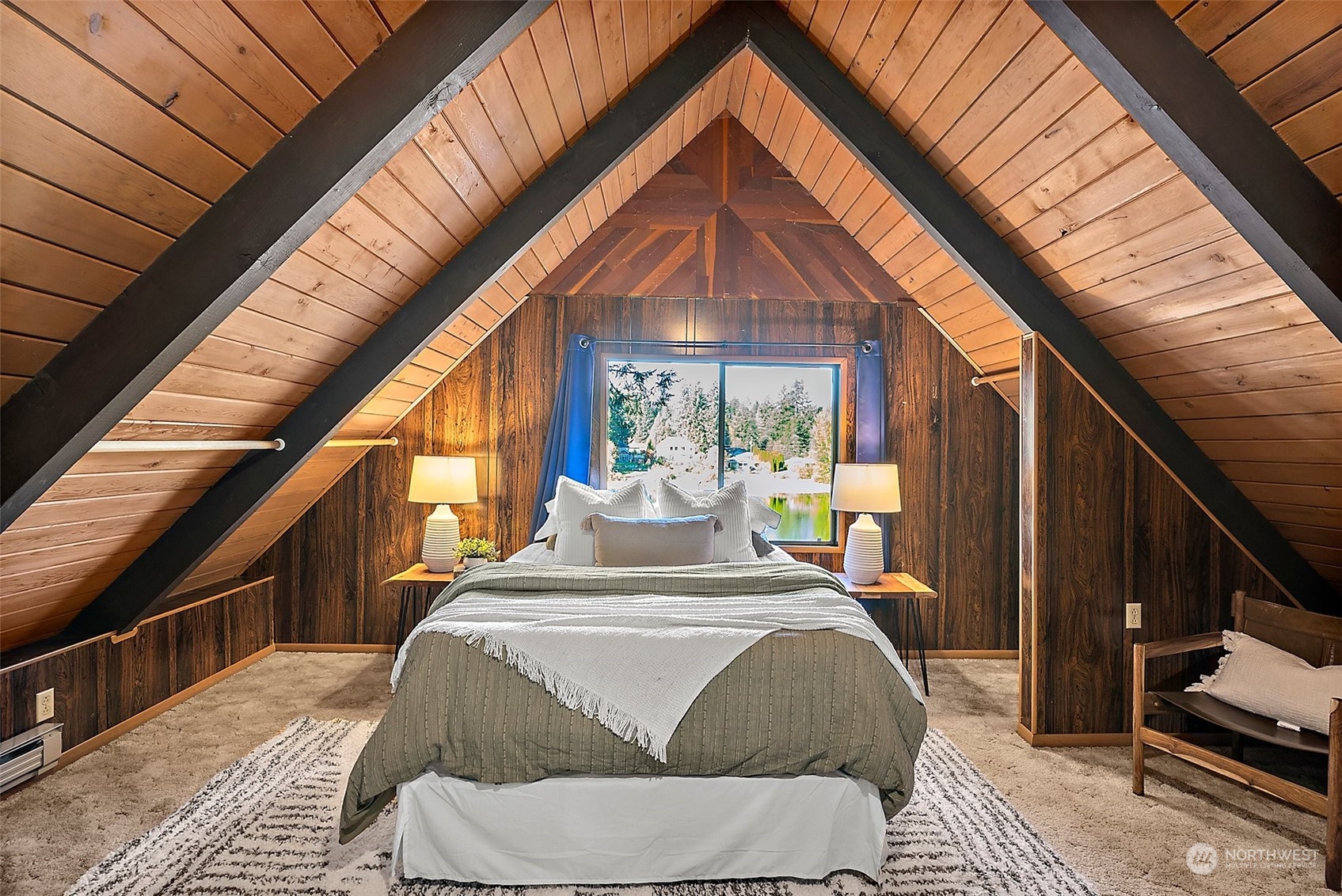 5. Smart updates. 
Thoughtful updates ensure this Gig Harbor home is ready to take on the future, and you can move right in and begin enjoying this retreat from day 1. In 2018 a new roof was installed, and you'll also find a new water heater. Additionally, this home has a heat pump with AC, promising comfort no matter the time of year. 
6. Close to conveniences.  
At 13018 142nd Avenue NW Gig Harbor, WA 98329, you get the best of both worlds—not only are you tucked away in the beauty of nature where you get to feel miles and miles away from it all, but city conveniences are still in close proximity. To start with, Key Center is only 6 minutes away, and here you'll find several amenities. Grocery shop at Key IGA; dine out at places like Madrona Cafe, El Sombrero Family Mexican Restaurant, and Figaro Pizza; browse places like Sunnycrest Nursery Florist & Decor; and find the library and post office here. Discover even more options at Purdy, and head into Gig Harbor for tons of variety no matter what you want or need! 
Interested in learning more? Click here to view the full listing! You can also contact  REALTOR® Maria Kalafatich online here or give her a call/text at (253) 376-5559!