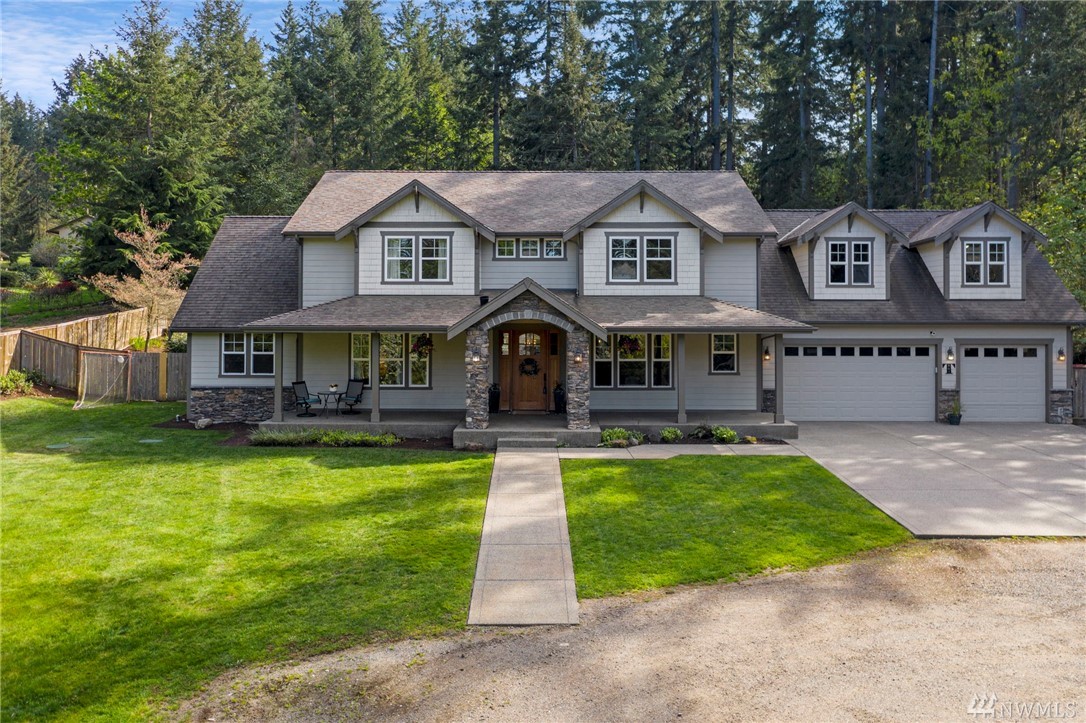 Situated on a gorgeous 1.15-acre property on Fox Island, this 3,744-square-foot NW Craftsman presents a rare, extraordinary opportunity! In addition to 4 bedrooms and 3.25 baths, this residence offers dynamic living spaces with resort-worthy amenities to indulge in at every turn. One of this home's major highlights includes its idyllic, secluded setting—the very best of Pacfic Northwest living awaits with this lovingly maintained and upgraded beauty! Located at 865 7th Lane NW Fox Island, WA 98333, this NW Craftsman is listed for $1,149,000.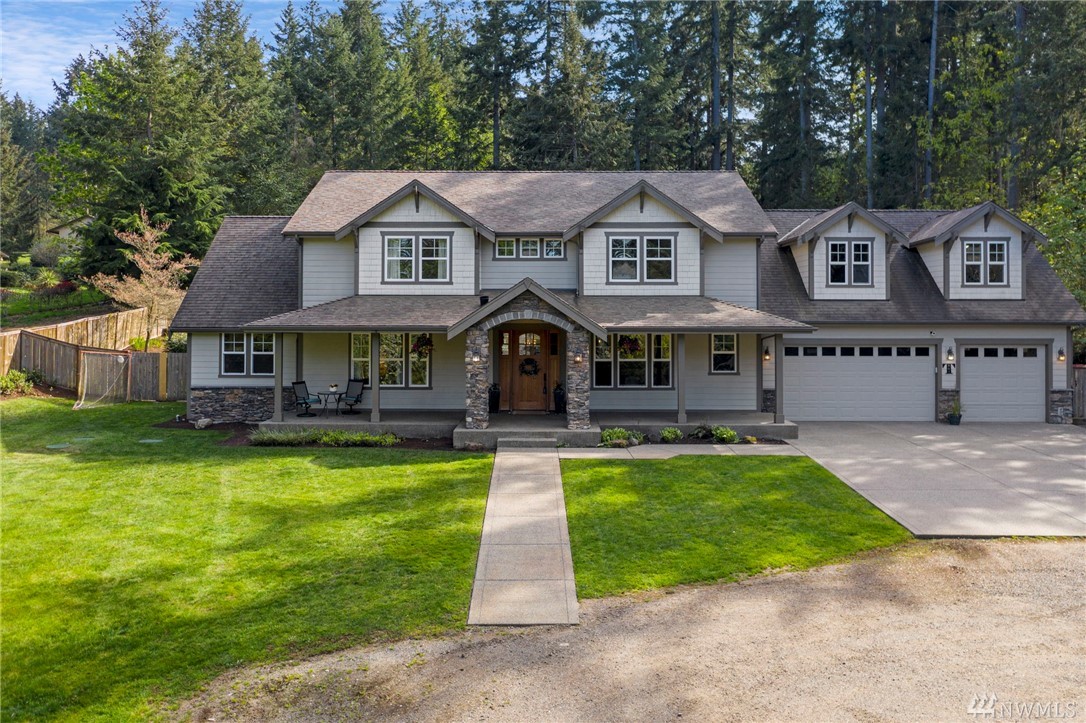 Take a moment to see this home's top 6 not-to-miss highlights: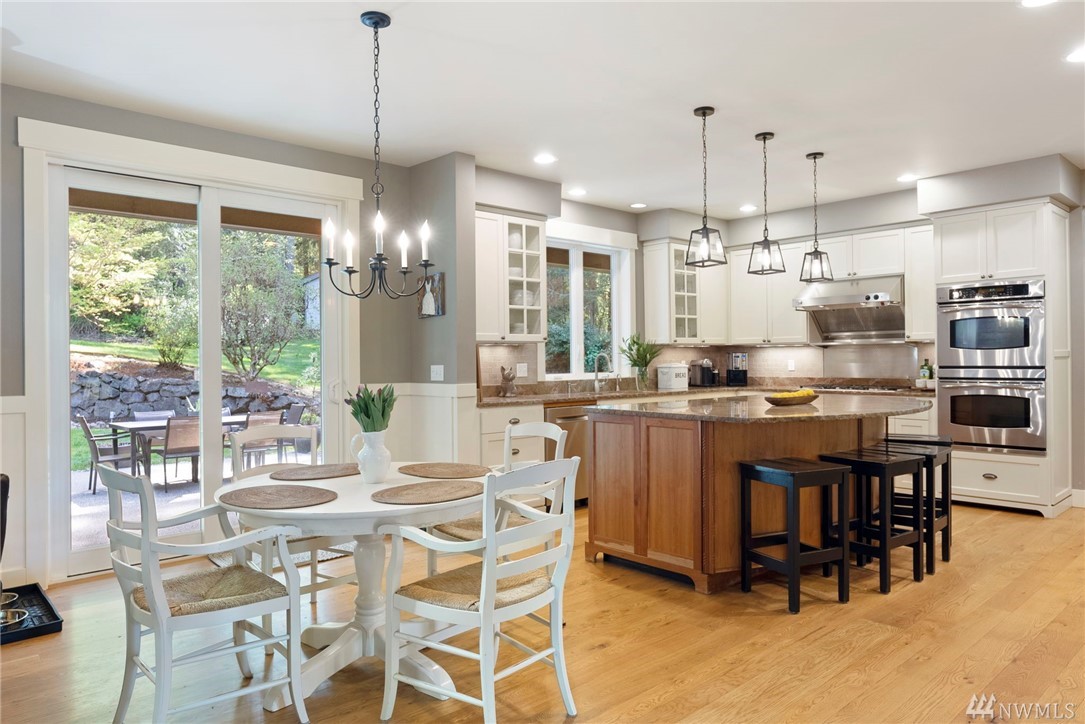 1. Gorgeous upgraded kitchen is an entertainer's dream. 
The open-concept kitchen is brimming with luxe updates, and this expertly curated space boasts top-notch function alongside magazine-inspired fashion. Features like double ovens, instant hot water, under cabinet lighting, and a large granite island are all at your fingertips. Gather around the island and relax thanks to bar-style seating, or enjoy laidback meals in the adjacent dining area—you have more than enough room to host a crowd when the time comes! A butler's pantry and a wet bar are in the mix as well, and the formal dining room features crisp wainscoting that instantly elevates the aesthetic!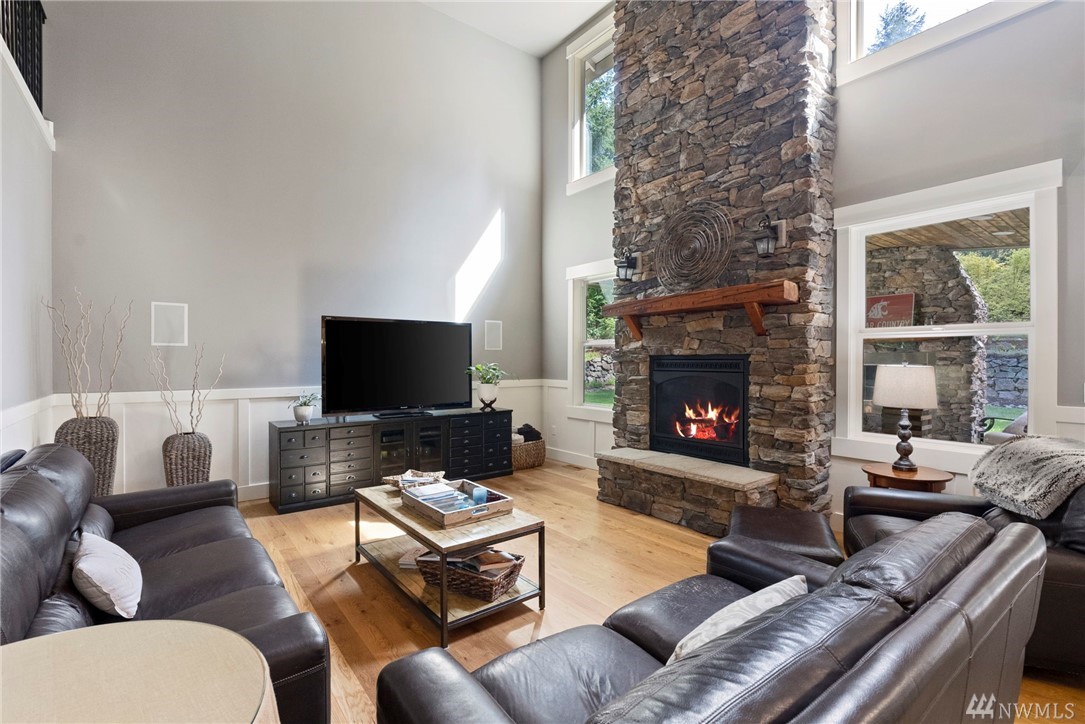 2. Stunning and stylish living spaces promise versatility. 
Beautiful oak hardwood floors flow from the kitchen to the living room, a breathtaking atmosphere with soaring ceilings and rejuvenating light that cascades in through tall windows overhead. An impressive stone-accented fireplace anchors the scene, and you can kick back and relax here whether you're enjoying a quiet evening catching up on your favorite TV shows or you're hosting guests and visiting around a roaring fire.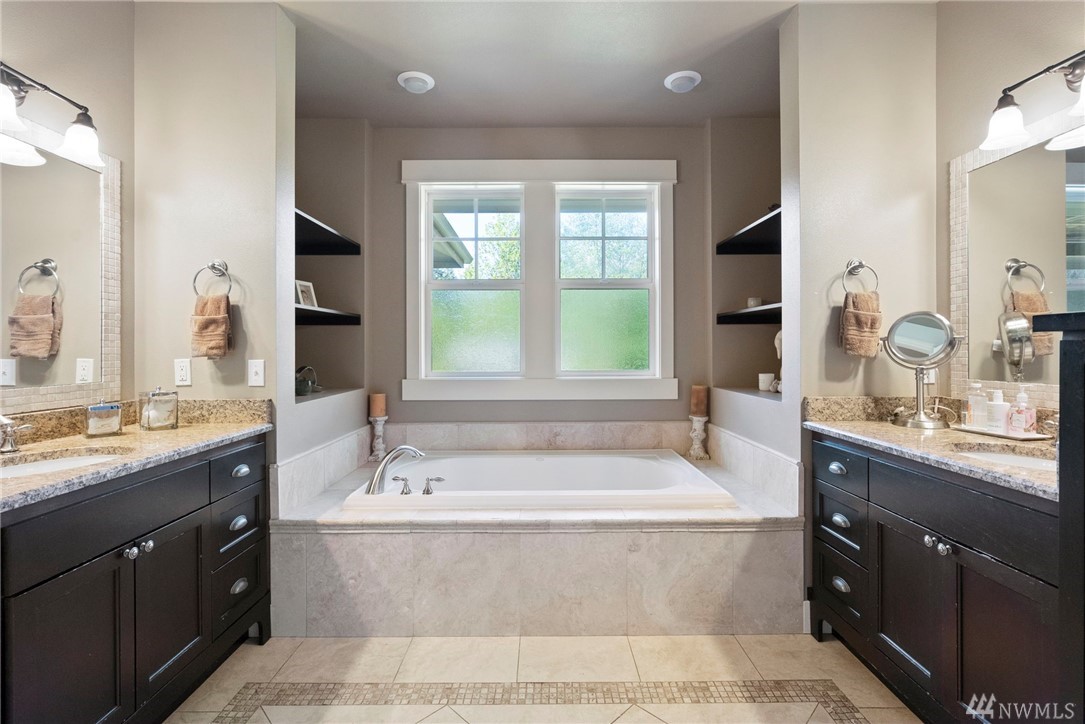 3. Main level master suite boasts sumptuous amenities. 
This home's layout features a main floor master suite, and the bedroom offers a sprawling layout with more than enough room for a king-sized bed and sitting area. The ensuite master bath showcases the crème de la crème of at-home spa-inspired experiences—a luxe soaking tub, a 3-headed shower, separate sinks/vanities, and fresh finishes that sparkle with style are all yours for rejuvenating wellness routines. Plus, a massive walk-in closet makes it easy to stay organized! 
4. There's room to grow thanks to 3 bedrooms, a loft area, and a huge bonus room! 
Head upstairs to discover incredible versatility. Each of the 3 bedrooms here offer privacy and comfort, while the loft area and huge bonus room are absolutely brimming with possibility. You have more than enough room to transform into a home office, a fitness center, the ultimate entertainment center, and more. Let your imagination get to work in dreaming up the possibilities!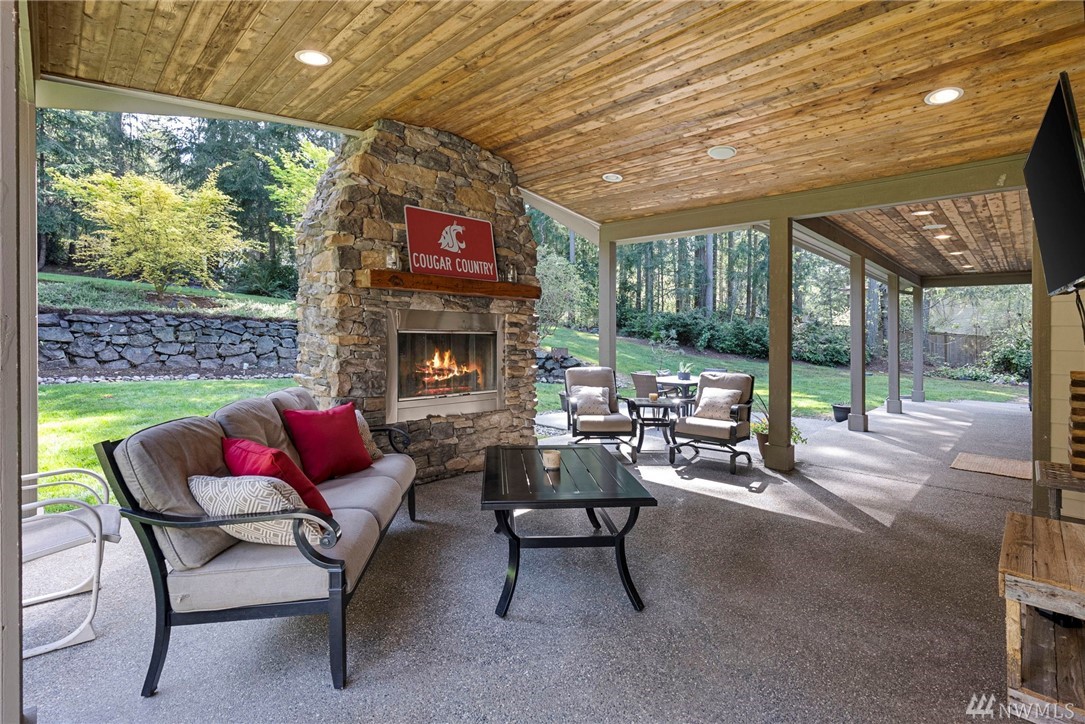 5. Outdoor oasis let's you feel miles and miles away from it all. 
1.15 acres of Fox Island bliss are all yours with this rare property. A spectacular covered patio with a fireplace and TV offer a lovely spot to spend time out in the fresh air no matter rain or shine. Lush natural greenery rests alongside manicured landscaping, and a sprinkler systems helps keep this space low-maintenance.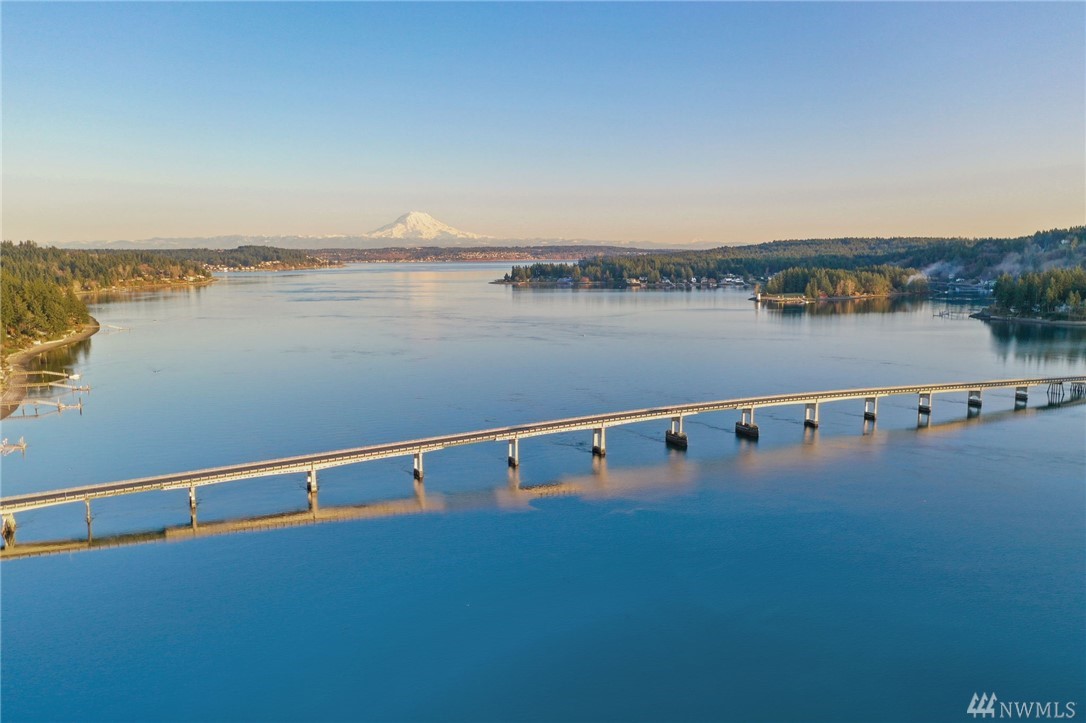 6. Fox Island offers the opportunity for a vacation-inspired lifestyle. 
At 865 7th Lane NW Fox Island, WA 98333, you get to enjoy island life while being conveniently connected to Gig Harbor by the Fox Island Bridge (meaning you don't have to worry about catching a ferry!). The bridge is only a 5-minute drive away, as is the Fox Island Boat Ramp. Spend sunny days exploring scenic beaches, head out on the water on your boat, kayak, or paddle board, and drop your line in at the Fox Island Fishing Pier. When you need to access city amenities, Uptown Gig Harbor (which offers tons of shopping) and Highway 16 are only a 15-minute drive away. 
Interested in learning more? Click here to view the full listing! You can also contact  REALTOR® Maria Kalafatich online here or give her a call/text at (253) 376-5559!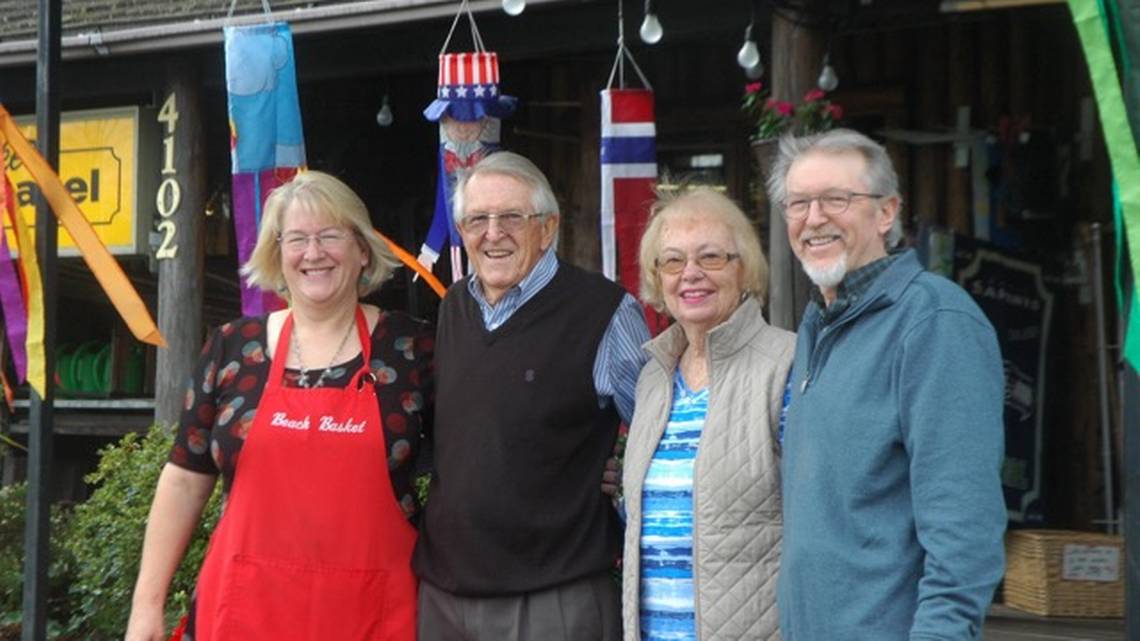 Shopping in  Gig Harbor is amazing! And we love and cherish our small businesses – and we have plenty of them! Here is a sampling of the great small shops and other venues to try when you are visiting. We promise to tour you around while you search for your new home.
Gift Shops
Rosedale Gardens
Treasures for Humanity
Salons
Studio Six Salon and Spa
Rebel'tude
Restaurants
BBQ2U
The Devoted Kiss
The NetShed
Thai Hut
Gardening
Raft Island Roses
Specialty Stores
For the Love of Spice
The Beach Basket
Leave a comment on your favorites – or list what you know of these businesses. It is so important to support small businesses, especially during this difficult time.
Happy Shopping!
Maria K.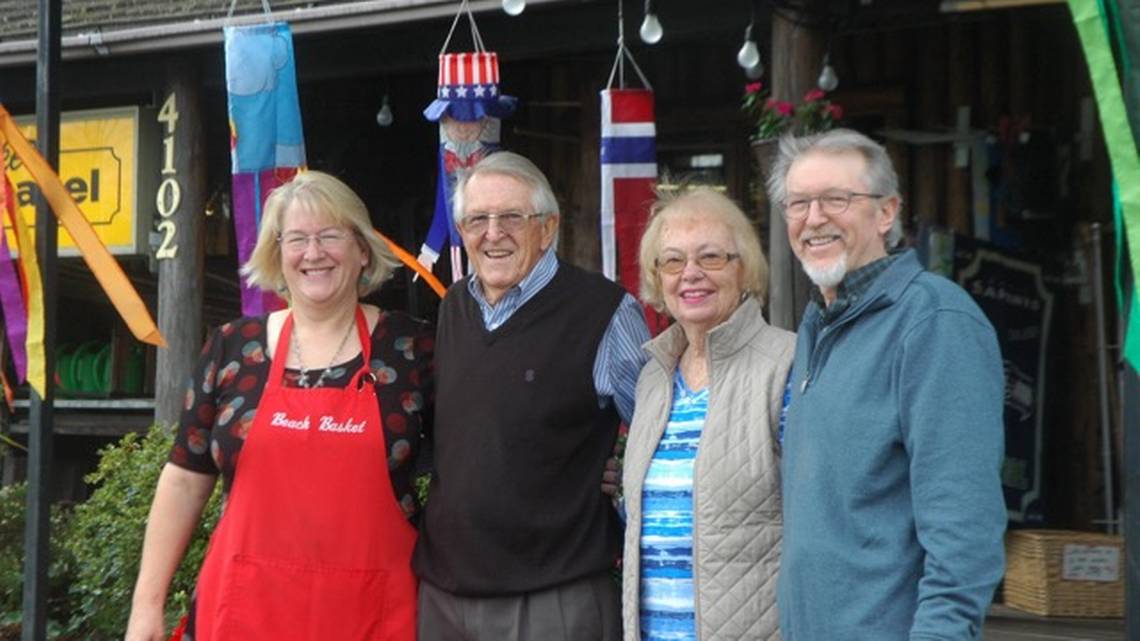 Two generations of the Schmidtke family are celebrating Gig Harbor's gift shop, Beach Basket's 50th year in business. From left, Kim Stokke, Julian Schmidtke, Leslie Schmidtke, and Michael Schmidtke. Photo Credit: The Gateway Staff, The News Tribune.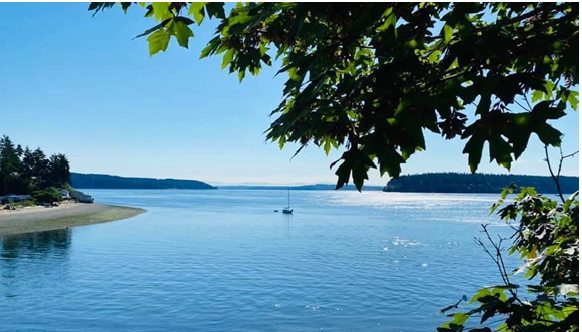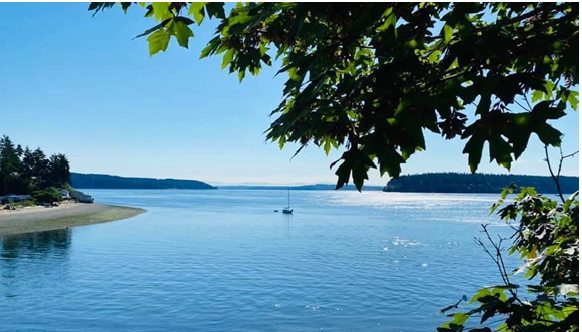 In all the news, you may have heard that Seattle Real Estate is going crazy again. 
You might be wondering why this got me so excited about being a realtor focusing on Gig Harbor, Port Orchard, Olalla and Purdy. This article from Seattle Times from earlier in the month caught my attention. The parts in italics are direct quotes. 
Blame the coronavirus pandemic…
Prices are on the rise. Homes are selling faster than they have since early 2018. Bidding wars abound. And fewer homes are for sale than any time in recent memory, new data from the Northwest Multiple Listing Service show.
In King County, there were 47.5% fewer homes for sale in June than the same month in 2019…The drop in inventory is driving up prices and sending homes flying off the market in days. In King County, a typical home sold last month for $725,000, a 4.3% bump from last year, and a 7.9% rise from May.
Meanwhile, months of inventory — a measure of how long it would take to sell all the homes on the market at the current level of demand — dipped to just over one month in King County.
Two thoughts: 
First, if this coronavirus taught us one thing, its that many more people can work remotely than we previously thought. 
Second, as home prices rise and demand falls, more and more people who live in King or Snohomish County will take this chance and sell their homes to move to a more affordable place. 
Or…they will realize Gig Harbor is the perfect place to live and work remotely.
All because coronavirus taught them that they could work from anywhere. 
As people realize they can work from home or at least work more from home, they will start to look around to decide where they really WANT to live. My guess is, they will deduce that Gig Harbor is 90-minute, BEAUTIFUL ferry ride to Seattle, and an hour drive to Tacoma. If you are only going into the office once a week, these commute times are very workable. 
Then for the rest of the week, you can live in the most beautiful city in the state. 
OK… I might be slightly biased. But I'm not wrong. 
So if you are looking to buy, give me a call because over the next six months, prices will start to climb. Or, if you are looking to sell, this is a great time to cash-in on your equity. 
Either way, I can help you get the most out of your next real estate transaction.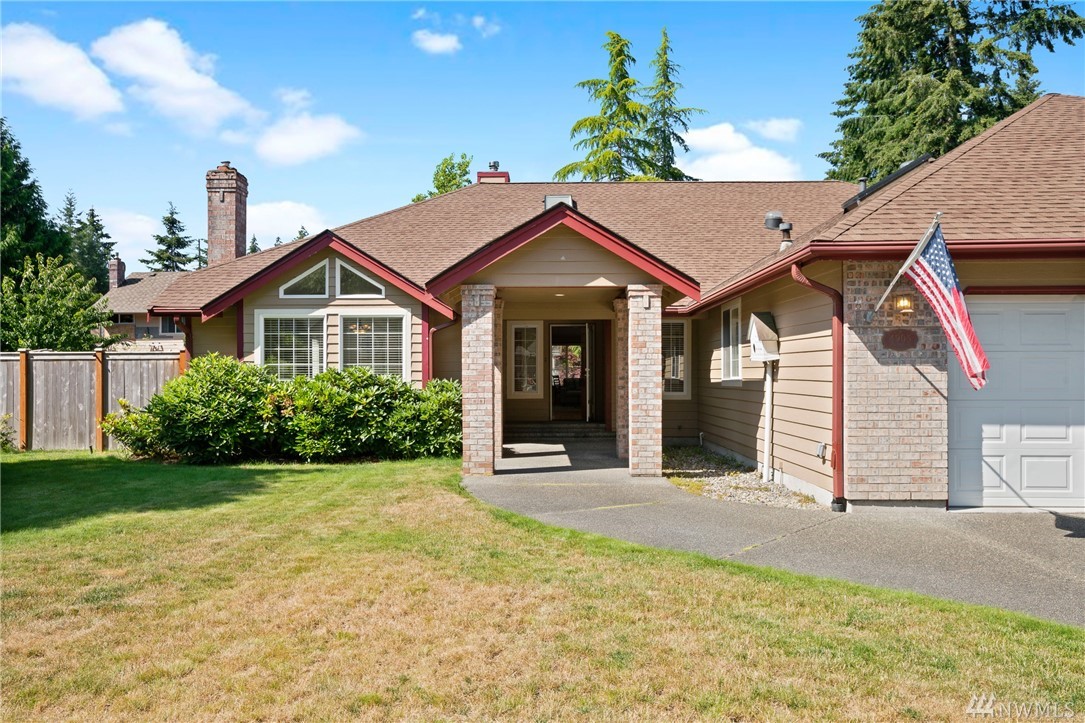 Showcasing an immaculately maintained 2,374-square-foot layout and plenty of picturesque outdoor space to enjoy, this Gig Harbor rambler is wonderfully move-in ready. Situated in the North Creek Estate neighborhood and just 4 minutes to the Downtown Gig Harbor waterfront, this beauty offers a not-to-miss opportunity! Additional highlights of this 4-bedroom, 2-bath home include the sumptuous master suite, the elegant entertaining spaces, and the 900+ square foot 3-car garage. Located at 4905 Eagle Creek Lane Gig Harbor, WA 98335, this residence is listed for $575,000.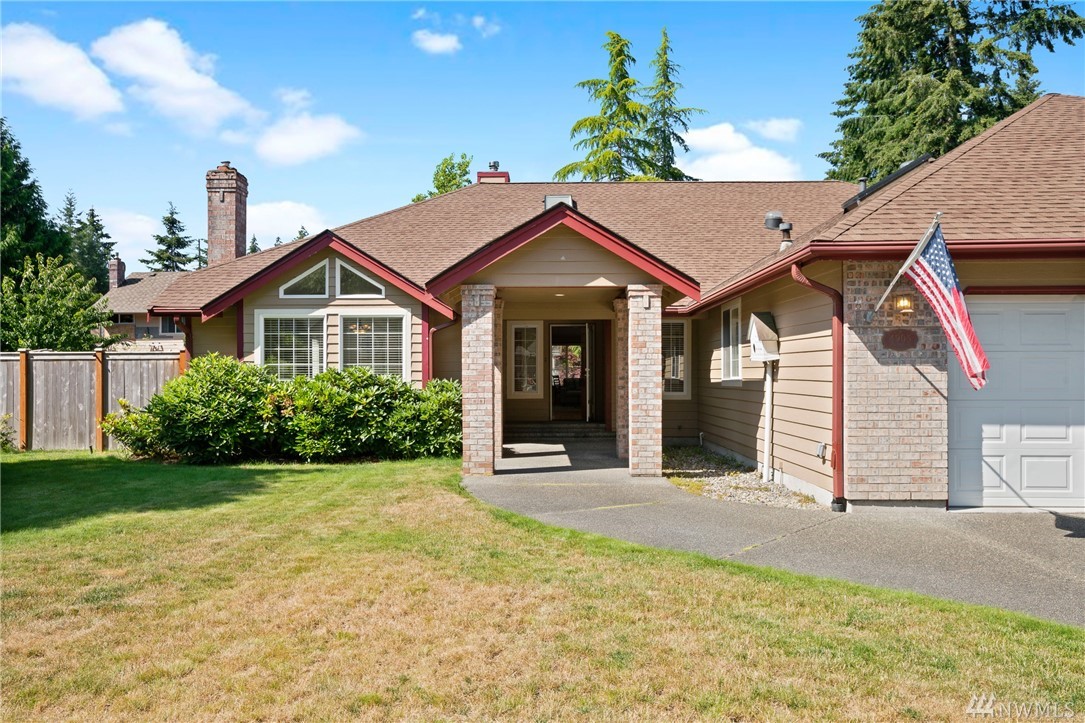 This home provides several standout features that you won't want to miss, and here are the top 6 highlights: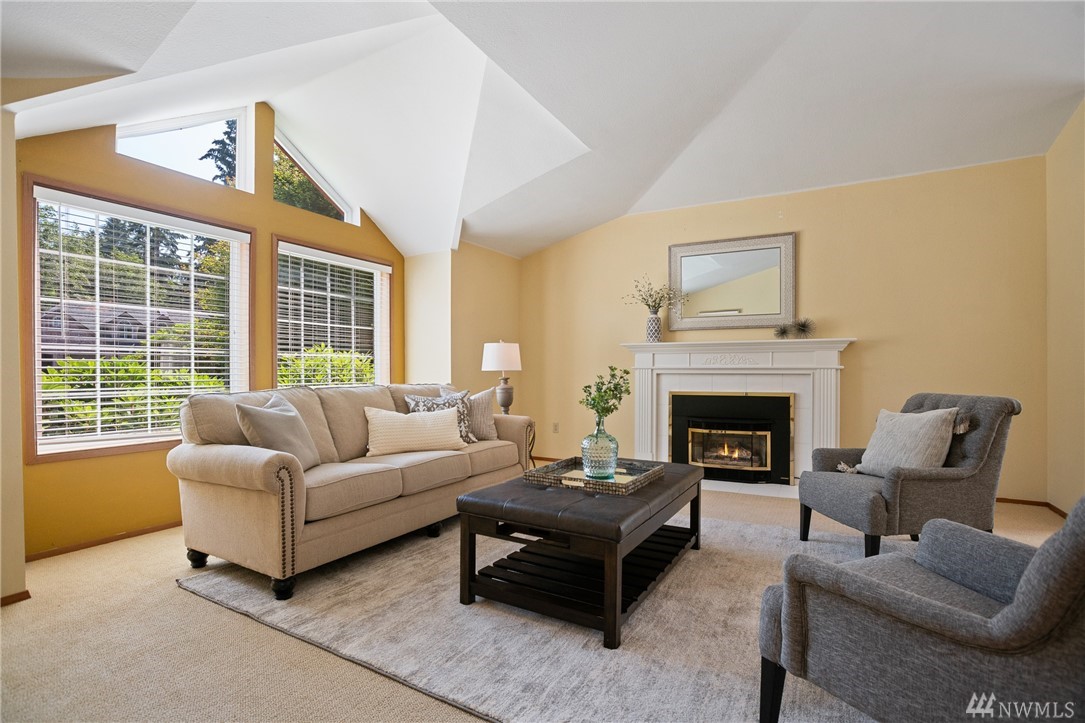 1. Formal living spaces are an entertainer's dream. 
Whether you're hosting a crowd or simply having a few friends over to catch up, this home's fabulous entertaining spaces ensure that you can entertain with ease! The formal living room shows off sophisticated style straight from the glossy pages of a home decor magazine, and rejuvenating sunlight cascades in through large windows while vaulted ceilings add visual intrigue. A stately fireplace anchors this light-filled scene, and the layout seamlessly flows right into the formal dining room. A spacious layout means that you have more than enough room for a full-sized dining table—dinner parties and holiday feasts are at home here!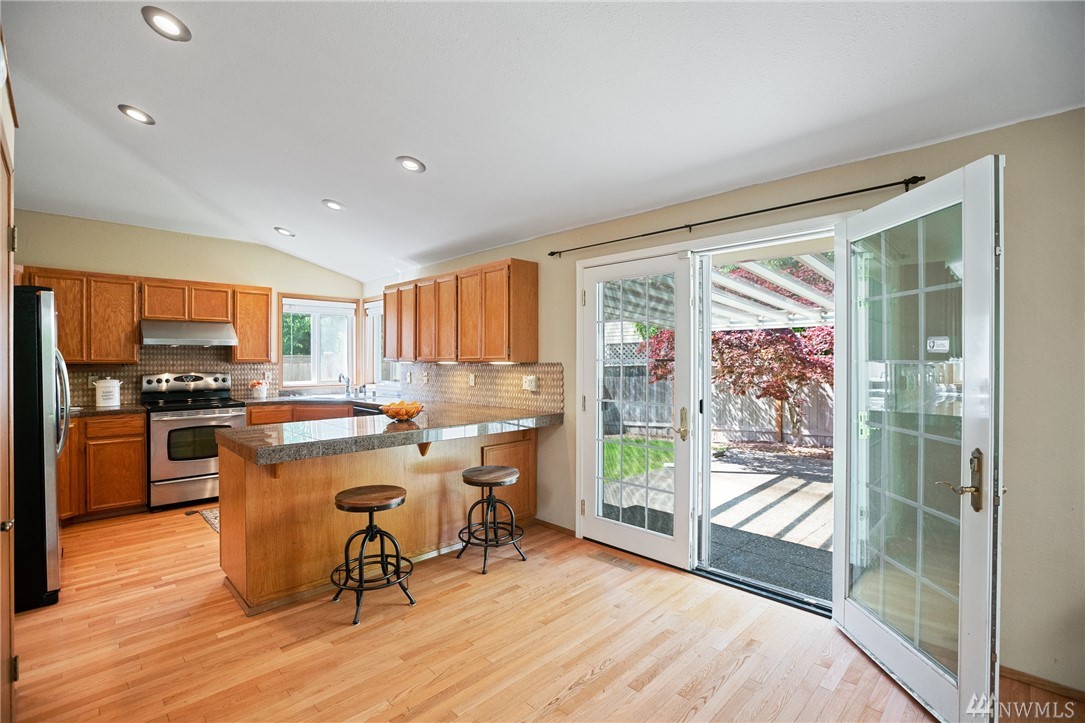 2. Beautifully appointed kitchen. 
One of this home's major perks is its incredible natural light, and the same is true in the kitchen and the great room. The kitchen's smart design promises abundant storage in generous cabinetry and large shimmering counters ready for meal prep, and you even have on-trend bar-style seating that's perfect for a glass of wine with a friend or a quiet morning cup of coffee. And when it's time to relax, the adjacent living area is truly a joy to spend time in with its incredible skylight and cozy stove.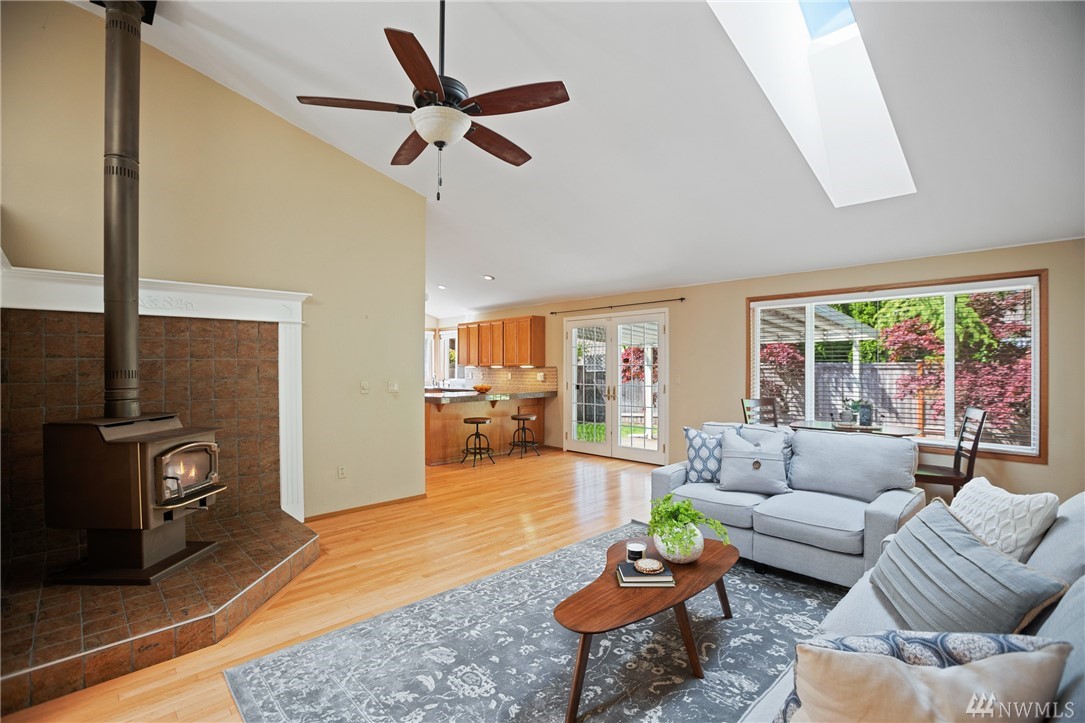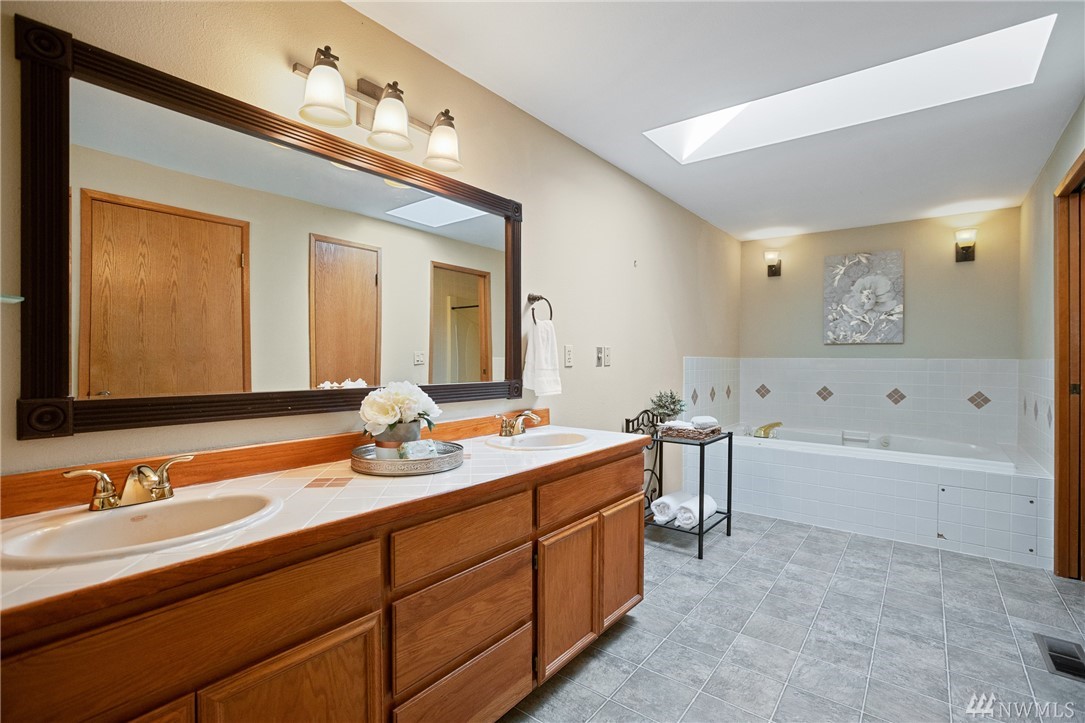 3. Luxurious master suite.
Ultimate comfort awaits in the master suite, a haven of rest and repose. An extra-large layout offers more than enough space for a king-sized bed, a sitting area, a desk and even a fitness area, but just wait until you see the real showstoppers—the ensuite bath and the huge walk-in closet! The walk-in closet is absolutely dreamy and comes with a built-in storage system so you can move in and start to unpack and get organized right away. The master bath offers a refreshing getaway, and the soaking tub is a definite highlight—sumptuous bubble baths are in your future here! 
4. Large 3-car garage. 
Those who need extra space for hobbies and projects are sure to adore having a 900+ square foot 3-car garage to spread out in. Keep your vehicles, tools, and toys all safe from the elements and enjoy having designated space that's all yours.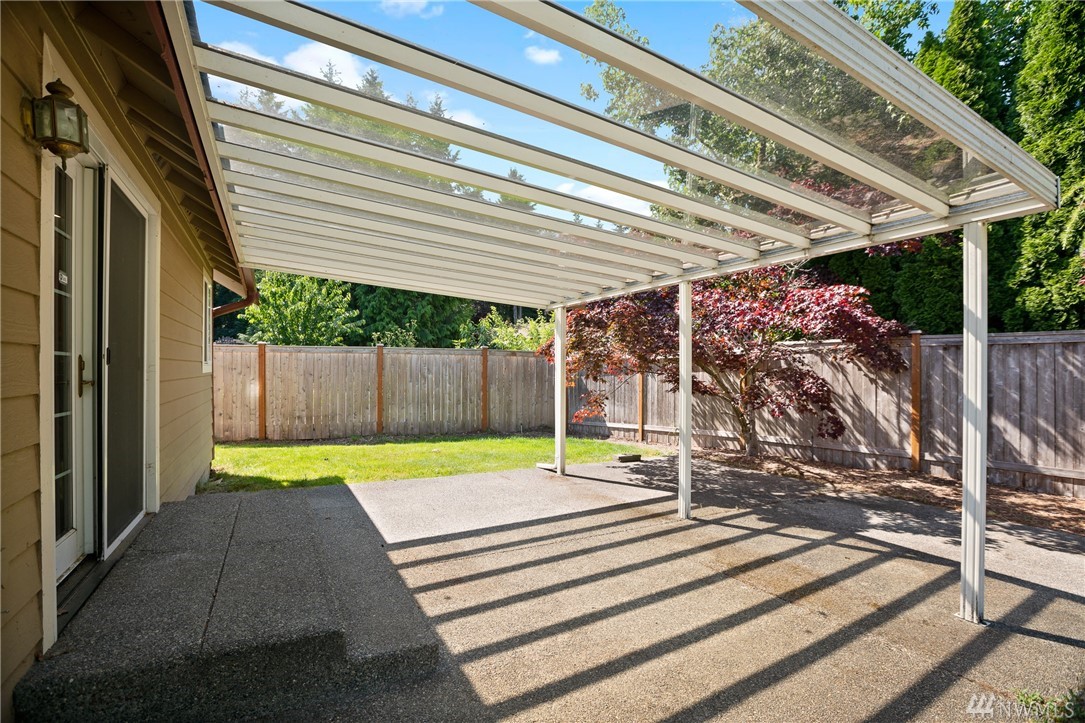 5. Incredible backyard in an idyllic setting. 
While this property's outdoor scene is absolutely lovely as is, it's also brimming with possibility and room for your imagination to get to work. In the backyard, a large covered patio allows you to take in the fresh air whether rain or shine, and you've got the space for a barbecue and comfy outdoor furniture. Spruce up this oasis with a vibrant outdoor rug, flower baskets blossoming with brilliant blooms, and a string of glowing firefly lights! Mature landscaping provides a relaxing view, and if you'd like, you can put your green thumb to work tending to the greenery or adding your own favorite plants and landscaping touches into the mix.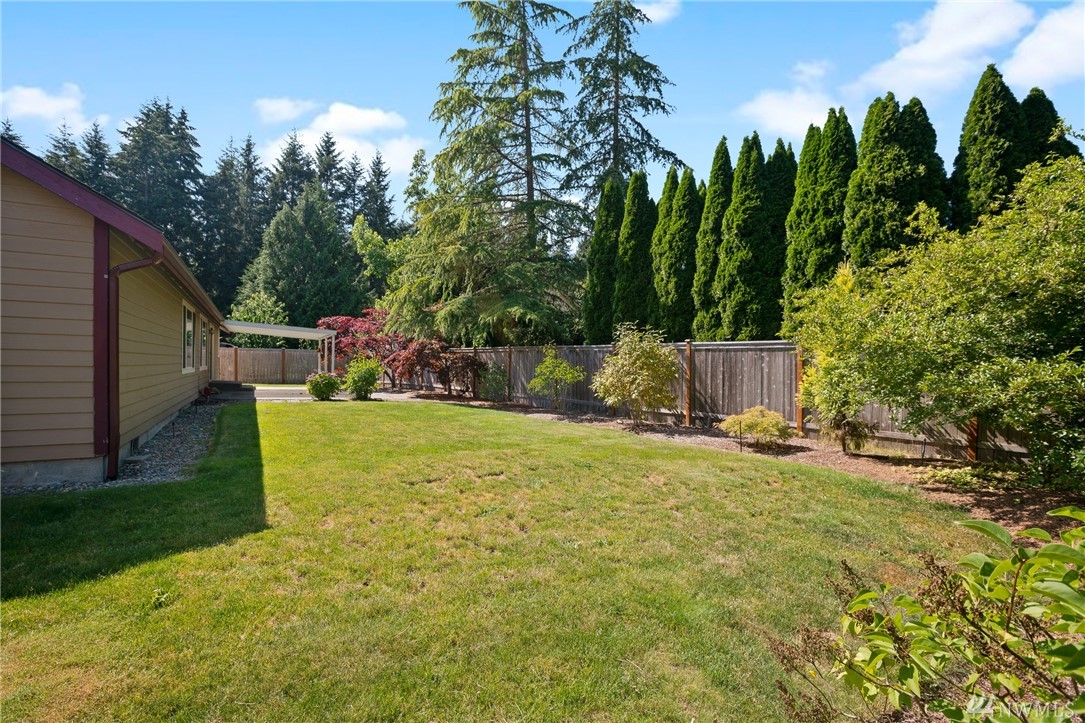 6. Prime location only 4 minutes into Downtown Gig Harbor. 
At 4905 Eagle Creek Lane Gig Harbor, WA 98335, you're only a 4-minute drive right into the heart of Downtown Gig Harbor where you can enjoy water sports, iconic waterfront dining, browse shops and galleries, and of course, take in the breathtaking views. You're only 5 minutes to connect to Highway 16, and when you need to run errands, Uptown Gig Harbor is a quick 6-minute drive away. Places like Fred Meyer, Safeway, Harbor Greens, HomeGoods, the movie theater, medical facilities, and dozens of other shops, local services, and restaurants are all easily within reach here! 
Interested in learning more? Click here to view the full listing! You can also contact  REALTOR® Maria Kalafatich online here or give her a call/text at (253) 376-5559!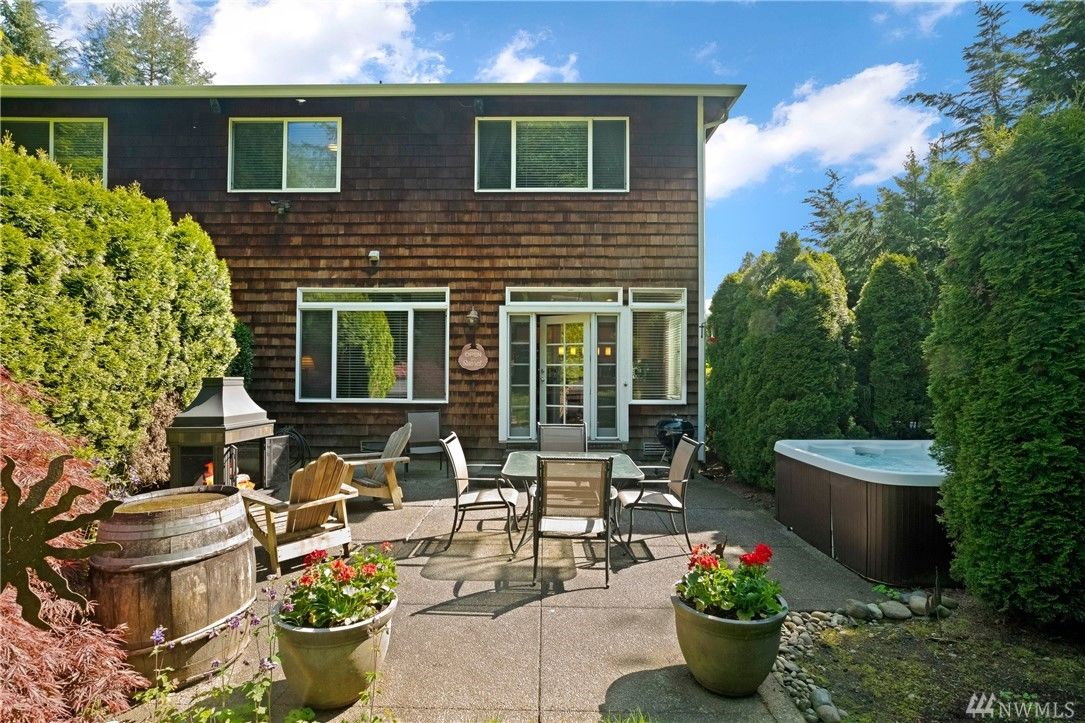 Gig Harbor's Canterwood Golf & Country Club community offers the opportunity for resort-inspired living, and this 2,570-square-foot masterpiece presents the ideal situation! Perched high up on a 0.4-acre lot with fantastic east and west sun exposure, this residence offers Pacific Northwest living at its finest. In addition to a sprawling layout that includes 3 bedrooms, 3 baths, and well-appointed living areas, you'll also find immaculately manicured landscaping at every turn! Located at 13206 53rd Ave NW Gig Harbor, WA 98332, this Gig Harbor gem is listed for $699,950. 
Each square foot of this home is worth seeing for yourself, but there are a few standout features you definitely won't want to miss! Here are 4 major highlights of this home-sweet-home: 
1. Tucked away in Canterwood Golf & Country Club community & situated in a prime Gig Harbor location, too! 
Not only is this retreat in a highly desired neighborhood, but it's also merely minutes to some of Gig Harbor best amenities. This community gives you access to the lush and pristine 18-hole golf course, as well as a pool, tennis courts, and other exclusive community spaces and events.
Take advantage of premium amenities while living just minutes to city convenience. Connect to Highway 16 and reach Borgen Boulevard in just 4 minutes, the latter of which gives you quick access to places like Target, Costco, Albertsons, Walgreens, Petco, The Home Depot, Big 5 Sporting Goods, the Cushman Trail Head, and several other shops, restaurants, services, etc. You're also only a 7-minute drive from the heart of Downtown Gig Harbor, making it easy to enjoy iconic waterfront activities!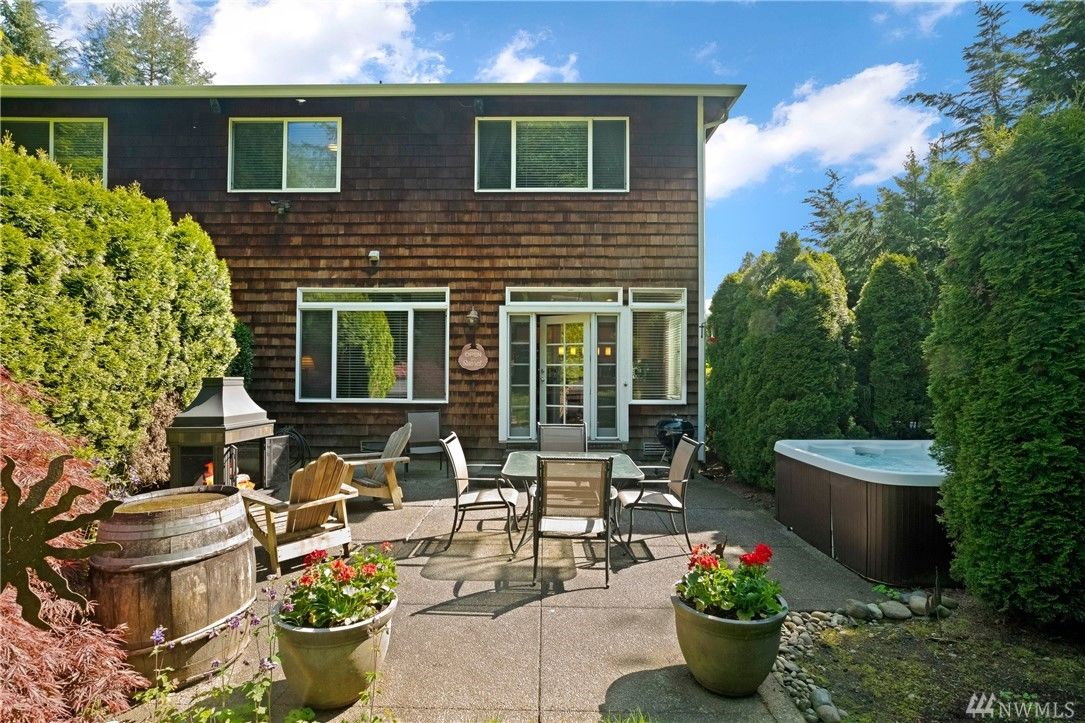 2. Picturesque 0.4-acre oasis. 
Storybook beauty greets you as soon as you pull in the driveway, and this home rests at the top of the lot. Lush landscaping wraps around the home (a sprinkler system makes maintenance easier!), and mature greenery surrounds the property for extra privacy. In the secluded backyard, Pacific Northwest bliss is all yours—in addition to the large yard that's perfect for tossing around a football in, a charming patio offers an idyllic hangout. Enjoy al fresco dining when the weather warms up, unwind in the hot tub, and roast s'mores around the outdoor fireplace while the sun goes down and the stars come out.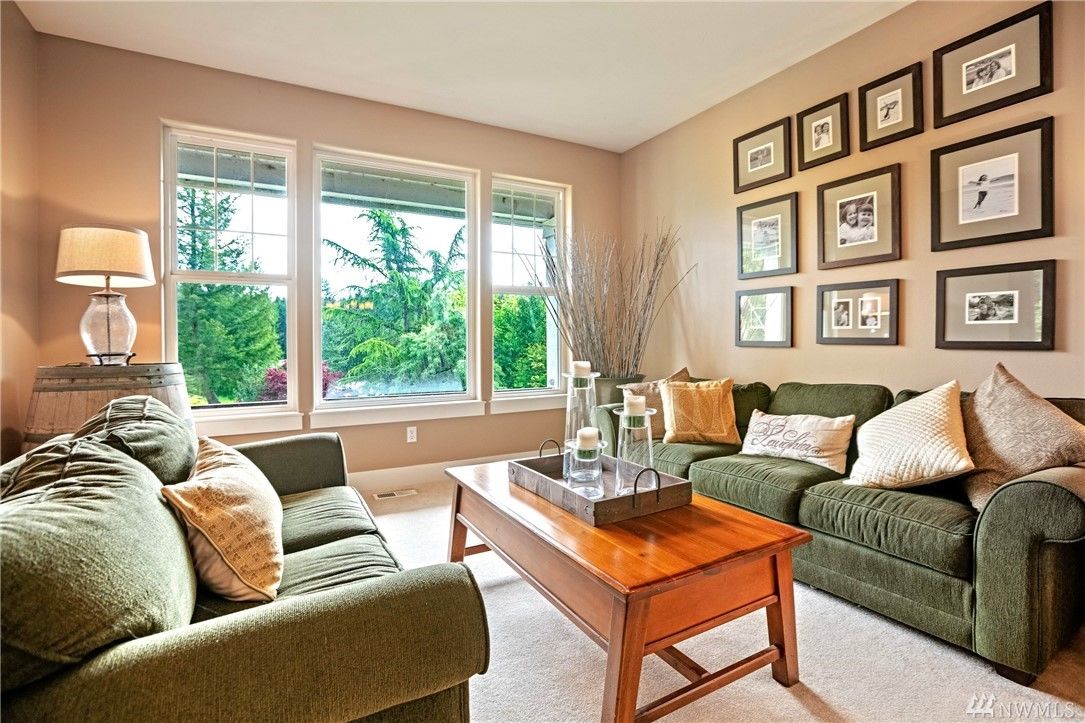 3. Warm & inviting living spaces ideal for entertaining. 
From the moment you step in through the front door, this home's welcoming atmosphere and contemporary style are sure to impress! Natural light pours in through large windows in the formal living room, and the layout seamlessly flows into the formal dining room. Entertain with ease, whether you're having a few friends over for a dinner party or hosting a lively holiday gathering!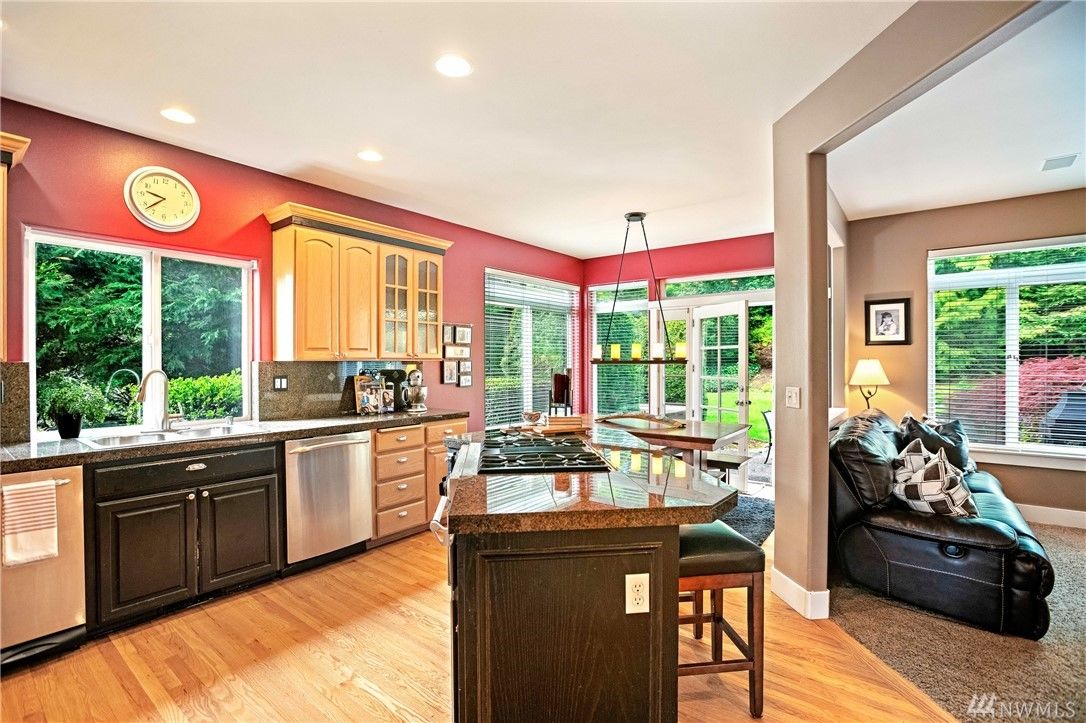 Toward the back of the home, the family room, kitchen, and dining nook promise a lovely setting to spend time in, and the open-concept layout encourages quality time with loved ones. Snuggle up in the family room to catch up on your favorite TV shows while a fire roars in the elegantly accented fireplace; gather in the light-filled kitchen to prepare meals or enjoy baking marathons; and sit down for weekend brunches and laid-back dinners in the dining nook!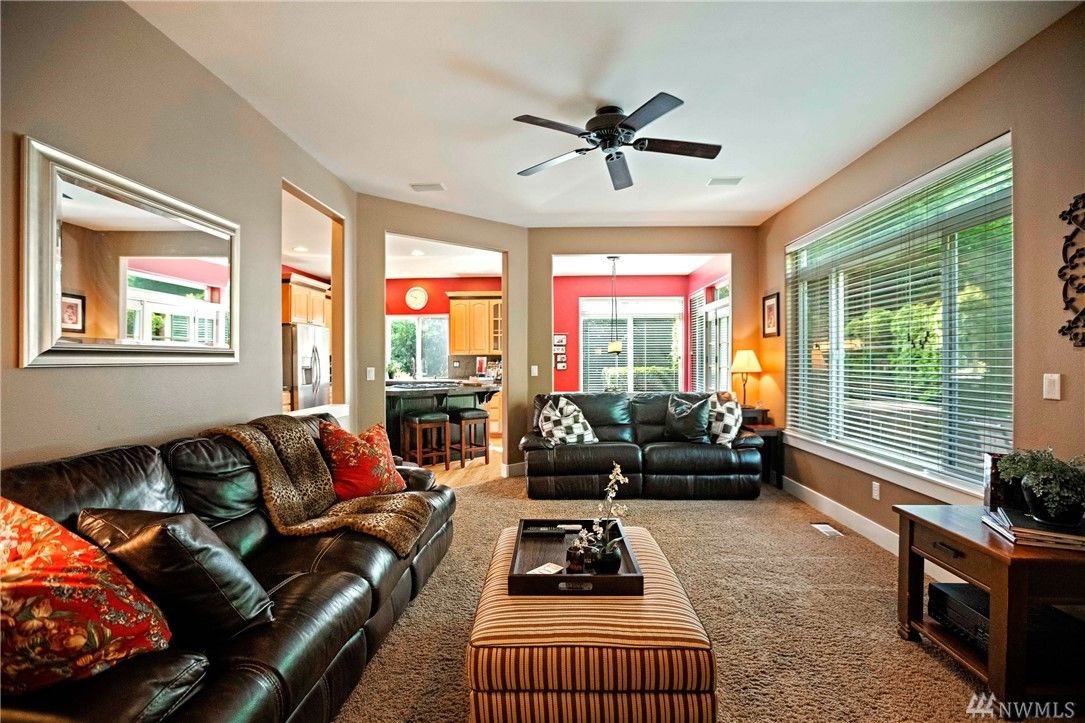 4. Sumptuous master suite offers resort-worthy amenities. 
One of this home's not-to-miss highlights includes the master suite, a sumptuous getaway designed for ultimate rest and relaxation. A huge walk-in closet is absolutely dreamy, and the ensuite bath is filled with cheerful sunlight and a corner soaking tub that's ready for luxurious bubble baths. Additionally, this home includes 2 more bedrooms, plus an office, a bonus room, and a laundry room that's conveniently on the second floor (no hauling loads of laundry up and down the stairs!).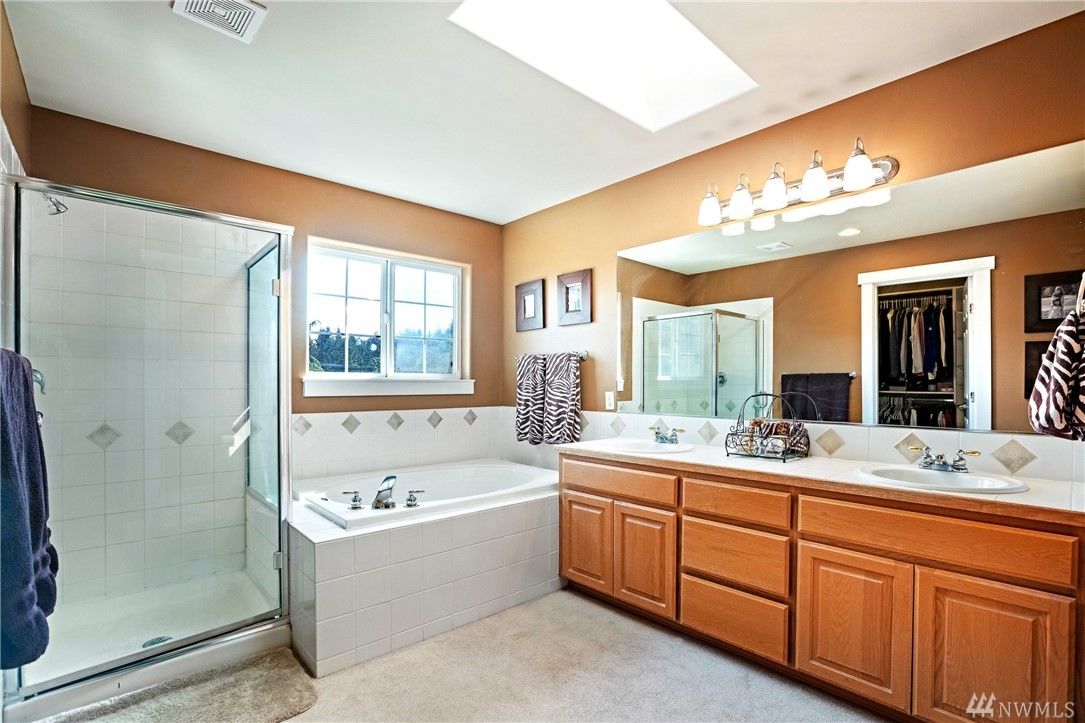 Interested in learning more? Click here to view the full listing! You can also contact REALTOR® Maria Kalafatich online here or give her a call/text at (253) 376-5559!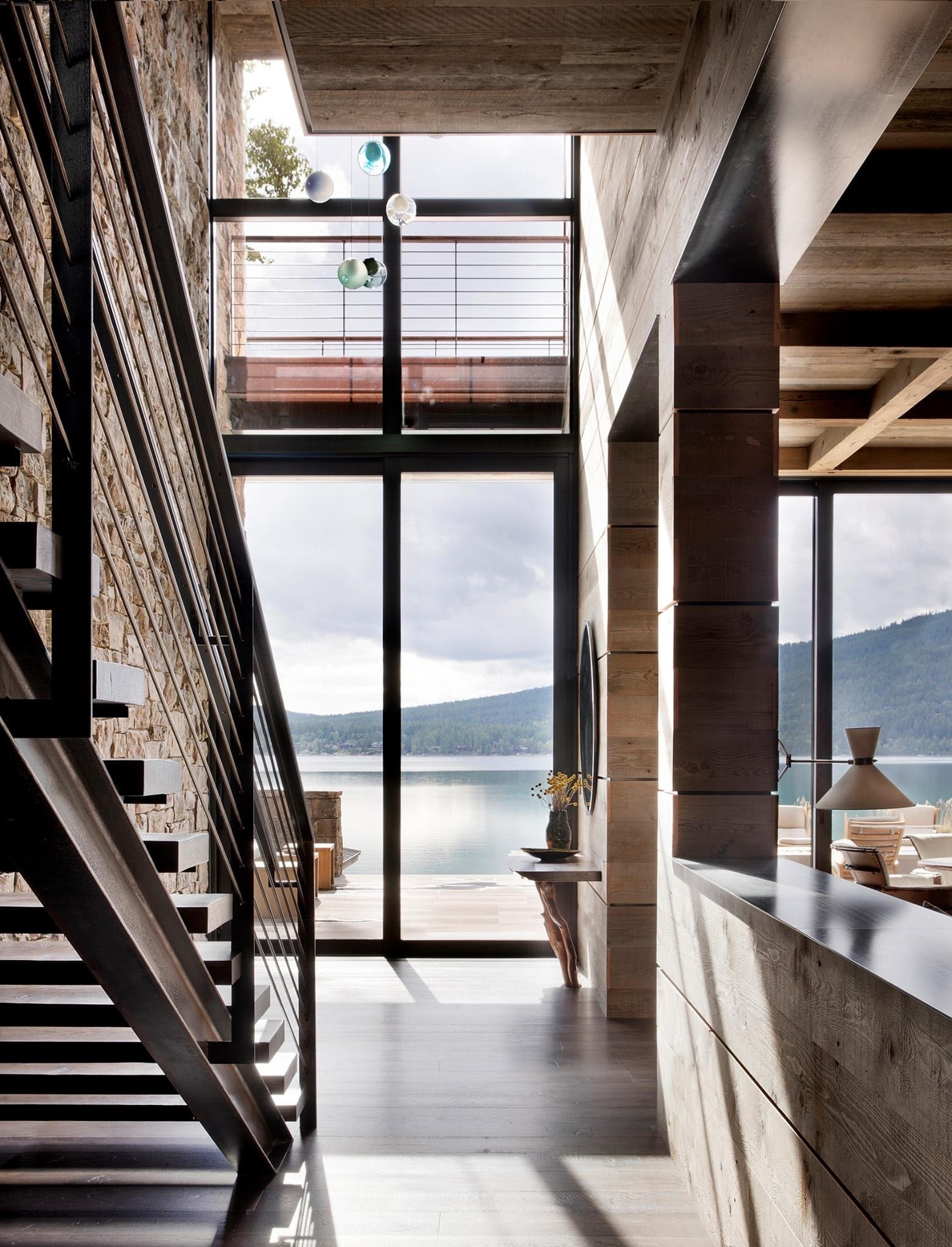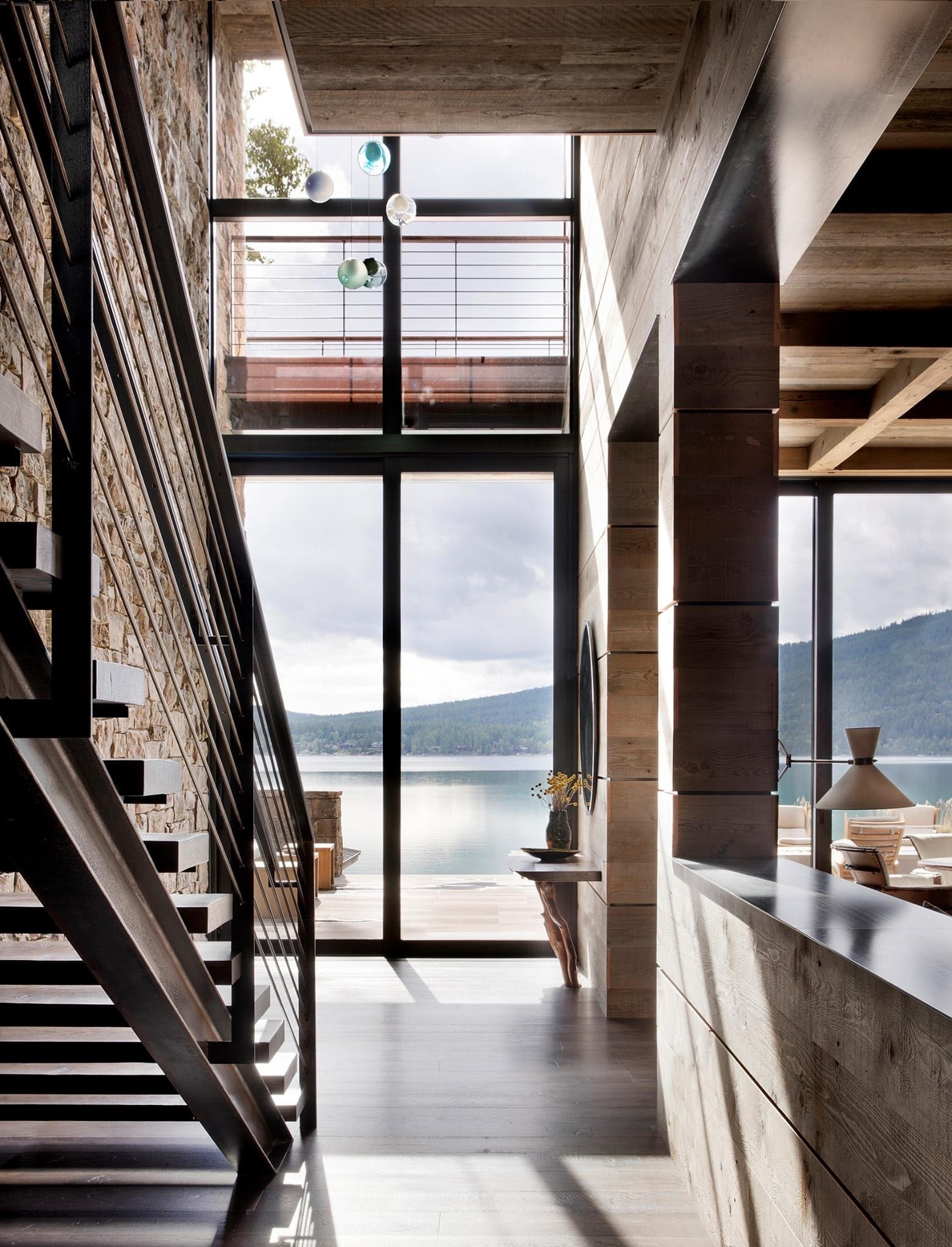 Zillow is a very popular Real Estate estimation service…but does popularity mean accuracy? 
As a real estate agent, I love helping people find, improve, sell or invest in real estate. I think I have the best job in the world. Every day, I get to walk alongside people who see a preferred future and have asked me to help them get to that preferred future. 
Along the way, I get to answer many, many questions. And questions about Zillow are usually the first ones I get to answer. 
Let's clarify a few misconceptions about Zillow…
Since I am a positive person, I'll start with Zillow's positive attributes. Zillow brings together a ton of information in one place. If a buyer wants to make a first glance at the homes for sale in a given area, Zillow is thoroughly adequate. If someone wants statistics on how prices have changed in a zipcode over time… than Zillow works. 
If a buyer wants a quick look at square footage, room numbers and age of a home than again, Zillow gives some great information. 
Zillow's proprietary calculations look at the LAST SALE price of a particular home and compare that price with CURRENT sale prices of similar homes in the area. From here, Zillow calculates their Zestimate. 
Oh, one other good point about Zillow is they clearly state that this is an estimate and not an actual value. 
Now, let's talk about the reality. Zillow can not know if you have spent $60,000 on home improvements. Likewise, Zillow can't tell if you have significant water damage, a crack in the foundation or an old roof. 
This is where real estate agents like myself come into the picture. We spend our days looking at and evaluating the values of a home. We are able to take into consideration the up-keep of a home. We are able to actually look at see that the shag carpet hasn't been replaced since 1960. We look at comparable sales of homes in the neighborhood to give a true context to the prices that are requested. 
Also remember that Zillow is funded by ad revenue. Over inflating someone's home value is a sure way to get people to bring their eyeballs back to a site. The more eyeballs Zillow delivers, the more money they can charge advertisers. 
Pricing your home for sale or knowing what price to pay for a home is what real estate professionals spend all our time discussing.  When the right time comes, give me a call and we will sit down and make sure your next real estate transaction is your best real estate transaction.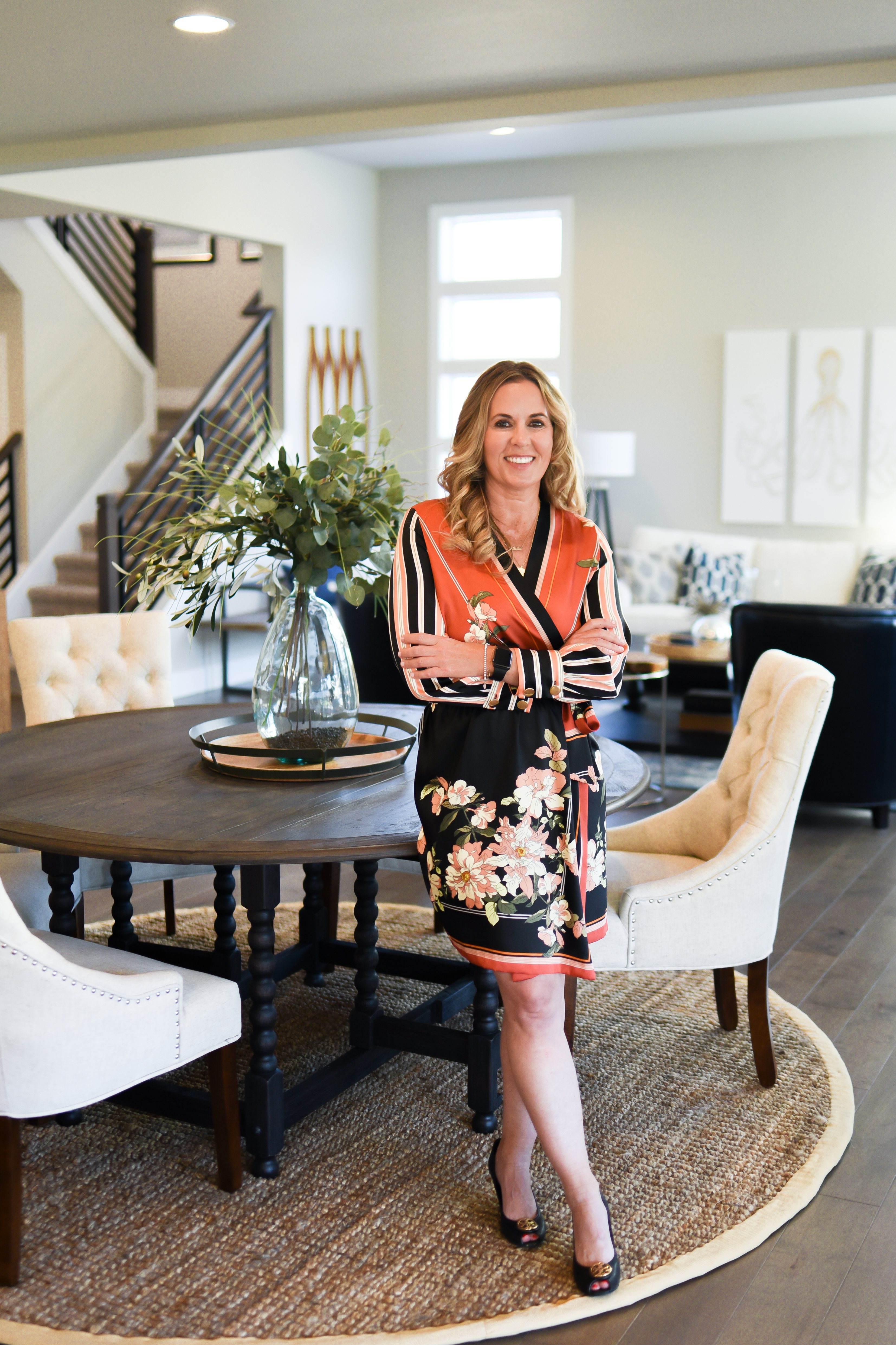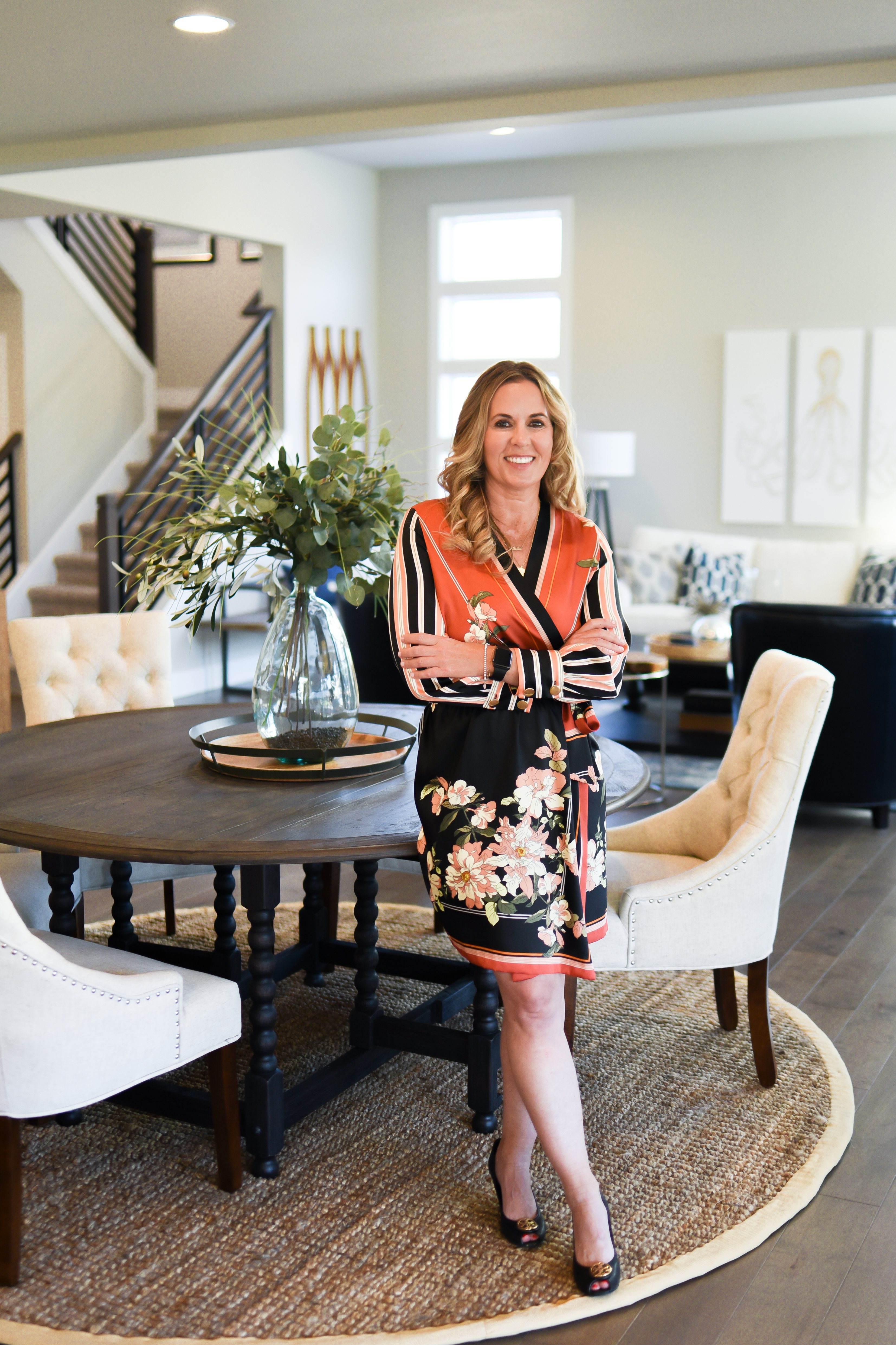 COVID-19 has been a scary time for all of us. If you're thinking about buying or selling, you may have some questions. I'm going to answer the ones I'm hearing most frequently.
Can I still buy a house during the COVID – 19 Crisis?
Yes, you absolutely can still buy a home during this crisis. There are just a few extra precautions that are implemented for sellers and buyers when showing a home-like: ​wear a mask, wear gloves, use hand sanitizer, and 2 people in a home at one time.
What do I do if I am in the middle of a move and house hunt?
House moves are still happening, movers are essential types of business.  ​You can search for homes online, then when you find a home you want to see your agent makes a showing appointment for you both to see the home, use Marco Polo video to view the home, or face time.
Are you keeping regular business hours?
Yes, I am. 8am-6pm and answer phone up until 8pm. 7 days a week.
Are there special assistance programs available for purchasing homes?
You need to get a pre-approval from your lender or I can refer you to a few great people I work with that will go over all the loan programs, payments, rates, etc.
Are you still showing houses?
Yes I am.
Can you help me find a place to rent while I wait this out?
The Rental Market is very tight but you can check on Zillow rentals, Spinaker Property Management, & HCS Property Management.
How are you making sure the houses you show are clean and safe for my family?
When making showing appointments for buyers I ask the agent if the home has been cleaned and if there are masks, booties, hand sanitizer and I carry it all in my car in a showing basket that we can use before and after a showing.
Any community resources you know of?
I'm following the Governor's recommendations, the NWMLS & CDC for the COVID-19 disease.
I am always here to help in any way that I can, don't hesitate to give me a call if you need help selling or buying a home during the pandemic.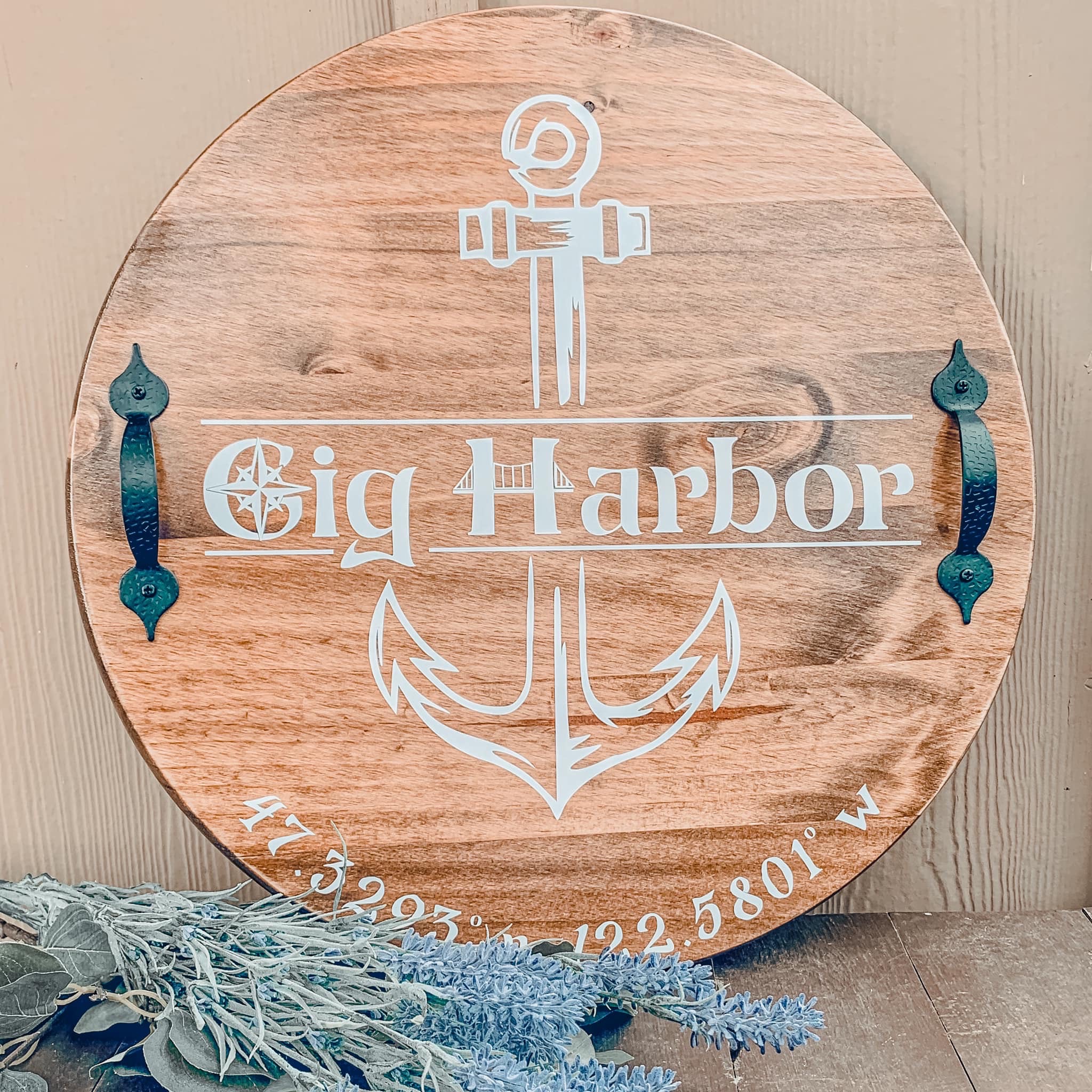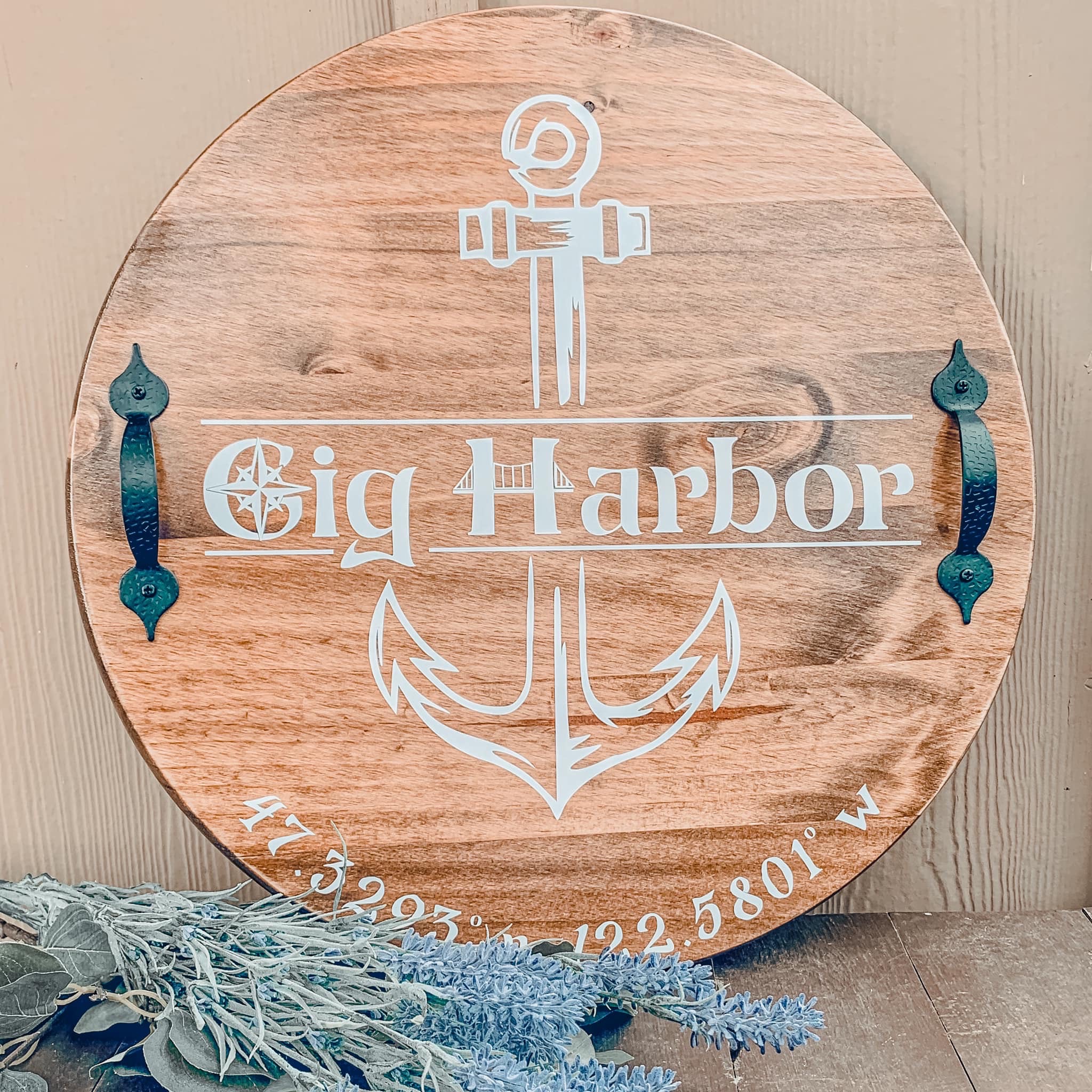 *photo credit: cward360
Quick market update on our favorite city- Gig Harbor
Hey friends! 
I want to give you a quick update on the Gig Harbor real estate market. If it seems like houses are for sale all over our beloved city…it's because THEY ARE! Once people visit and see the views, the green surroundings, and quick access to everything, they want to live here! 
January 2020 was quite active for a winter month. The median sale price was $380,000 and the average price was $330,000.  These amounts are an increase of just over 1% for the month and 13% for the year. Yes, you read that right- 13% increase for the year! 
Just over 800 homes sold, and almost a thousand homes went on the market. That is an active winter month. 
The average time on the market was just under five weeks. This time on the market is down 35% for the year. So, when homes pop up in Gig Harbor, they sell FAST! 
Currently, there are two sellers for every buyer. My guess is that number will change pretty dramatically over the next few months as people come out of their homes, see their shadow, and start thinking about moving. Spring is always a great time to sell as the winter funk starts to fade. 
So- with all of this in mind, what should you do? 
Great question… first of all, if you are thinking about ANY real estate issues, make me your first call. I live with my finger on the pulse of the entire region and I can help you discern between a good idea and a great idea. And when it comes to real estate, the difference between good and great can be thousands, if not tens of thousands, of dollars in your pocket. 
If you are debating selling your home…call me! I'll take a look at your home and give you great options to ensure you get the top dollar for your home. 
If you are debating buying a new home…call me! My eyes are scouring the available listings daily! Nothing makes me happier than finding a house that is underpriced or in a distressed selling situation and calling one of my clients! This creates quick transactions that help both the seller and the buyer. 
Thanks for reading! I love Gig Harbor and I REALLY LOVE handing keys over to people whose lives are about to get better. 
Hope to talk to you soon! 
Maria