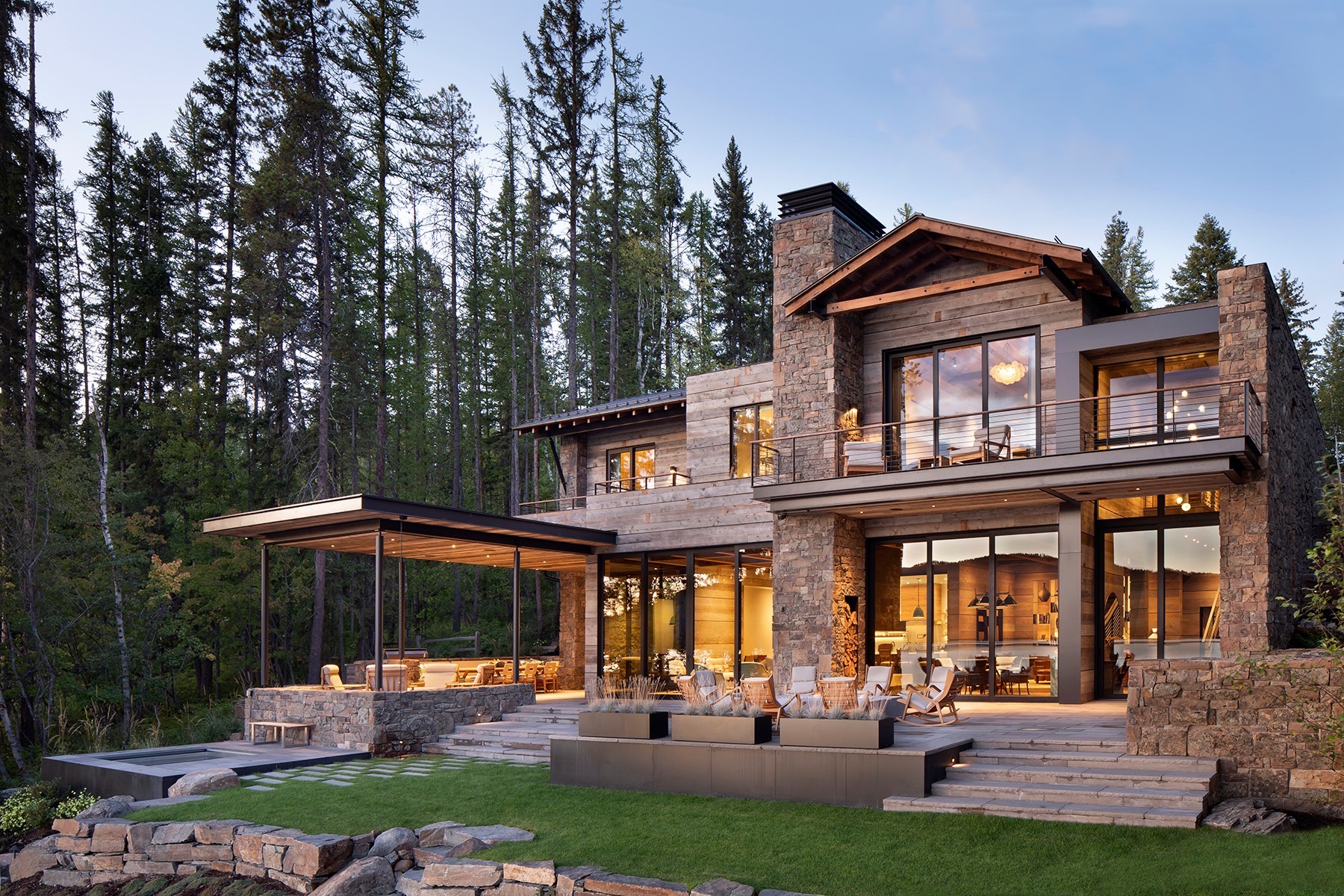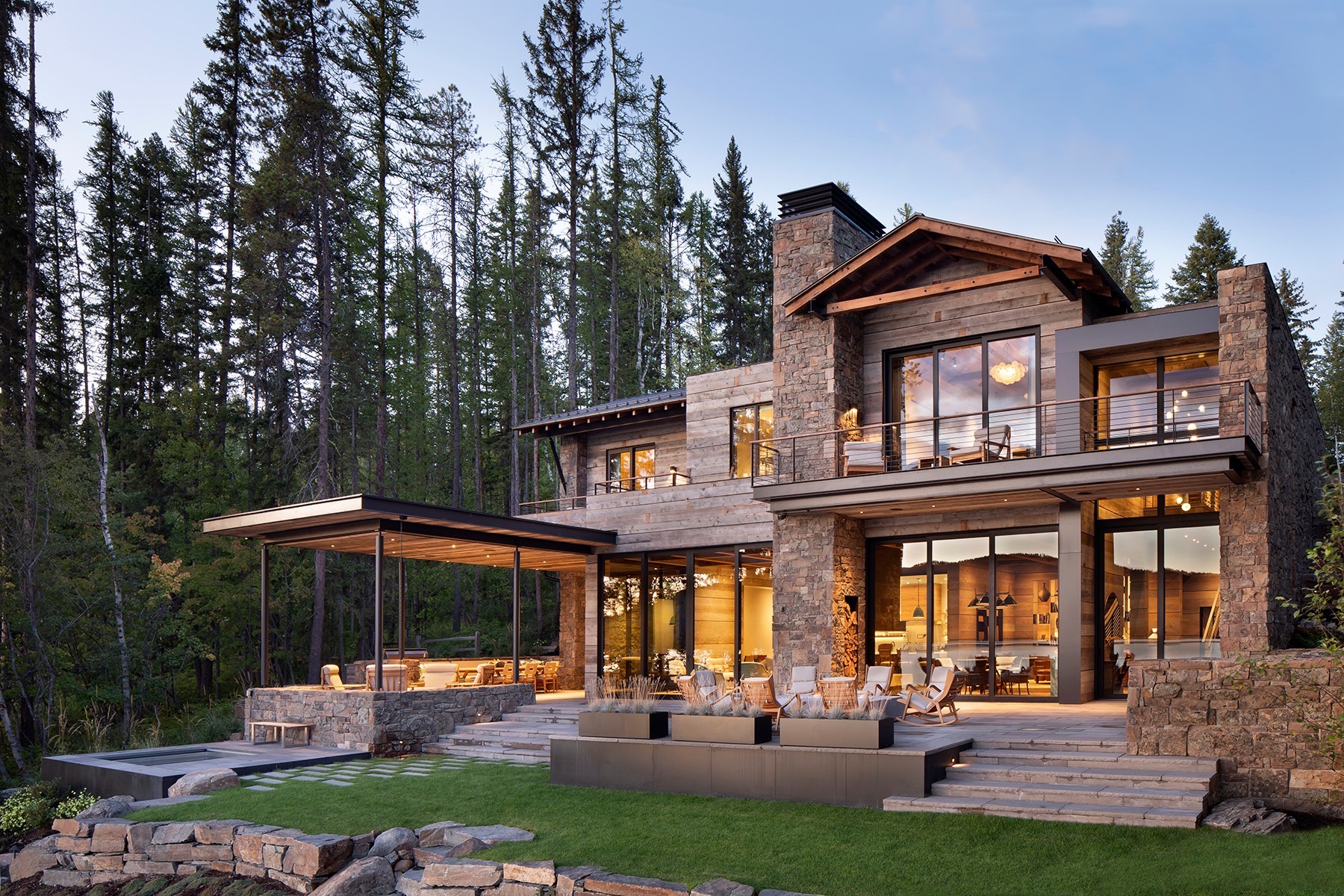 Why is 'Curb Appeal" such a big deal in getting your home sold? I'm glad you asked. This blog is a short primer on why the outside of your home matters almost as much as the inside! 
While HGTV gets great ratings on shows that talk about staging the INTERIOR of your home… I want to raise a quick flag about making sure the EXTERIOR of your home is equally considered when selling your home. 
Sadly, people do judge books by their covers. And buyers will PRE-judge your interior before ever seeing inside if they are taken back by the exterior. So let's talk about some essentials.  
First, let's agree on what exactly is curb appeal. In its most straightforward form, curb appeal is a subjective appreciation for a physical asset. Specifically, this refers to the level of attractiveness one may feel for a property when viewing it from the street. The house presents itself well, and all of the typical components are in place: the yard is well-kept, the paint is vibrant, the siding looks good, the roof is intact, and things are in order. Curb appeal sets expectations. Prospective buyers are more inclined to look inside if they like what they see on the outside. 
Everyone wants their home to have a "wow" factor… but let's be honest; not every home will have that "wow" factor. But, at a minimum, your property shouldn't turn off a vast majority of buyers. So, in many regards, our job here is to minimize any negative elements. 
Don't be overwhelmed…most of these improvements aren't too difficult. 
Driveway
Driveways full of weeds or cracks won't present your property in the best light. Fixing this can be as easy as a bottle of weed spray and twenty minutes of labor. 
Roof
Few features will either turn away or attract prospective buyers more than a home's roof. If the roof is old and has only a few years left, you will receive a positive return on your money by replacing it and trying to sell the home for a higher price. If the buyer doesn't get a HUGE discount, they won't want to spend to replace the roof. It is an option for the seller, but I like to keep my clients getting top dollar even if it requires them investing some money before the sale. 
Landscaping
Landscaping improvements can be as simple or as complex as you want to make them. Start with the grass and go from there. Then you should focus on the area immediately nearest to the house. A fresh layer of mulch can completely transform a property's exterior. My advice to get a full picture of the home's curb appeal, drive down your street, and take note of the first thing that stands out upon pulling up. These items are what others will notice, as well.
Exterior
In addition to the roof, you also should look at the siding and exterior of the property itself. A dirty exterior is something that should not be ignored. Power washing a deck or the siding of your property won't take very long but will have a significant impact. 
Front Door
Instead of replacing the door entirely, start by seeing if a fresh coat of paint will be enough to give it an updated look. If you are looking for a more permanent fix, a new door is certainly money well spent and will come with an impressive ROI.
So, this was a quick primer on Curb Appeal. I'm not a fan of working with buyers who are always trying to low-ball my sellers. A small amount of effort on your home's curb appeal will pay off where it matters most: your profit! 
Maria Kalafatich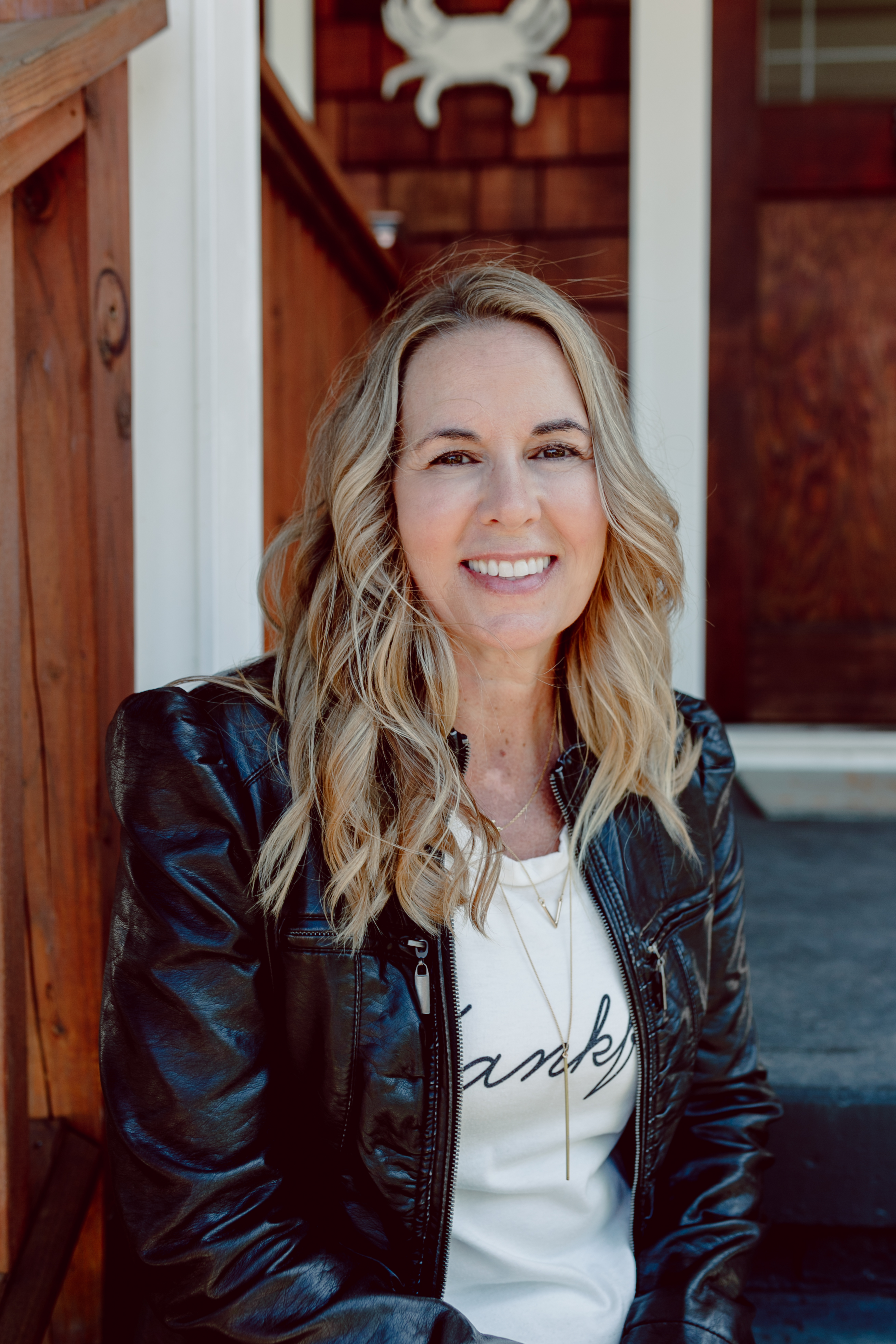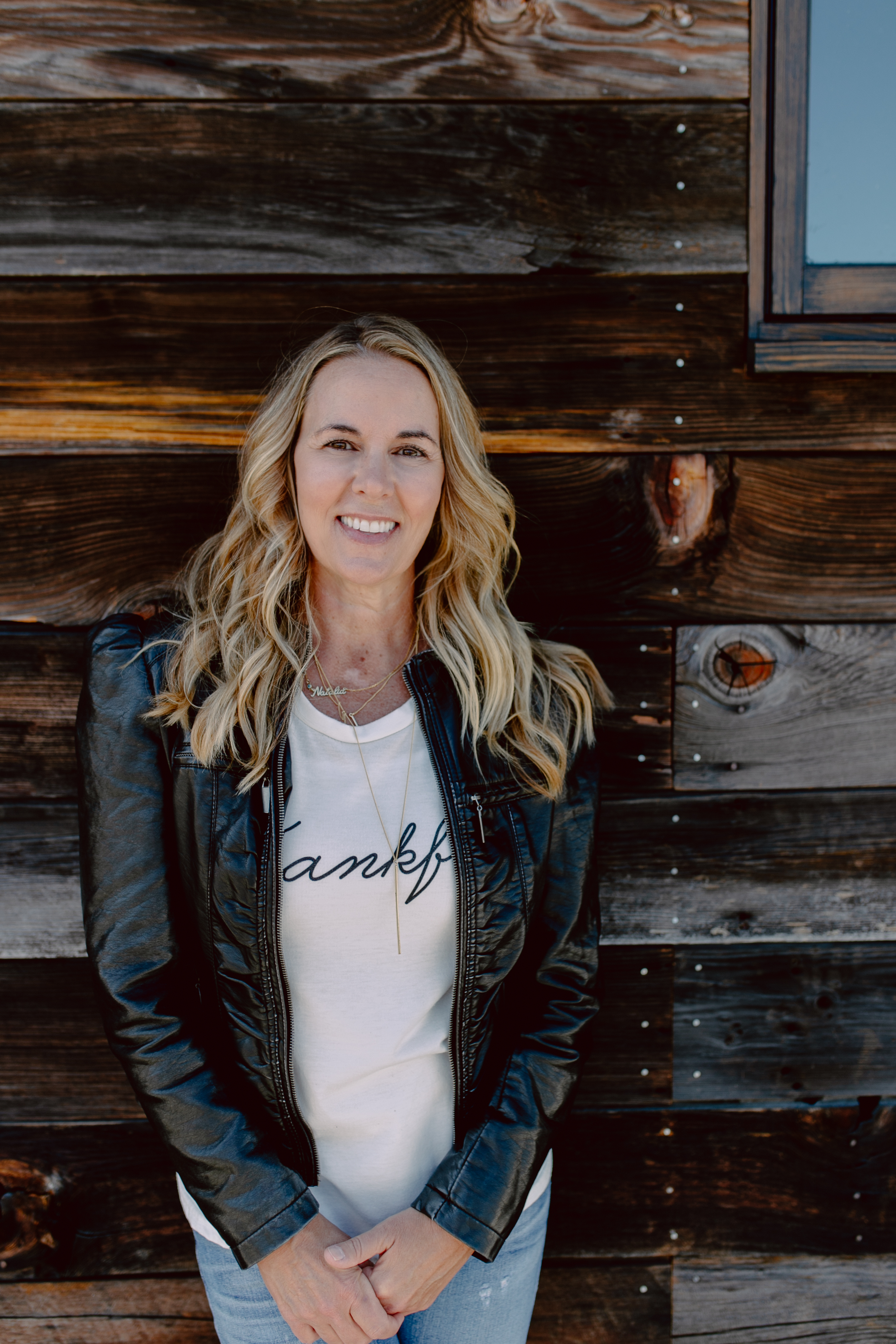 There are many conflicting voices in the Real Estate world. But I've been around enough to know some good trends when I see them. Give me a couple minutes of your time and I'll tell you why now is a great time to buy your first home, or move up to the home you and your family needs. 
1. Value
Contrary to popular belief, the affordability is about more than price. Yes, prices moving up, but so are wages. Most importantly, over the long run, interest rates are incredibly low. This means you will spend thousands less on interest during the life of the home. 
The National Association of Realtors' (NAR) latest Affordability Index report revealed that homes are MORE affordable throughout the country today than they were a year ago.
"All four regions saw an increase in affordability from a year ago. The South had the biggest gain in affordability of 6.9%, followed by the West with a gain of 6.0%. The Midwest had an increase of 5.8%, followed by the Northeast with the smallest gain of 1.8%."
2. Mortgage Interest Rates
Mortgage rates have dropped almost a full point after heading toward 5% last fall and early winter. Currently, they are below 4%.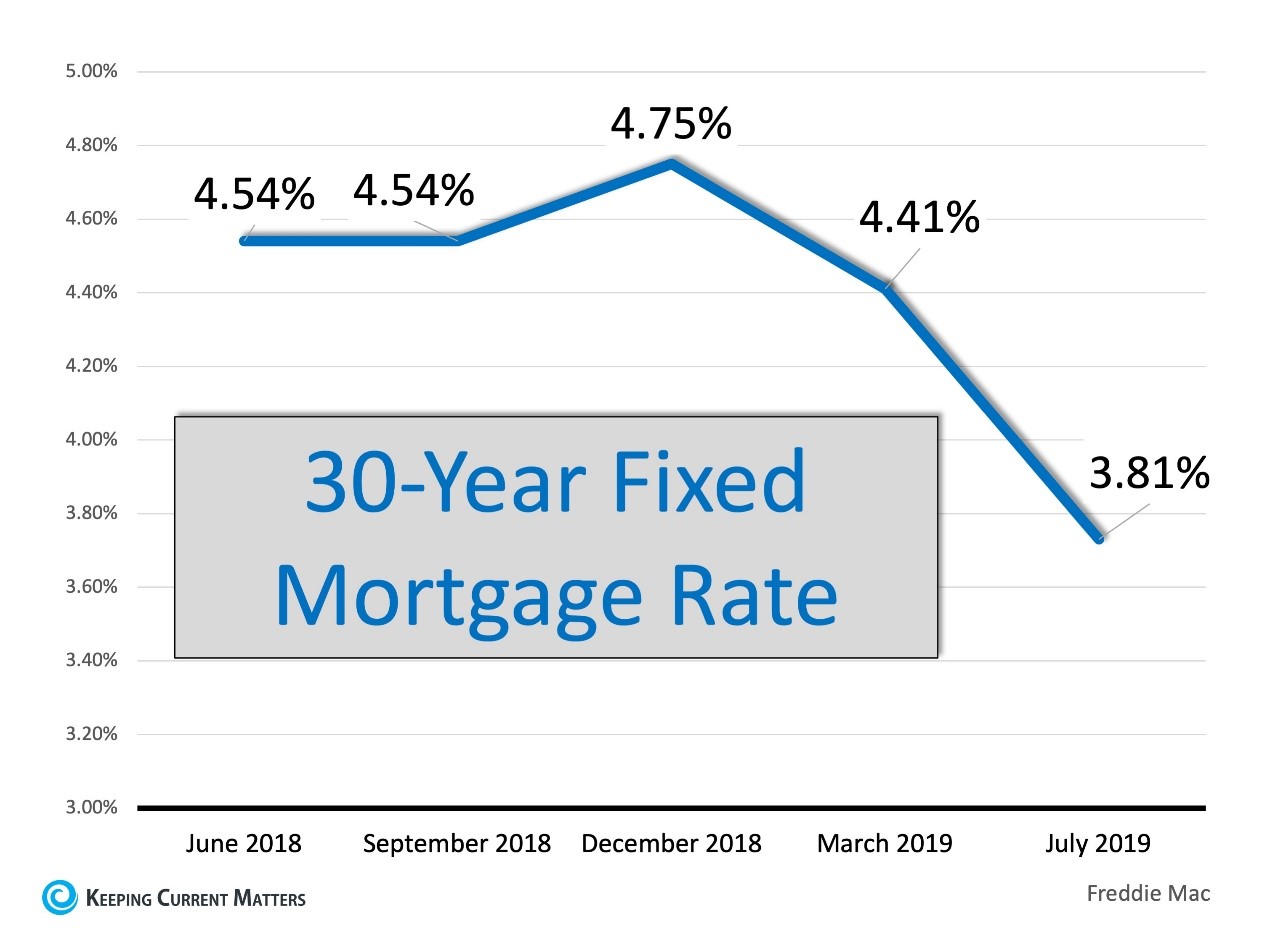 Experts are predicting that average mortgage rates may drop to 3.7% before the year is over. That is down from 4.4% average at the beginning of the year. 
Lower interest rates usually trigger higher home appreciation. The same home next year will most likely cost more. You might as well be on the winning side of that equation as a homeowner. So, take advantage of these historic low rates before they naturally rise again. 
3. Increase Family Wealth
Owning a home is the cornerstone of the American dream. Most American's build their net-worth through home appreciation. Its time for you to get in on the strategy. 
ATTOM Data Solutions recently reported that:
"U.S. homeowners who sold in the second quarter of 2019 realized an average home price gain since purchase of $67,500, up from an average gain of $57,706 in Q1 2019 and up from an average gain of $60,100 in Q2 2018. The average home seller gain of $67,500 in Q2 2019 represented an average 33.9 percent return as a percentage of original purchase price."
Historically, home prices continue to rise. The longer you wait, the less you can benefit from home appreciation. 
The Time is NOW!
To recap: Affordability and home value are increasing. Mortgage rates are decreasing. And home values are looking to go up in a hurry. 
Don't wait- give me a call and at least let me look at your situation! What do you have to lose? Let's at least see if this is the best time for you.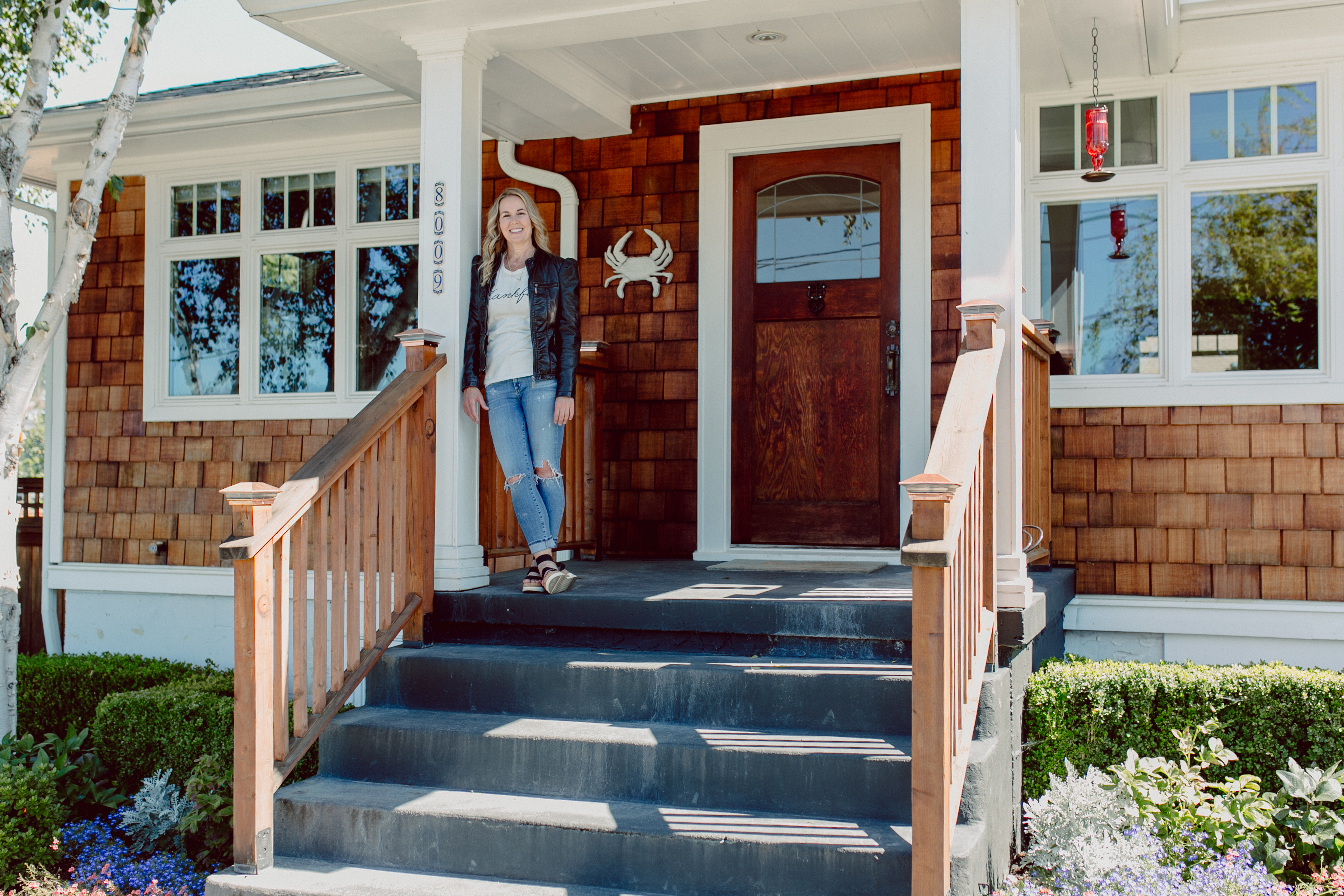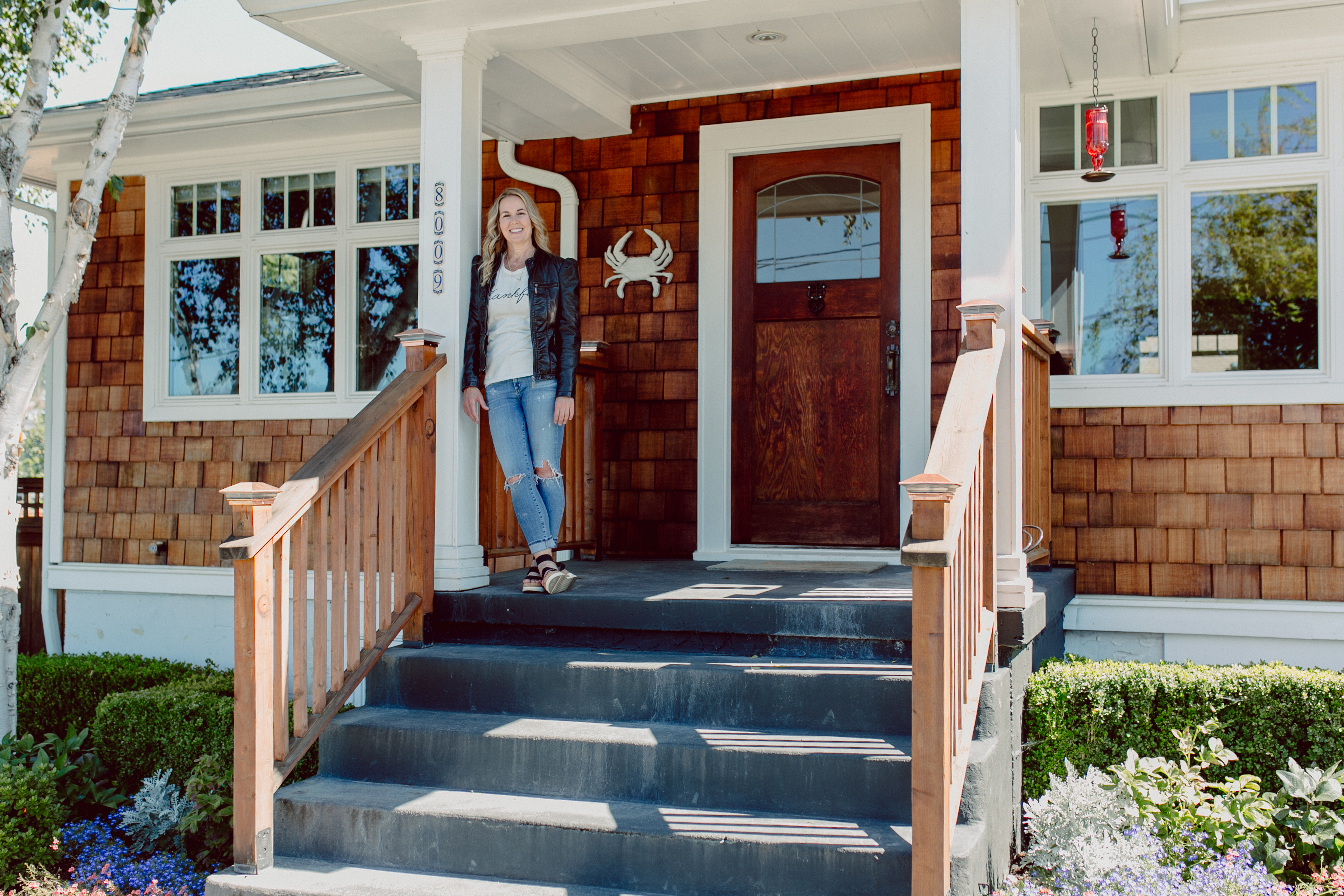 I just read something that blew my mind…for a moment.
Gig Harbor has TRIPLED in size since 1990. TRIPLED!!
At first, that took my breath away. Then I realized others have made the same conclusion that I
have…Gig Harbor is a great place to live!
Where else are you going to get a small-town feel with major city amenities a short drive- or
ferry ride- away?
Our schools are awesome, travel is greatly improved with the second, Narrows bridge and our
walkable downtown is the perfect weekend activity.
So, with all that as the upside…what is the downside?
First of all, let's state the obvious: More people came to Gig Harbor but the square footage of
the town hasn't budged.
Some would point to the high home prices…but let's talk about that.
Part of the reason I have been successful over the years is I have been able to help people
discern what is the greatest VALUE to them.
For some its view. For some its proximity to downtown or schools. Others are looking for a fixer
upper. This is where I come in.
My expertise is in helping buyers know where their value sweet spot lies. You tell me what
features are 'must haves,' and I go to work finding the best homes for your budget.
If you are a seller, I help you highlight and emphasize which features in your home will make a
buyer's heart race! This way we can encourage them to make a more enthusiastic offer on your
property.
Listen to what a recent client had to say:
"I appreciate Maria taking time to figure out what I wanted, and more importantly what I felt I
was comfortable paying. She was instrumental in me getting a mortgage that worked for me as
well. On top of all that Maria is friendly, and strongly represented me when meeting with sellers'
agents. My daughter will be requesting Maria in another year or so, as she gets her down
payment. Any other newcomers to the area will get my recommendation for Maria, as well."
Lisa Mahony/Gig Harbor (Buyer)
Thanks, Lisa! I had a great time working with you & look forward to working with your daughter
soon!
Sometimes following the crowd isn't a good idea…but when more and more educated people
are choosing Gig Harbor, you can't argue with them! But what will help you is to make sure you
let me serve you in finding the right house or selling your house
I moved to Gig Harbor in the fourth grade, growing up I watched my father build many of
the homes in the harbor we love. So, whether you are buying or selling I am confident I can
maximize the experience.
Oh…I also help people outside of Gig Harbor, but today's post is all about how much I love the
little town I call home.
But wherever you move remember… Home is where the home is. And I would be honored to help on your journey.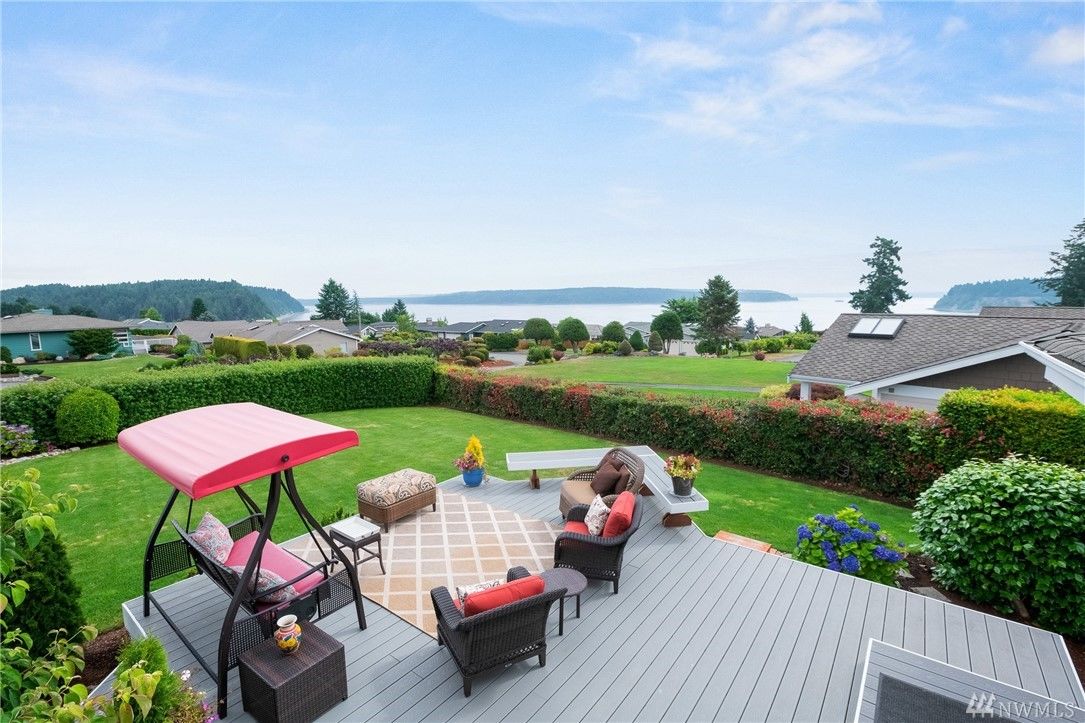 Beautifully remodeled and showing off breathtaking views of the Puget Sound, Vashon Island, and Point Defiance, this one-of-a-kind view home is an absolute masterpiece in a prime location. Featuring a palatial 2,512-square-foot layout, this single-level home includes 3 bedrooms, 2 baths, and living spaces designed with entertaining in mind. Located at 2848 Hollemgay Ct NW Gig Harbor, WA 98335, this not-to-miss gem is listed for $899,950. 
Curious to see exactly what makes this residence so special? Here are the top 6 reasons why buyers are sure to fall in love with this move-in ready retreat: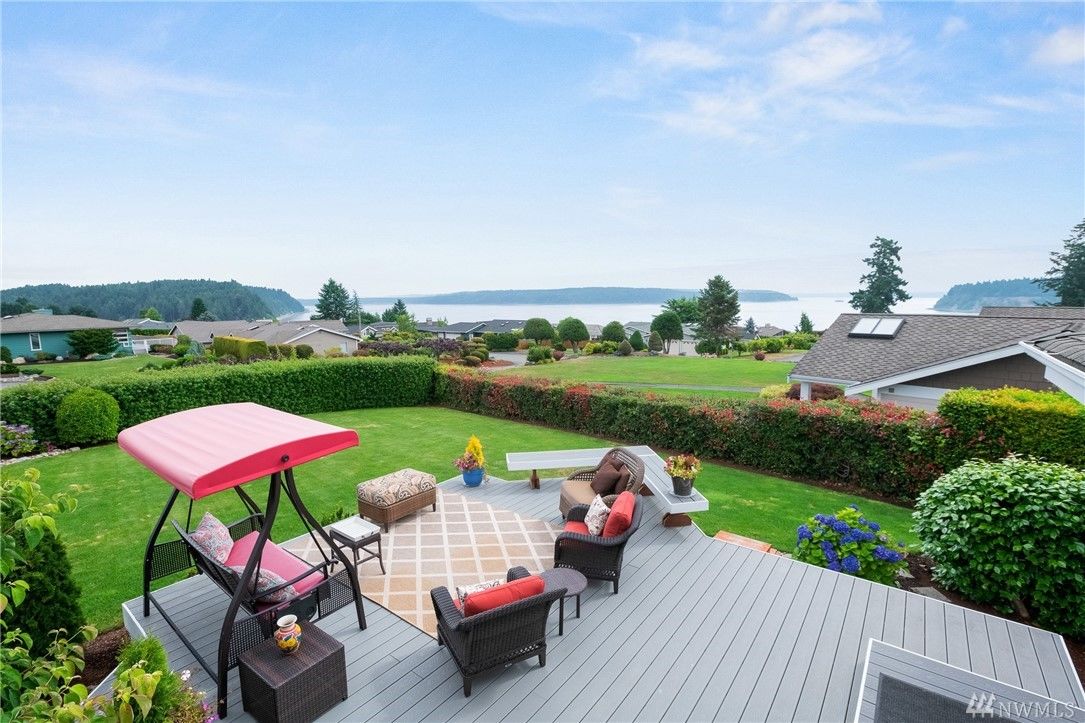 1. The breathtaking view.
Whether you're sunbathing out on the deck or you're relaxing on the sofa in the living room, you have captivating views of the Puget Sound, Vashon Island, and Point Defiance. It's easy to appreciate the Pacific Northwest's natural beauty all year long thanks to this home's lovely vantage point. 
2. Outdoor bliss is all yours! 
Nestled on 0.35 picturesque acres, this property's outdoor amenities include an impeccably landscaped yard, an expansive deck (with prime views, no less!), and a secluded patio and garden area. Ideal for those who love to garden and entertain, this home's mature, lush greenery provides you with your very own outdoor oasis that's tucked away on a quiet, dead-end street.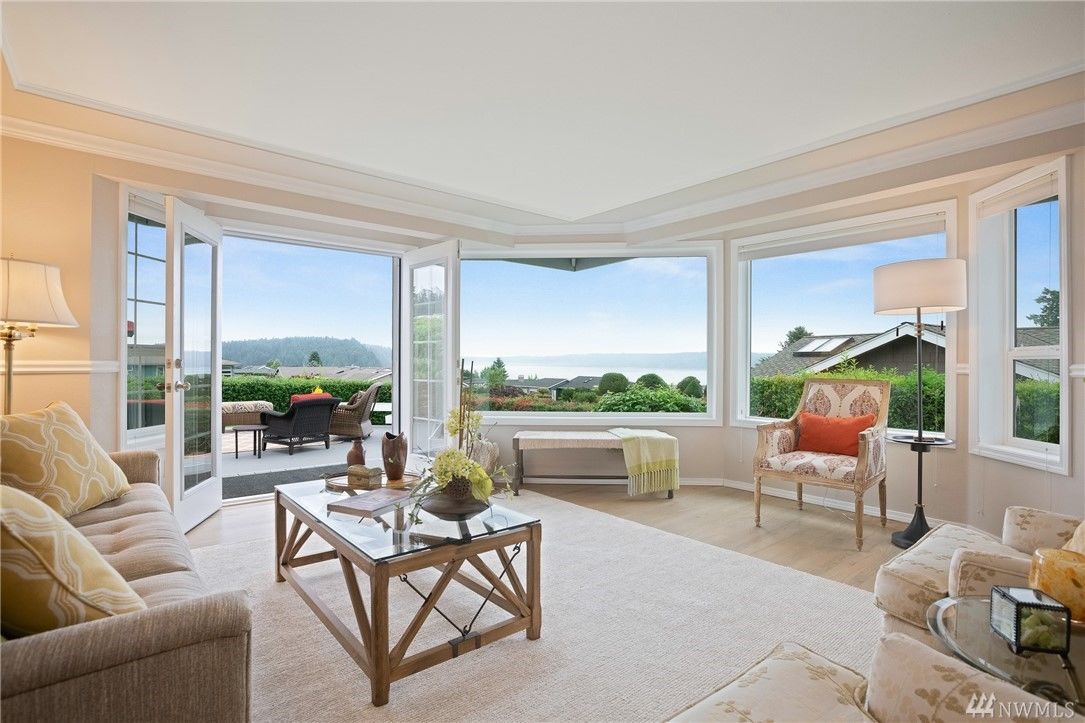 3. An entertainer's dream layout. 
Boasting an inviting floor plan that seamlessly flows right from the living room into the formal dining area, those who love to host holiday gatherings, dinner parties, and special occasions are in for a real treat! You've got plenty of space to host a crowd, and the open-concept great room offers yet another well-appointed space to entertain in. The kitchen (which features high-end finishes like new quartz counters and premium, stainless steel appliances) promises both fashion and function, and it opens up into the dining nook and additional living area. Wall-to-wall built-ins and a cozy fireplace characterize this light-filled space, and even your more laid-back get-togethers can be comfortably elegant thanks to this carefully curated setting.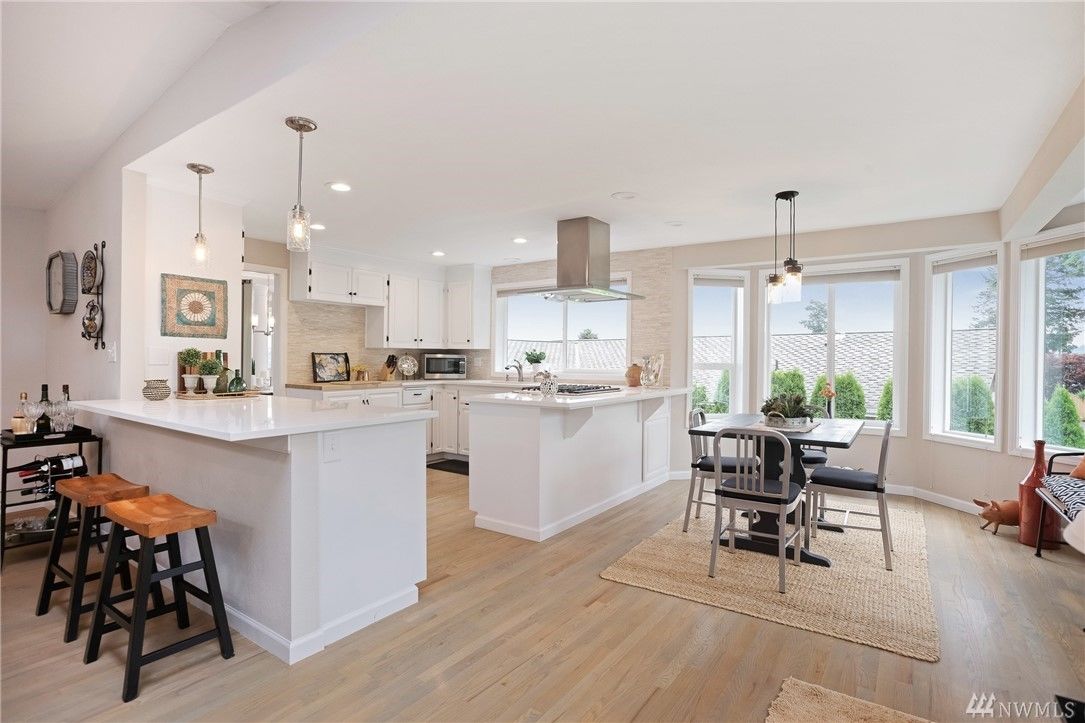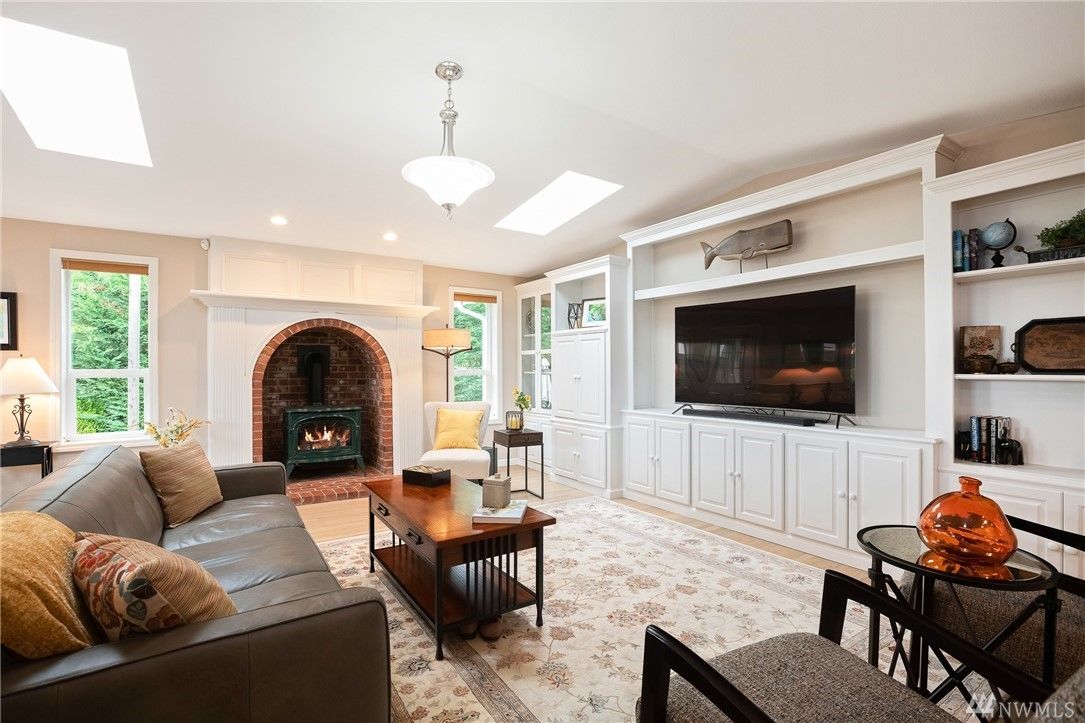 4. Sumptuous master suite.
Not only does the master bedroom offer an extra-large layout, but the all-new ensuite bath showcases the perfect blend of timeless style and on-trend details. From shimmering counters to the intricately tiled shower, wellness routines are extra indulgent in this spa-worthy haven.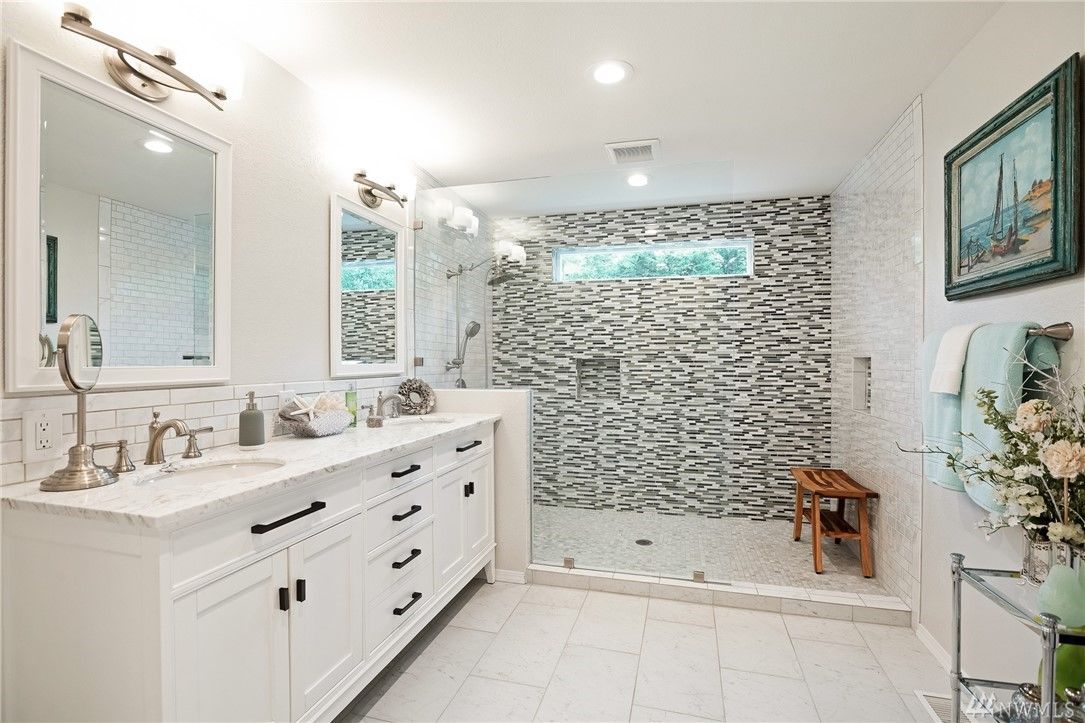 5. Fabulous remodel boasts luxurious style at every turn.
This home features a thoughtful remodel, and new owners are sure to enjoy a long list of updates that includes new windows, skylights, hardwoods throughout, carpets, French doors, screen doors to the new deck, paint, and of course, the all-new master bath. 
6. Prime Gig Harbor location close to shopping, restaurants, the waterfront and more! 
At 2848 Hollemgay Ct NW Gig Harbor, WA 98335, you're incredibly close to Gig Harbor's best amenities! You're only a 2-minute drive to be right in the heart of Downtown Gig Harbor, you're a 4-minute drive to Uptown Gig Harbor, and you're also only 4 minutes to connect to Highway 16. 
Interested in learning more? Click here to view the full listing! You can also contact  REALTOR® Maria Kalafatich online here or give her a call/text at (253) 376-5559!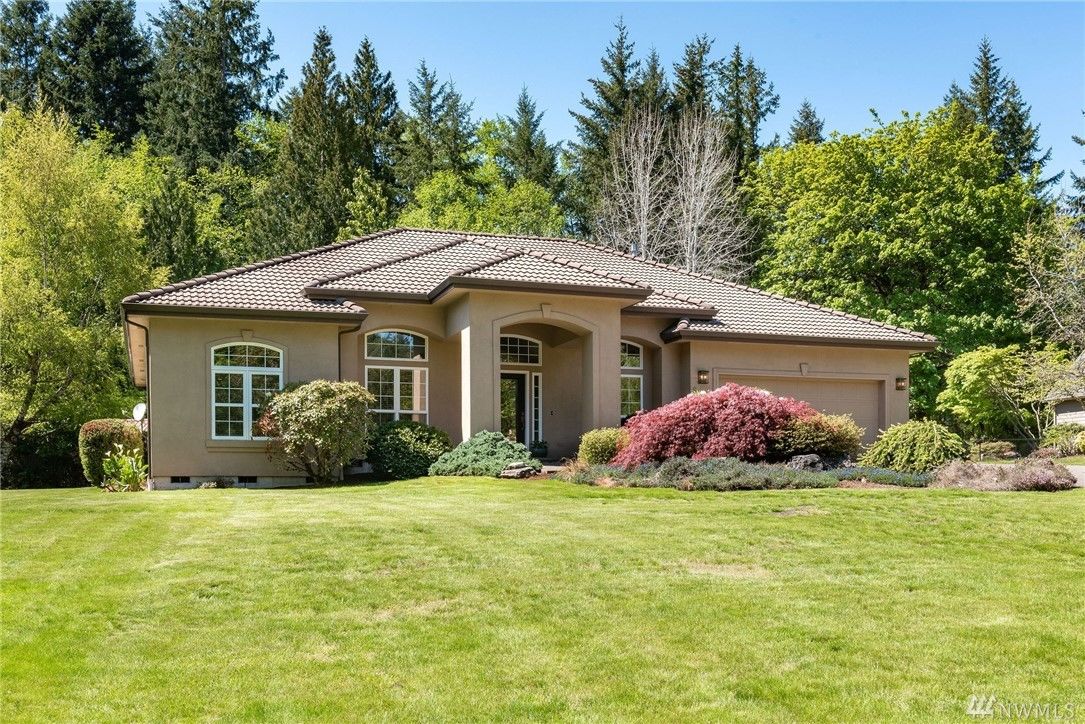 Pacific Northwest beauty awaits at every turn with this 2,121-square-foot Gig Harbor gem! Nestled on a lush and beautifully landscaped 1.15 acres, this 3-bedroom, 2.5-bath home offers ample space to take advantage of both inside and out. Comfortable, spacious living areas await inside, while this property's outdoor amenities include things like a patio, playhouse, and a sprawling lawn that leads right up to natural, scenic greenery. Located at 5404 Timber Lane NW Gig Harbor, WA 98335 and only 5 minutes to Uptown Gig Harbor, this move-in ready home is listed for $629,500.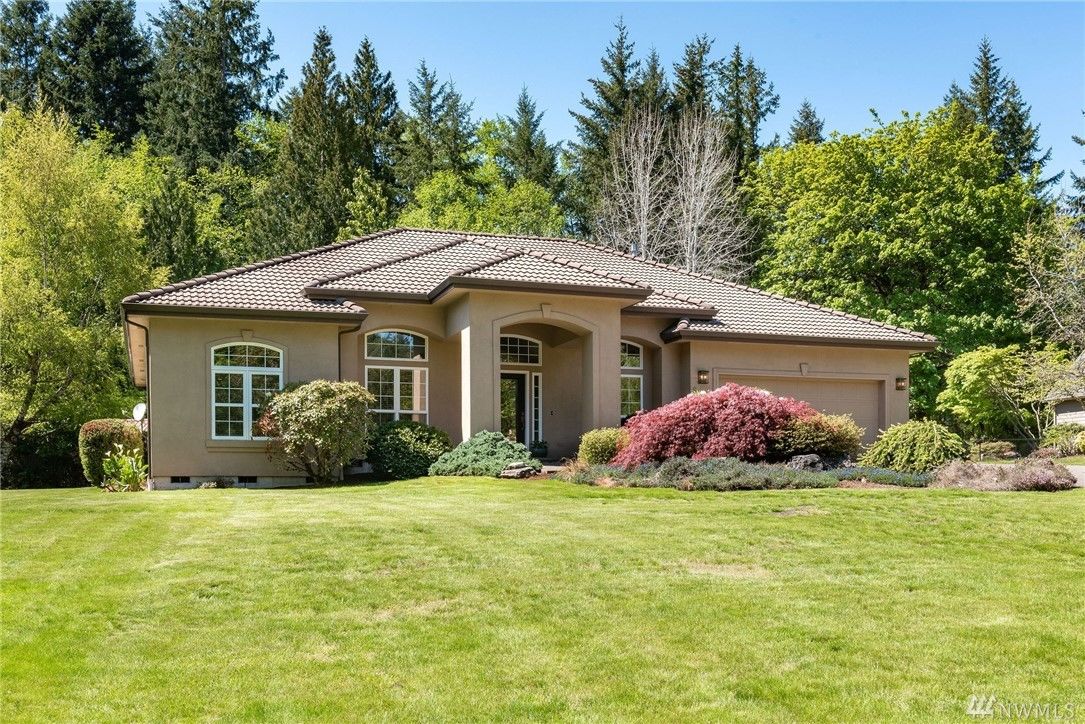 Boasting picture-perfect curb appeal complete with mature landscaping, this eye-catching home-sweet-home is sure to inspire pride in ownership each time you pull in the driveway. Imagine coming home after a long day out and about and relaxing in the living room—the fireplace, cozy carpets, and views into the peaceful backyard make for the perfect way to unwind.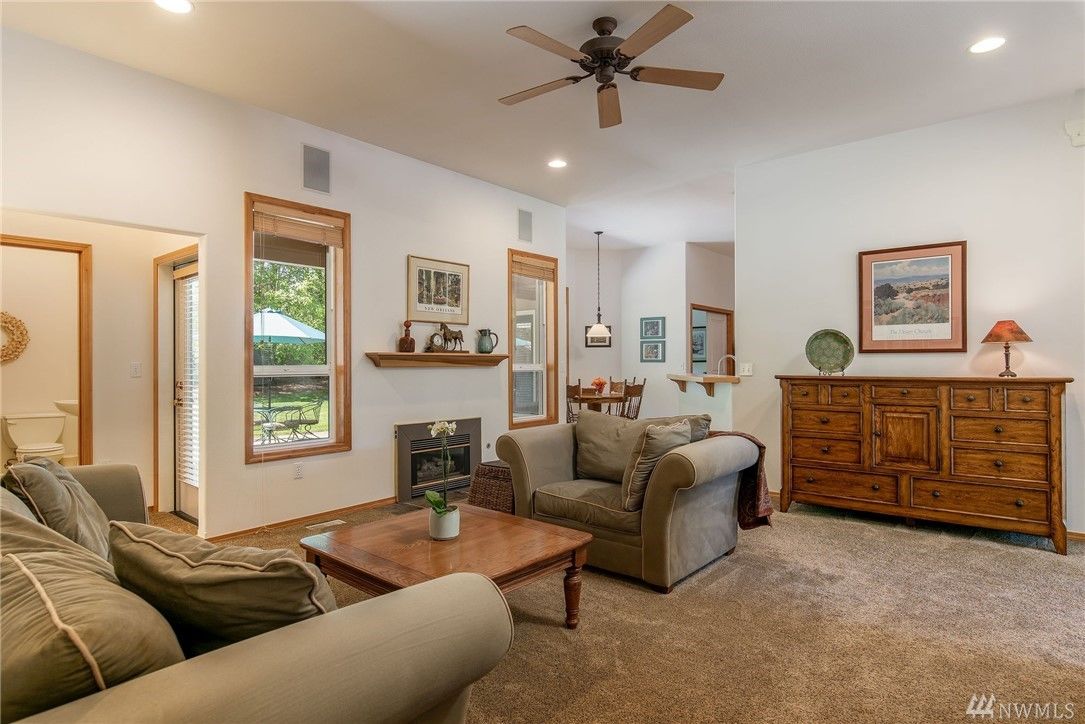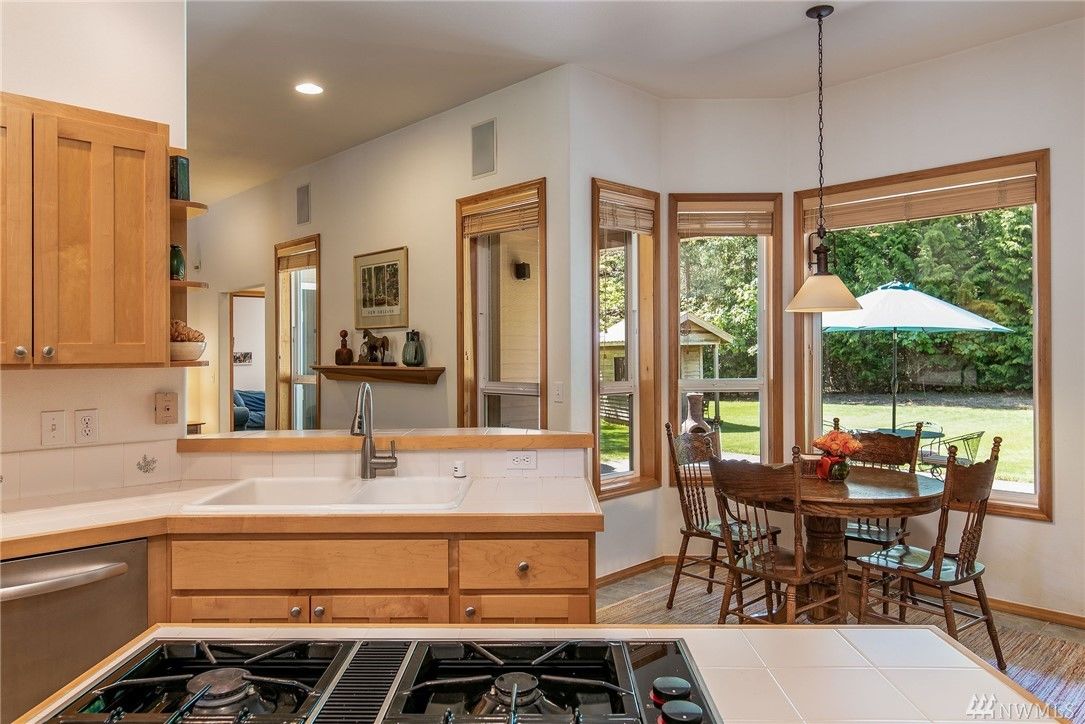 The layout unfolds into the dining nook and kitchen where a smart design offers ample storage for kitchen essentials. Enjoy sunny weekend brunches or laid back dinners in the dining nook, and serve up holiday meals or celebrate special occasions in the adjacent formal dining room.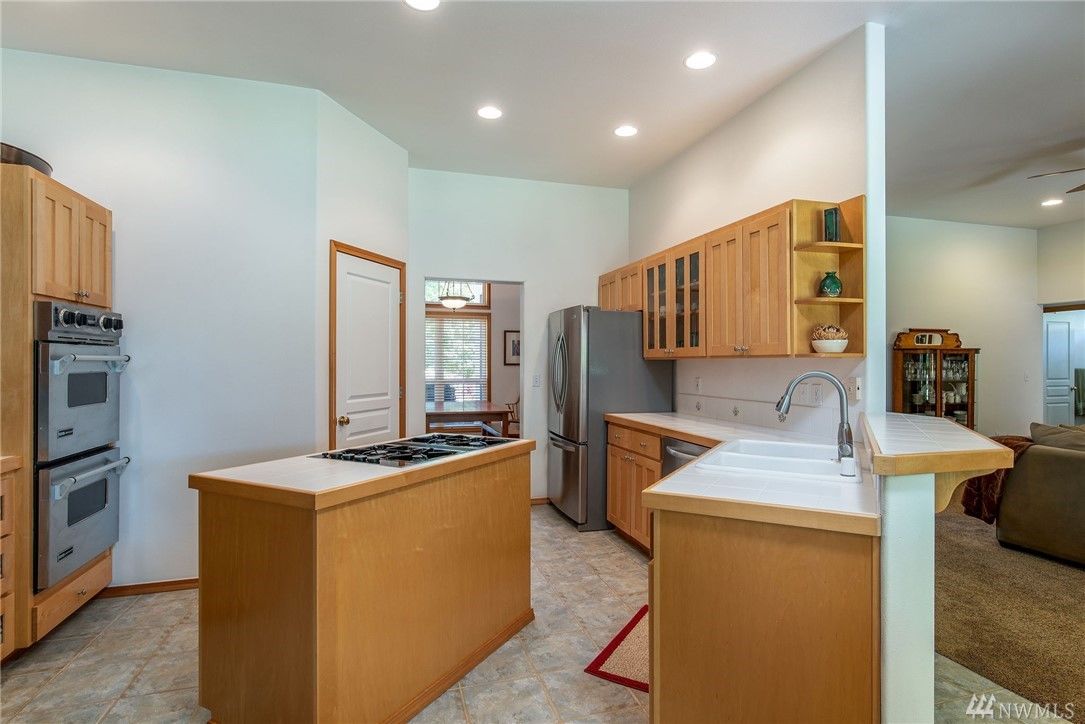 When it's time to turn in for the day, the master suite provides an idyllic getaway to retreat to. A large window fills the room with natural light while still ensuring you have ample privacy, and a door offers direct access to the backyard. Not only that, but you also have a dreamy walk-in closet and a 5-piece master bath that's ready for indulgent bubble baths and rejuvenating wellness routines! 2 more bedrooms and an office promise versatility, and a laundry room with storage makes keeping the home organized and running smoothly as easy as possible.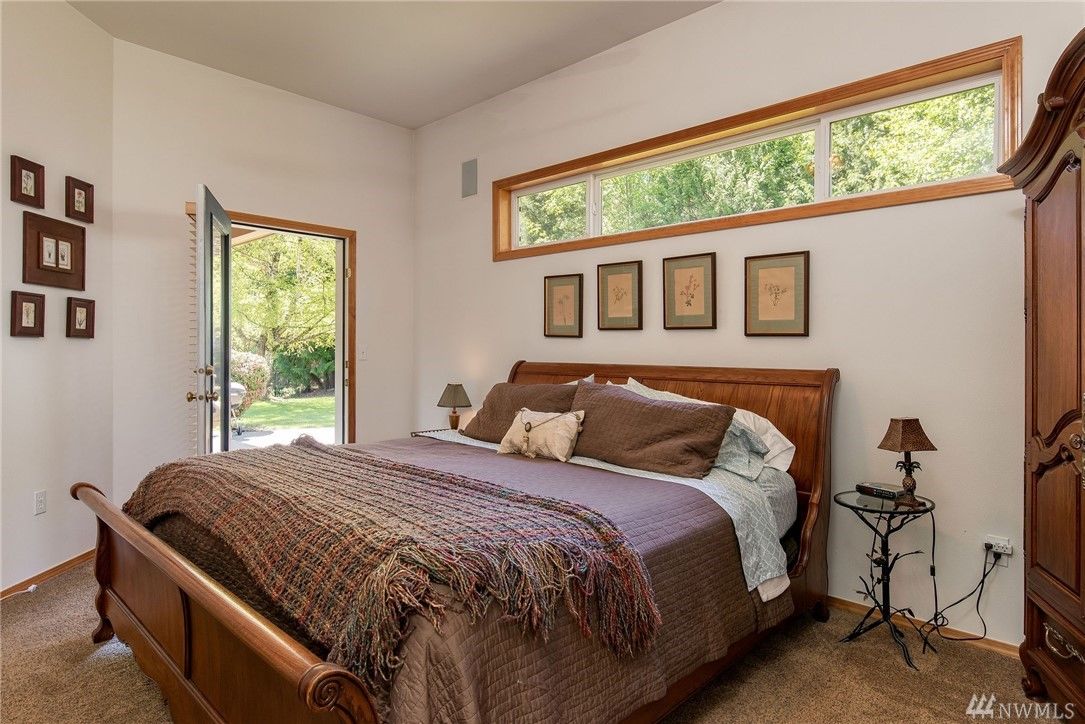 This home's outdoor offerings are just as impressive as its indoor amenities, and as soon as the weather warms up, this property presents you with vacation-ready delights all without even having to leave the comfort of home. Host barbecues or al fresco dinner parties on the patio and concrete deck, and end the evening roasting s'mores around the fire pit. A cabin-inspired playhouse is sure to provide hours and hours of play for little ones, and there's ample space for a play toy, too. Garden enthusiasts are especially in for a treat—1.15 acres means you have almost endless opportunity whether you dream of cultivating your own vegetable garden or growing garden beds filled with vibrant blooms!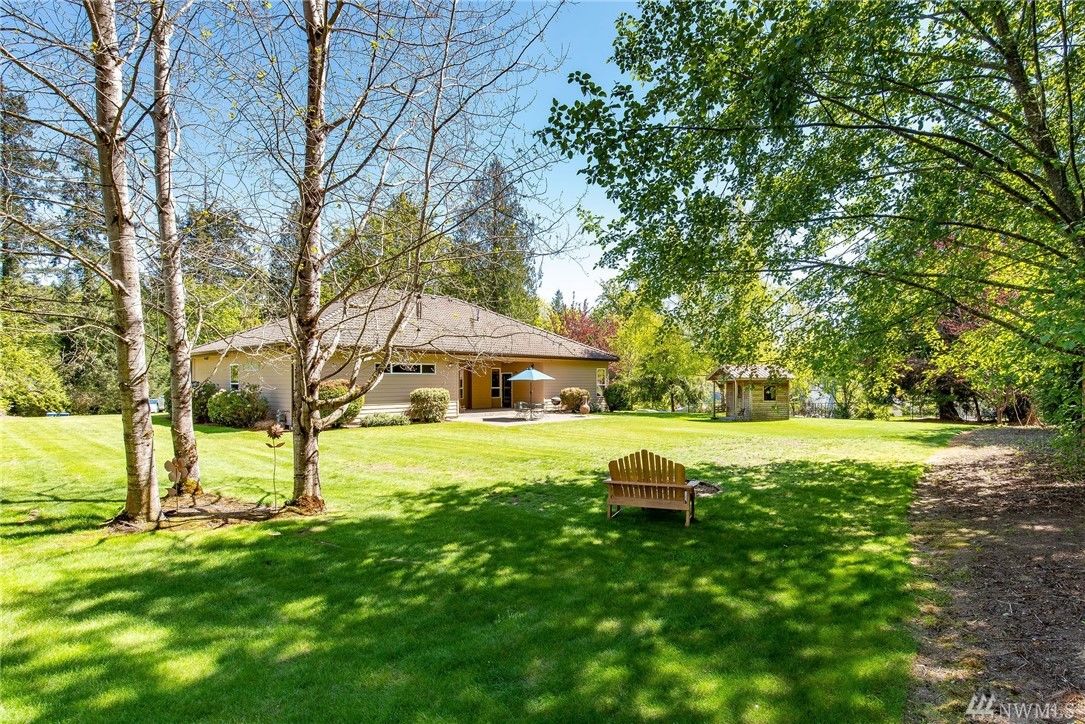 Living in the Artondale Area of Gig Harbor
At 5404 Timber Lane NW Gig Harbor, WA 98335 not only are you surrounded by Pacific Northwest beauty, but you're merely minutes from top-notch city conveniences. Schools, Gig Harbor Golf Club, shopping, restaurants, and more are a short drive away. Access Highway 16 or all that awaits in Uptown Gig Harbor in just 5 minutes. Uptown Gig Harbor offers places like the Galaxy Uptown Luxury+ Theatre, Safeway, HomeGoods, MultiCare, the library, Michael's, Kohl's, and too many other shops, restaurants, and services to name. You're also only an 8-minute drive to Downtown Gig Harbor, making it easy to take advantage of all that the iconic waterfront offers.
Interested in learning more? Click here to view the full listing! You can also contact  REALTOR® Maria Kalafatich online here or give her a call/text at (253) 376-5559!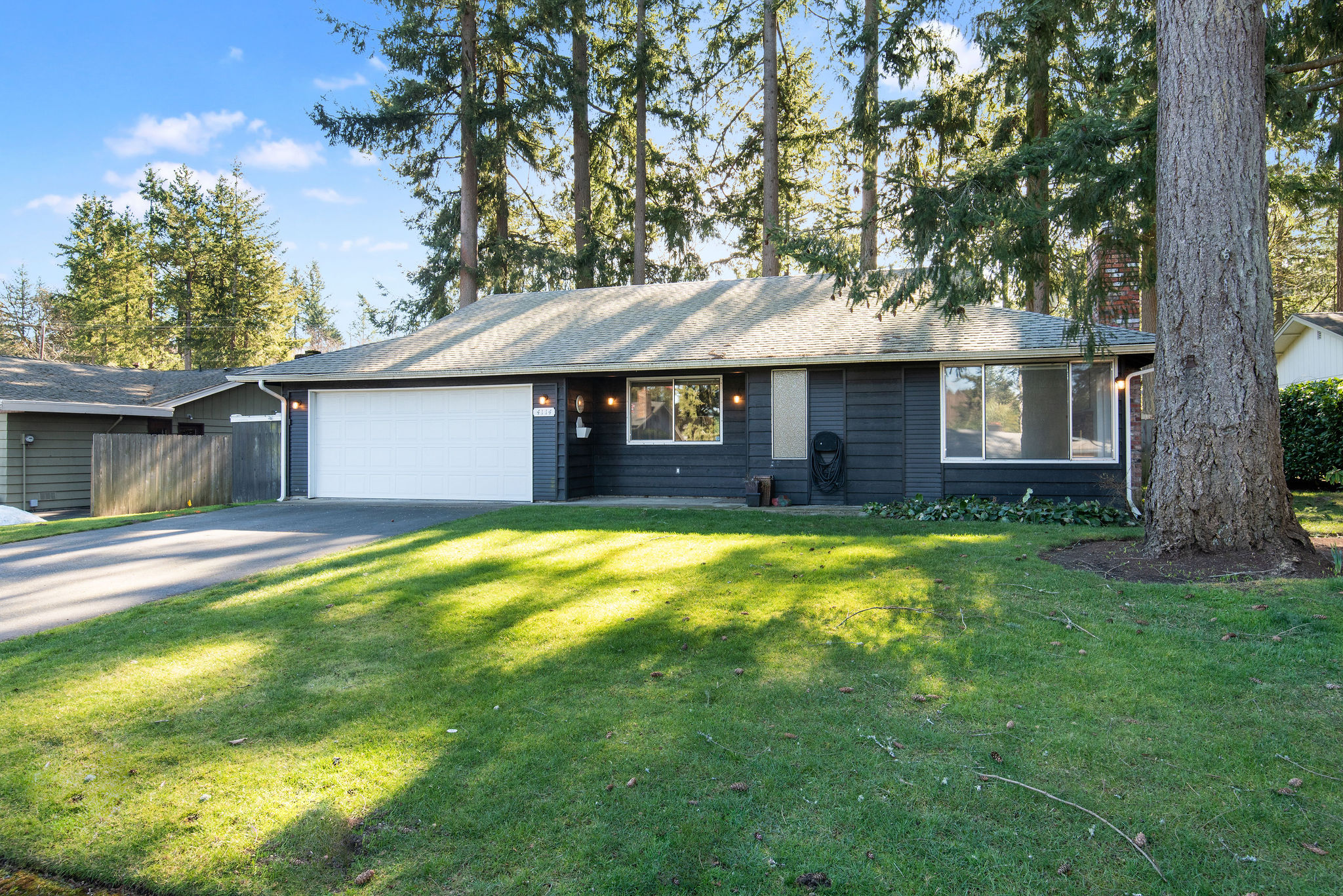 Comfort and convenience are wrapped up into one charming package with this 1,246-square-foot Gig Harbor gem. Enjoy the ease of one-level living on almost a quarter acre, all while being merely minutes to Downtown Gig Harbor, Uptown Gig Harbor, Highway 16 and more. Located at 4114 64th St Ct NW Gig Harbor, WA 98335, this 3-bedroom, 1.5-bath home-sweet-home was listed for $349,000. (This listing went pending in only 2 days!)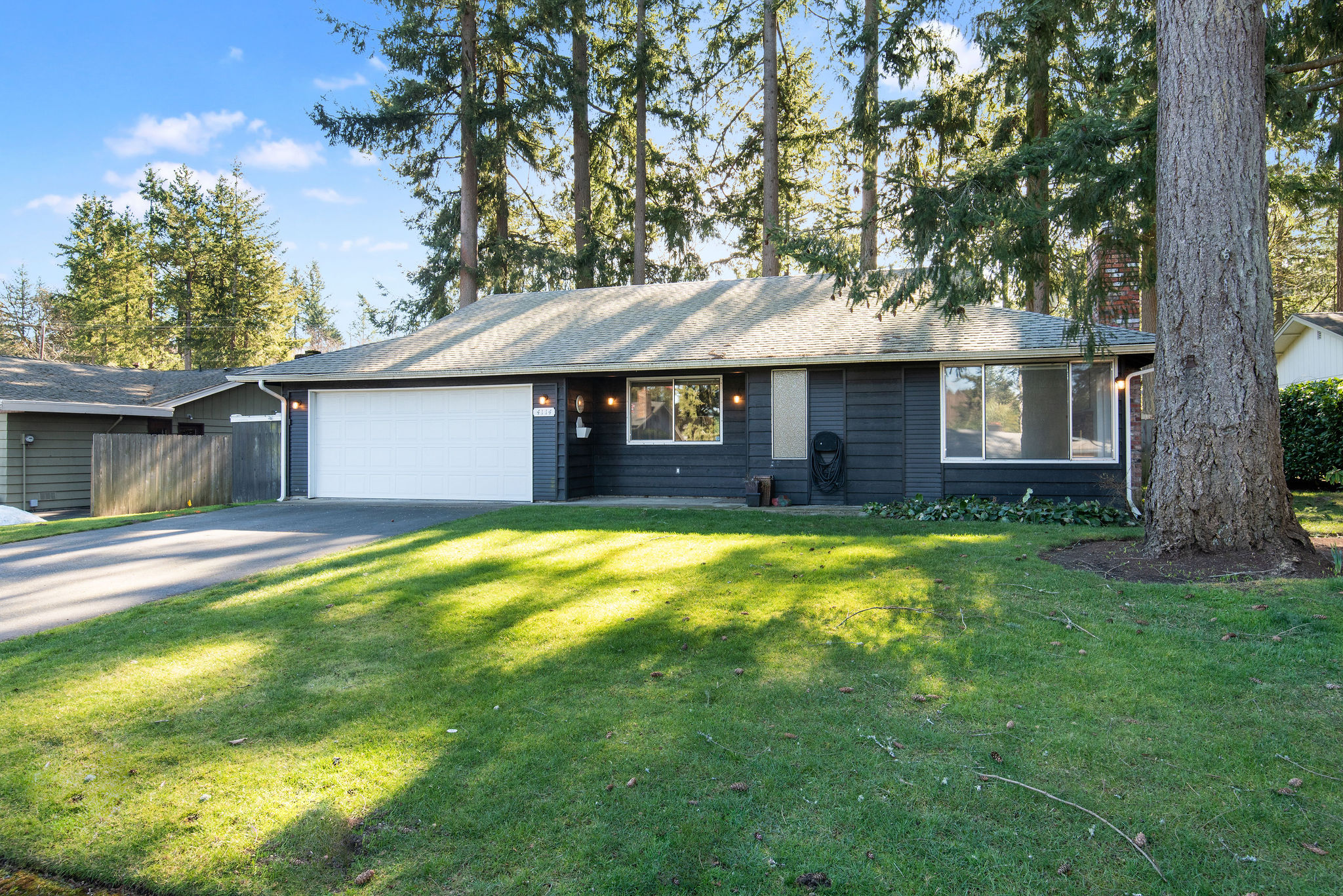 When you pull in the driveway, the natural beauty of the Pacific Northwest is immediately evident. The sprawling green lawn and towering trees that frame the home make for a picturesque atmosphere, and those who love to garden are certainly in for a treat.
Lovingly cared for over the years, this home's inviting living spaces are characterized by vintage elements in tasteful, neutral colors. This means you can easily move right in and immediately begin infusing each space with your own personal style, or you could make a few upgrades to modernize the space a bit. Either way, whether your decor style is more traditional or trendy, it's all wonderfully at home here.
In the living room, a gas fireplace is framed by eye-catching brick accents, and a huge corner window helps to fill the space with cheerful natural light. The layout flows into the kitchen and dining room, and here you'll find a perfect layout for entertaining and whipping up homemade meals. A gorgeous teal and turquoise-detailed window adds a splash of vibrant flair to the space, and rich espresso-hued cabinetry offers ample storage. You even have a pantry in the mix, and the open kitchen looks into the dining room. Additionally, bar-style seating at the kitchen counter offers a laid-back dining option.
Each of this home's 3 bedrooms offers something a bit different. The master bedroom includes an ensuite bath and views into the backyard, and in the other bedrooms you'll find paneling elements that give each haven a cabin-inspired feel. Embrace the woodsy vibe or put your home decor skills to the test and let your imagination get to work! You'll also find a separate laundry room with cabinetry storage, ideal for keeping household essentials organized.
Lush greenery and tranquil seclusion await in the backyard, and with almost a quarter of an acre all to yourself, the list of possibilities is a long one! For starters, you might choose to transform the patio into an outdoor paradise with comfy outdoor furniture, a barbecue, and strings of glowing firefly lights. There's also ample room to try your hand at cultivating a vegetable garden and flower beds—the sky is the limit!
Living in Gig Harbor
At 4114 64th St Ct NW Gig Harbor, WA 98335, you can enjoy having privacy while still being incredibly close to city conveniences. Connect to Highway 16 in just 2 minutes, and find yourself in Downtown Gig Harbor in only 4 minutes. Uptown Gig Harbor is a quick 3-minute drive away, making it easy to access grocery stores, shopping, restaurants, services, entertainment and more.
Interested in learning more? Click here to view the full listing! You can also contact  REALTOR® Maria Kalafatich online here or give her a call/text at (253) 376-5559!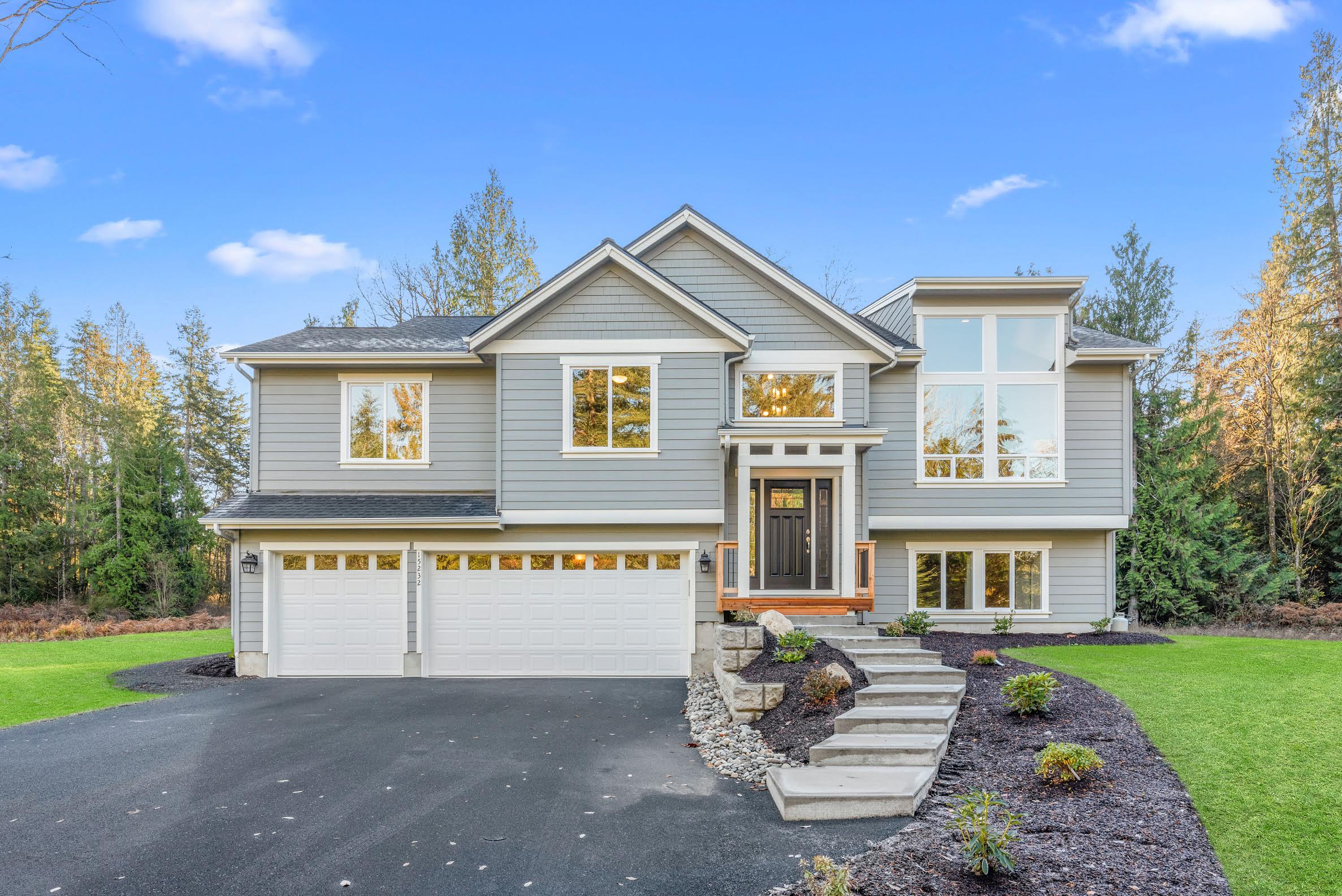 Built in 2018, this 2,672-square-foot masterpiece presents a fantastic opportunity! Brimming with stylish high-end details (like soaring ceilings and granite counters) and top-notch amenities (find mini-split heating with AC and a heat pump water heater!), this Olalla gem is ready for you to enjoy the luxurious lifestyle you've always dreamed about. In addition to 3 bedrooms and 3 baths, this residence also includes fabulous open-concept living spaces, a 3-car garage, and picturesque outdoor areas. Located at 15232 Rosemary Lp SE Olalla, WA 98359, this brand new beauty is listed for $599,950. *There's also a $5,000 buyer bonus!*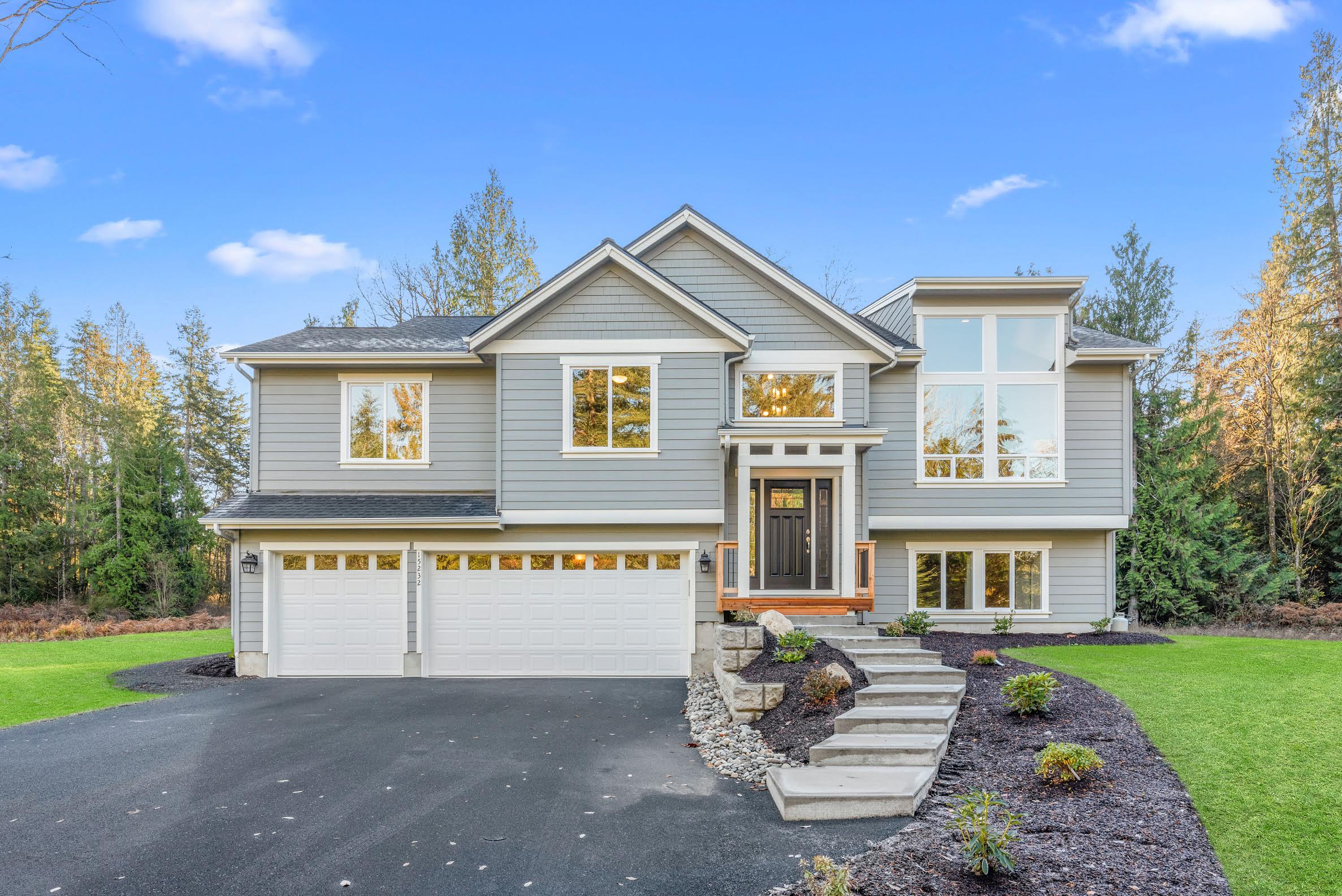 Surrounded by the Pacific Northwest's signature greenery and tall emerald trees, this home offers a sense of seclusion. Neat landscaping welcomes you home, and an extra-large driveway leads up to the Craftsman-inspired exterior. Each time you arrive home, you're sure to feel a sense of pride in ownership, and when you step inside, this home's interior continues to impress.
In the great room, vaulted ceilings, large windows, gorgeous hardwoods, and a tasteful contemporary color palette make for a sophisticated setting to transform with your own unique furniture and decor. In the living area, a stately fireplace anchors the space, offering the perfect scene to gather around with loved ones. Imagine how this home will shine during the holiday season!
The layout flows right into the dining area and open kitchen, and those who love to entertain are sure to appreciate being able to host a crowd in this versatile space. Festive laid-back get-togethers and formal dinner parties alike are all at home here, and the efficiency of the kitchen makes it all possible. Rich cabinetry offers ample storage for essentials, while stainless steel appliances and shimmering granite counters complete this delicious package. Bar-style seating at the center island adds another option for hosting guests—imagine gathering around the island sipping a glass of wine with friends while you put the final touches on dinner!
This home's generous 2,672-square-foot floor plan includes 3 bedrooms plus a bonus room, and the master suite is a standout, not-to-miss highlight. Not only is the bedroom itself a haven of rest and relaxation with its vaulted ceiling, eye-catching light fixture, and views into nature, but it also features a huge walk-in closet and a glorious ensuite bath! Natural light pours into this spa-inspired retreat, and luxurious finishes make wellness routines all the more wonderful and indulgent.
Outdoor opportunities are aplenty with this 5-acre property, and a sprawling deck shows off a view of it all! With plenty of room for comfy lounge chairs and outdoor dining sets, the deck is sure to become your go-to hangout spot all summer long. Take in tranquil views of the trees in peace and quiet, or host weekend barbecues where everyone you know is invited. Backyard bliss awaits!
Living in Olalla
At 15232 Rosemary Lp SE Olalla, WA 98359 you have the best of both worlds at your fingertips: peaceful nature surrounds you, but you're also just minutes to city conveniences in North Gig Harbor. Highway 16 is a short 8-minute drive from home, and a long list of amenities can be reached along Borgen Boulevard in only 9 minutes. Places like the YMCA, Target, Albertsons, The Home Depot, Walgreens, St Anthony Hospital, Costco, and too many other shops, restaurants, and services to name are all right here. You're also only a 12-minute drive to Downtown Gig Harbor, making it easy to take advantage of all the waterfront has to offer.
Interested in learning more? Click here to view the full listing! You can also contact  REALTOR® Maria Kalafatich online here or give her a call/text at (253) 376-5559!