Built in 2018, this 2,672-square-foot masterpiece presents a fantastic opportunity! Brimming with stylish high-end details (like soaring ceilings and granite counters) and top-notch amenities (find mini-split heating with AC and a heat pump water heater!), this Olalla gem is ready for you to enjoy the luxurious lifestyle you've always dreamed about. In addition to 3 bedrooms and 3 baths, this residence also includes fabulous open-concept living spaces, a 3-car garage, and picturesque outdoor areas. Located at 15232 Rosemary Lp SE Olalla, WA 98359, this brand new beauty is listed for $599,950. *There's also a $5,000 buyer bonus!*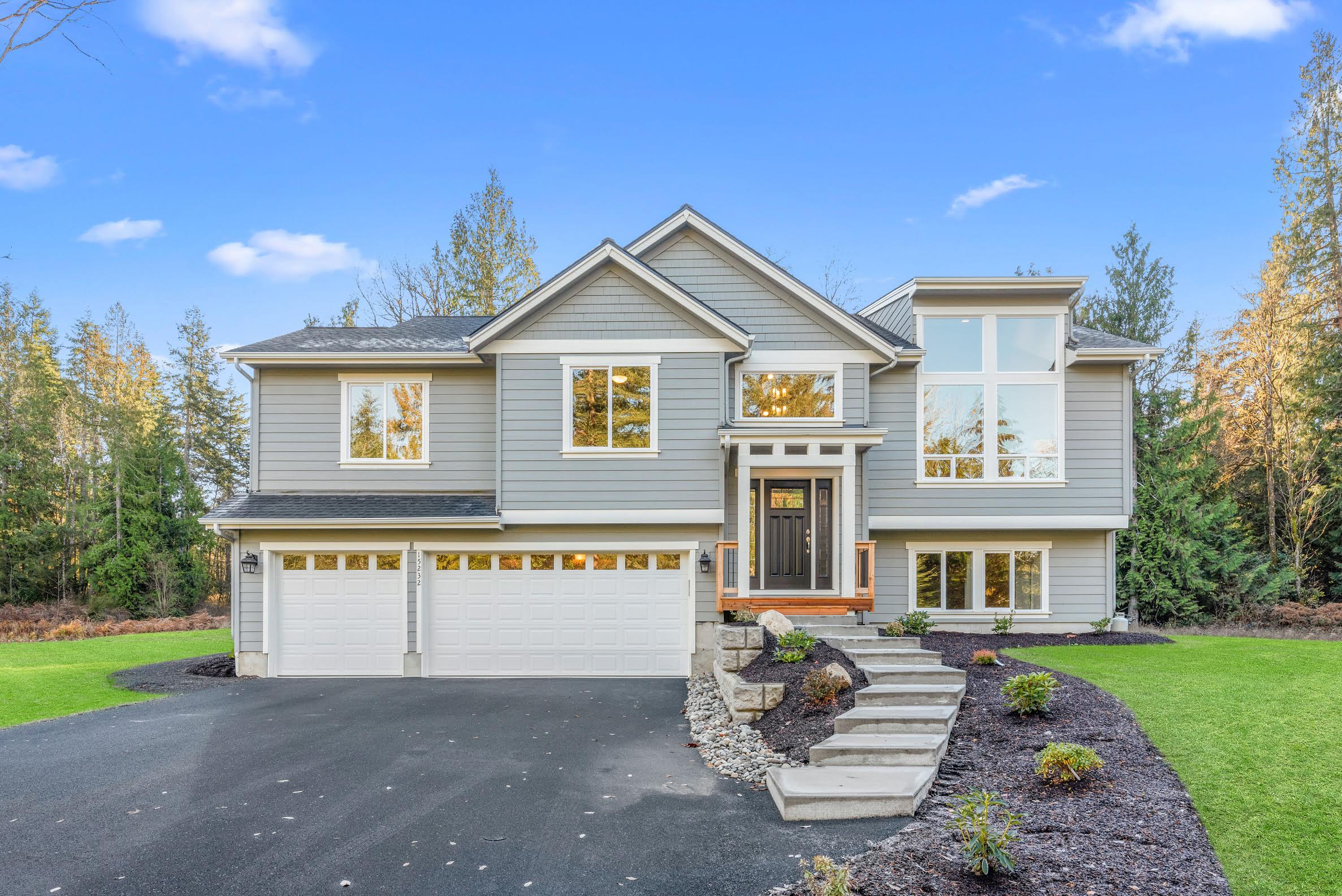 Surrounded by the Pacific Northwest's signature greenery and tall emerald trees, this home offers a sense of seclusion. Neat landscaping welcomes you home, and an extra-large driveway leads up to the Craftsman-inspired exterior. Each time you arrive home, you're sure to feel a sense of pride in ownership, and when you step inside, this home's interior continues to impress.
In the great room, vaulted ceilings, large windows, gorgeous hardwoods, and a tasteful contemporary color palette make for a sophisticated setting to transform with your own unique furniture and decor. In the living area, a stately fireplace anchors the space, offering the perfect scene to gather around with loved ones. Imagine how this home will shine during the holiday season!
The layout flows right into the dining area and open kitchen, and those who love to entertain are sure to appreciate being able to host a crowd in this versatile space. Festive laid-back get-togethers and formal dinner parties alike are all at home here, and the efficiency of the kitchen makes it all possible. Rich cabinetry offers ample storage for essentials, while stainless steel appliances and shimmering granite counters complete this delicious package. Bar-style seating at the center island adds another option for hosting guests—imagine gathering around the island sipping a glass of wine with friends while you put the final touches on dinner!
This home's generous 2,672-square-foot floor plan includes 3 bedrooms plus a bonus room, and the master suite is a standout, not-to-miss highlight. Not only is the bedroom itself a haven of rest and relaxation with its vaulted ceiling, eye-catching light fixture, and views into nature, but it also features a huge walk-in closet and a glorious ensuite bath! Natural light pours into this spa-inspired retreat, and luxurious finishes make wellness routines all the more wonderful and indulgent.
Outdoor opportunities are aplenty with this 5-acre property, and a sprawling deck shows off a view of it all! With plenty of room for comfy lounge chairs and outdoor dining sets, the deck is sure to become your go-to hangout spot all summer long. Take in tranquil views of the trees in peace and quiet, or host weekend barbecues where everyone you know is invited. Backyard bliss awaits!
Living in Olalla
At 15232 Rosemary Lp SE Olalla, WA 98359 you have the best of both worlds at your fingertips: peaceful nature surrounds you, but you're also just minutes to city conveniences in North Gig Harbor. Highway 16 is a short 8-minute drive from home, and a long list of amenities can be reached along Borgen Boulevard in only 9 minutes. Places like the YMCA, Target, Albertsons, The Home Depot, Walgreens, St Anthony Hospital, Costco, and too many other shops, restaurants, and services to name are all right here. You're also only a 12-minute drive to Downtown Gig Harbor, making it easy to take advantage of all the waterfront has to offer.
Interested in learning more? Click here to view the full listing! You can also contact  REALTOR® Maria Kalafatich online here or give her a call/text at (253) 376-5559!
Brand new and nestled on a picturesque 5-acre property, this Olalla beauty presents a once-in-a-lifetime opportunity. Boasting an expansive 2,672-square-foot layout brimming with stylish living spaces, top-notch amenities (including mini/split heating with A/C), and tons of room for you to spread out in, this 3-bedroom, 3-bath masterpiece is a dream come true. Years and years of cherished memories are sure to be made in this home-sweet-home! Located at 15236 Rosemary Lp SE Olalla, WA 98359 and no more than 10 minutes to the excellent city conveniences of North Gig Harbor, this Olalla treasure is listed for the reduced price of $579,950.
Each time you arrive home and pull in the driveway, this new construction gem presents you with a vacation-inspired setting replete with the magical natural beauty of the Pacific Northwest. The pristine, lush lawn extends to idyllic greenery, offering a tranquil view and privacy. The classic exterior features timeless style, and the same classic elegance awaits when you step inside.
In the great room, those who love to entertain are definitely in for a treat. Large windows fill the space with abundant light, while soaring ceilings and hardwood floors set the scene for your personal style and decor. In the living area, a stately fireplace anchors the space, and the versatile color palette ensures there's ample opportunity for you to infuse this haven of entertaining with your own aesthetic. The layout opens up into the dining area, and here you can have a huge full-sized dining table to host a crowd if you desire it!
The adjacent kitchen is brimming with an attractive blend of classic and contemporary style, and rich finishes await. Stainless steel appliances and granite counters are in the mix, and generously sized cabinetry promises ample room for storing kitchen essentials. There's even the opportunity for bar-style counter seating at the center island, and an eye-catching light fixture hangs overhead for an extra splash of modern style. The potential to entertain guests awaits with the downstairs living area as well!
This home's 3 bedrooms are sure to inspire restorative rest and relaxation, and each comfortable retreat features cozy carpets and a spacious layout. But the master suite is in a category of its own—this indulgent sanctuary boasts vaulted ceilings, a serene view into the natural greenery outside, a walk-in closet, and a delicious spa-like ensuite bath. Sophisticated finishes elevate each delicious amenity, and double sinks, a soaking tub, and a separate shower with a bench make it easy to take advantage of rejuvenating wellness routines right from the comfort of home.
A wealth of possibility awaits with this home's outdoor offerings, and 5 acres means you can let your imagination run wild! Enjoy entertaining and relaxing on the deck, and you could easily add in a patio as well. If you enjoy staying active, perhaps a sport court is in your future, and you'll also find room for a play toy, too. Create a cozy fire pit area, add in storybook water features, or put your green thumb to work growing garden beds overflowing with flowers and cultivate your own fresh fruits and veggies! Plus, the 3-car garage offers ample room for storing outdoor tools and toys.
Living in Olalla
At 15236 Rosemary Lp SE Olalla, WA 98359 you're not only close to the waterfront, but you're just minutes from North Gig Harbor and its many conveniences. Head south for just 10 minutes, and you find places like Canterwood Golf & Country Club, Target, Costco, St Anthony Hospital, Albertsons, Walgreens, The Home Depot, and so much more all within reach. Downtown Gig Harbor is close by as well—it's just an 11-minute drive from home! Connect to Highway 16 in just 8 minutes, and reach the Southworth ferry in only 19 minutes.
Interested in learning more? Click here to view the full listing! You can also contact  REALTOR® Maria Kalafatich online here or give her a call/text at (253) 376-5559!
Showing off gorgeous contemporary style in a storybook setting, this Olalla rambler is wonderfully move-in ready! Enjoy spacious one-level living with this home's generous 1,992-square-foot layout and take advantage of its many sumptuous opportunities for entertaining. Built in 2015, this 3-bedroom, 2-bath beauty on an acre lives like a brand new home! Located at 15858 Peacock Hill Rd SE Olalla WA 98359, this residence is listed for $499,950.
Showcasing picturesque Craftsman-inspired exterior design that's framed by a park-like atmosphere, this home-sweet-home is absolutely brimming with opportunity. When you arrive home, a charming little path leads right to the welcoming front entrance, and as soon as you step inside, this masterpiece does not disappoint! From the rich flooring to the vaulted ceilings, stylish finishes (like crisp white trim!) delight the eye.
The great room promises to become the center of daily life, and here you'll find a light-filled living room anchored by an elegant fireplace. The space seamlessly flows into an adjacent open room, perfect for an office or playroom. In the expansive magazine-worthy kitchen, ease and efficiency await at every turn! Thoughtful upgrades ensure this space is ready for all that life brings, whether you're whipping up a holiday feast for a crowd or simply enjoying a snack at the bar-style counter seating. Large shimmering counters and walls replete with cabinetry offer tons of space for storing kitchen essentials and meal prep, and a built-in shelf is perfect for keeping your cookbooks handy!
Right around the corner, you'll discover the formal dining room, a well-appointed space with classic wainscoting. Whether you choose to keep things on the casual side or desire something more elevated and suited for fancy dinner parties, this versatile area is an entertainer's dream!
When it's time to turn in for the day, one-level living ensures your bedroom retreat is conveniently at your fingertips. This home's versatile 3 bedrooms includes the must-see master suite, a haven of privacy and comfort. The large layout of the bedroom includes direct outdoor access, and a 5-piece ensuite bath straight from Pinterest! A fabulous soaking tub, a large shower, double sinks, and a walk-in closet are all wrapped up into one perfect package.
This listing's one-acre property also includes some excellent outdoor amenities, including a covered patio that's ideal for grilling rain or shine. When the sun comes out, a large patio is ready to be transformed, and the yard provides a blank canvas for you to create the yard of your dreams with. Envisioning a sprawling carpet of lush grass that leads to a play area and raised garden beds? There's room for all of this and more with this Olalla retreat!
Living in Olalla
At 15858 Peacock Hill Rd SE Olalla WA 98359, you're just north of Gig Harbor. Enjoy being in a more secluded area that's surrounded by scenic nature, all while being close to city amenities! You're only a 10-minute drive to connect to Highway 16, and from here you can easily access shopping, restaurants, services, and more in Gig Harbor. Golf enthusiasts are also sure to appreciate being only a 6-minute drive from the Canterwood Golf & Country Club!
Interested in learning more? Click here to view the full listing! You can also contact  REALTOR® Maria Kalafatich online here or give her a call/text at (253) 376-5559!